Mission Inn Festival of Lights: Riverside's Legendary Holiday Lights Display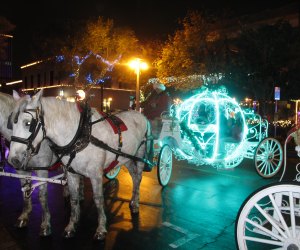 I've been hearing about the holiday lights at the Mission Inn in Riverside for as long as I've been writing about SoCal events, but it took me until this season to finally take the plunge into slightly-less-daunting-than-usual traffic to see the spectacle for myself. I had to know if the lights that USA Today calls the Best Holiday Lights Display in the Nation really are all that. More to the point, are they worth driving an hour or more, when we know there are some pretty impressive holiday lights a whole lot closer to home? I filled a minivan with the toughest audience I know (five 13-year-olds) and drove to Riverside on a Friday night to answer that question. Really.
So, for starters, don't do it on a Friday night—but you probably knew that. And yet, even with the unnecessarily long drive out of the city, everyone in the car was really glad we went. I'll share one small secret to our evening's success: We started our Riverside adventure with a visit to the Old Spaghetti Factory. Going straight from the freeway to food was definitely the way to go, and I've been hankering after the Spaghetti Factory since it left Hollywood Boulevard those many years ago. A belly full of yummy, super affordable food ($6 kids' meals big enough for a teen) started our evening stroll off on the right foot, and at least meant that we didn't hit the rows and rows of sweets vendors hungry.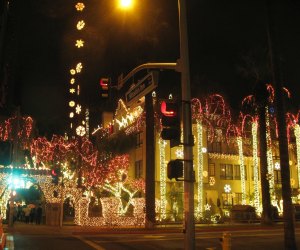 It would be hard to miss this entrance.
We walked from the restaurant to the famous Mission Inn, a hotel and spa that's been operating since the late 19th century and hosting the Festival of Lights for a quarter of a century. It was a lovely walk on SoCal's version of a winter evening, toward the increasing glow of the hotel's light display. The hotel takes up a full city block, and the lights are strung on every wall, window, and pillar. Guests who stay overnight may be treated to Dickensian robots sharing their balconies, waving all night at the light-loving tourists.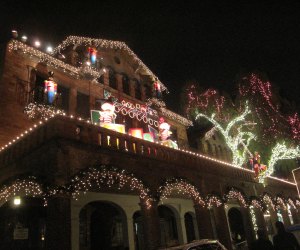 Nutcrackers adorn every wall, and Dickensian robots wave from balconies.
Overnight guests and dinner guests (the hotel has five different restaurants) get to explore the indoor decorations at their own pace; the rest of us can walk through the hotel lobby but are herded through by staff who loudly remind us to keep moving back outside. If a slightly more expensive meal is in your budget, dining inside among the gingerbread houses and portraits of visiting presidents looks like a real treat. We saved our money to spend instead on one of the light-up Cinderella carriage rides at the end of our evening.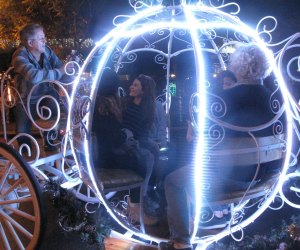 The brightly lit horse-drawn Cinderella carriages are pretty irresistible.
In addition to the light displays on the hotel, the town's main pedestrian drag, which runs along the backside of the hotel, is also decorated and dotted with booths selling holiday treats and features a small Ferris wheel and a stage with live music; some years there is even a small ice rink. For us, though, the add-on that made the night was that carriage ride. Our group was large enough that the $45 ride (cash only) cost no more than putting everyone on the Ferris wheel, and this is one photo op we don't have on Santa Monica Pier. There are different vendors offering the ride; ours was able to accommodate up to 10 people in the same carriage, and off we went on our own little holiday parade around the display. It was a fine way to wrap up the evening. Well, that and a hot chocolate.

Mission Inn Festival of Lights: Middle Schooler approved.
All told, the Mission Inn lights made for a fun group outing on a winter break night. To be frank, I don't know that I would call these holiday lights the best in the nation—there may well be someone in your own neighborhood with a higher density of sparkle per square inch—and if I had driven all that way with one kid he would have thought I was nuts. But as a destination with friends, it was a hoot, complete with festive photo ops. And if you're game for an overnight treat one holiday season, it looks like a fine one for the bucket list.
The Mission Inn Festival of Lights opens each year on the Friday of Thanksgiving weekend and runs into the first week of January. This season, the lights can be enjoyed through January 6, 2018.