Buccaneer Cove: OC's Pirate-Themed Water Park Cools off Little Kids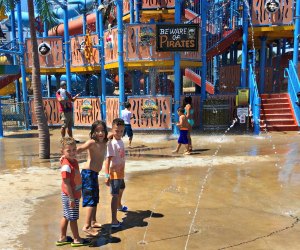 Aarrgghh! Beating the heat is no easy feat when SoCal temperatures can rise well into the hundreds. Luckily, little pirates can stay cool all summer long at Buccaneer Cove. This Orange County pirate-themed water park, located just off the 405 freeway in Irvine, is the perfect spot to introduce mini swashbuckling adrenaline junkies to the rush of riding water slides. It's great for younger children, is easy to navigate, and doesn't plunder as much treasure as other water parks–so parents won't feel like walking the plank after paying the entrance fee.
This local favorite caters to the under-12 crowd with a giant splash pad, multiple spray cannons, and 1,000 feet of water slides, all of which end on dry land rather than in a giant pool of water–so even toddlers can slide without parental supervision as long as they're over three feet tall. Old salts and landlubbers alike can enjoy features like spray loops, wet tunnels, and an interactive play area, all situated around a single play structure.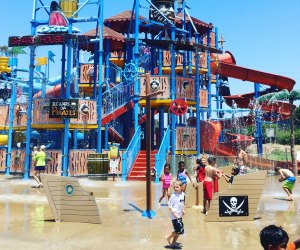 Beware of pirates!
Our recent trip to Buccaneer Cove marked the first time either of my kids–ages four and seven–had ever ridden a water slide. I was apprehensive at first, since they're still so young, but, after sliding a few times with them, I let them navigate the colorful play center by themselves while I chatted with a friend in a nearby cabana. (Insider tip: It's well worth the extra $50 for an all-day reserved seat in the shade.)
There are five different slides to choose from in this adorable water park, which is nestled just behind the miniature golf course at Boomers Irvine. The first one we tried was the red chute, an open water slide which twists and turns all the way down towards a giant splash pad decorated with signs warning, "Beware of Pirates."
But even swashbucklers couldn't scare off my water-loving kiddos, who took one 15-minute break to eat during our entire four-hour visit. According to my seven-year-old son, the blue slide was his favorite. This was by far the scariest slide of the bunch, and he loved how fast he flew towards the bottom in a pitch-black tunnel.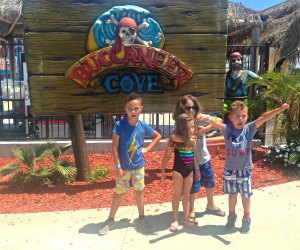 All hands on deck! We're setting sail to a water park adventure!

My daughter was a bigger fan of the red tunnel slide, which begins near the top of the play area before spinning in a fast and furious downward spiral. It's a shorter slide but equally terrifying. The first time she tried it, I thought she would be afraid but she surprised me, shouting, "Again! Again!"
The kids also raved about the 380-foot-high yellow tunnel slide. It went a little slower than the rest, giving me a few moments to catch my breath before being plunged into the darkness.
Unfortunately, we never did try the double red slide because my daughter dubbed it the "baby slide," refusing to set foot in its vicinity. My son was equally dismissive of this small, playground-style slide–reserved for the 36"-and-under set–but it would be the perfect way to entertain tiny tots who want to slide like the big kids.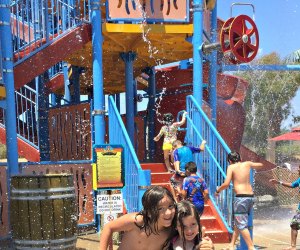 Climb aboard for some swashbuckling fun.

If you visit on a weekday, expect short lines and easy wait times. I don't think my kids ever waited longer than five minutes, despite the fact that there were several camps bused in the same day we visited.
All in all, this a great and stress-free way to spend a summer day. Not only did Buccaneer keep us cool, it kept everyone entertained for hours without any squabbling. The kids can hardly wait to visit this hidden gem again, and neither can I!
In 2017 Buccaneer Cove is open weekends from May 27 to June 11 and daily from June 12 to September 4. The park is about half the price of larger water parks (2017 price is $19.95), and non-participants (like Grandma?) pay only $5 to come along. Children ages two and under don't pay at all.
All photos by author