The Best Carlsbad Hotels Near Legoland California for Families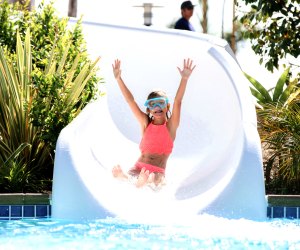 5/17/22
- By
Meghan Rose
There's just something about Legoland California. It's such a special place that even though you can drive here from Los Angeles or San Diego for a day, you really want to spend the night to be there the minute it opens, go back the next day to the Water Park, or just stay and explore the very underrated and gorgeous town of Carlsbad. Which is why we've rounded up the best Carlsbad hotels near Legoland—some within walking distance, some by the beach—all will ensure that you have a wonderful stay in town.
So come for my favorite of the SoCal theme parks, stay for the Flower Fields, the strawberry picking, the charming beach town, the ocean walks, and so much more. Or use Carlsbad as a non-crowded jumping off point to explore all that San Diego has to offer, from Sesame Place San Diego to the San Diego Zoo and so much more.
Subscribe to our newsletters to get stories like this delivered directly to your inbox.
Carlsbad Hotels Where You Can Walk to Legoland
The newer of the Legoland Hotels, I have to say, my kids adore this hotel even more than the original Legoland Hotel. The Castle Hotel is directly opposite the Legoland Resort Hotel and shares many of its best features, including the walk-straight-from-breakfast-into-the-park location. The hotel caters to parents with tots by keeping distances short, elevator rides entertaining, and opportunities to play everywhere you look.
My kids like it because it marries their favorite toy (Legos) with their favorite characters (not literally, but you feel like you're in Hogwarts made of Lego bricks). The restaurant is fun, as well as tasty, the pool and play areas a delight, and the proximity to Legoland can't be beat.

Everything's coming up Lego at the Legoland Resort Hotel. Photo courtesy of the hotel
This is the other Legoland Hotel, and parents might actually prefer it to the Castle. I personally prefer the pool here, and if your kids aren't into knights and days of yore, there are other themes here to explore. Regardless, it's an enchanting spot that will delight your young Master Builder.
RELATED: Legoland's Water Park Keeps It Cool

The pool, with its waterslide and shallow end, is perfect for kids of all ages. Photo courtesy of the Sheraton Carlsbad Resort & Spa
The Sheraton Carlsbad Resort & Spa is my pick for a spot to stay where you can walk to Legoland but get a break from all things Lego once you leave the park. This resort has a private entrance to the park, but the serene setting means parents feel like they're on an actual vacation. Never fear for the kids, who love the pool with a waterslide and poolside dining. Stay for a second day to take advantage of the beach trolley to Tamarack Beach. You can also access gorgeous hiking, running, and biking trails right from the resort, and the whole family can use the resort's bikes, too. Parents can sneak away for a massage or treatment at the spa or a workout in the spa gym. The family suites give everyone in the family just enough privacy (and their own TVs, so there's no fighting while parents sleep in!). It's a pet-friendly hotel, too.
A sister property to the Sheraton, this hotel is also pet-friendly, if you can't stand leaving your fur baby home, and allows for access to the pools at the Sheraton. The pool at the Westin is a little quieter, and has outdoor games, making it a great choice for families with bigger kids who might want to play cornhole or billiards, poolside. With many of the same amenities, including an easy walk or tram to Legoland, this hotel is another wonderful option for families.

Walk to Legoland! Photo courtesy of @exploringwithelena, via the Grand Pacific Palisades Facebook page
The Grand Pacific Palisades is also right next to Legoland, so it's no surprise that it offers a family-friendly resort experience. The pool area has cabanas and fire pits along with a stunning view of the ocean. The resort is just down the hill from The Flower Fields, a must-see attraction in Carlsbad, if you're here in the spring. Other amenities include a basketball court, playground, and a second pool area!
Other Great Carlsbad Hotels
This no-frills little hotel is inexpensive but has everything you need for a great stay. It's my favorite budget hotel in the area, with affordable suites, so kids can stay in a separate room for early bedtimes and early mornings. "No-frills" isn't perhaps totally accurate, as there is a pool and hot tub, free breakfast, and free cookies and milk at night. With a gas station and restaurant right on the property, it's about as easy and convenient as a hotel stay with kids can be.
My favorite thing about the Cassara is that the hotel offers the Karlsbad Family Suite, with a separate doored bedroom with two Twin Beds. It's perfect for families. Did I mention that Carlsbad has become my family's favorite little hidden treasure for a weekend getaway, even when we're not visiting Legoland? Well, when we can stay for more than a weekend, this is where we come. Best time to visit is the spring, when you can book a room that overlooks the Flower Fields!
RELATED: See the San Diego Zoo Like a Local

There are a lot of pools to choose from at the Omni La Costa Spa. Photo courtesy of the hotel
While you can't walk to Legoland from the Omni La Costa Spa, there's so much to do you may not even want to leave the grounds anyway. The pool area includes splash landing pools with waterslides, garden pools, a villa pool (and hot tub), the spa courtyard pool, and an edge adult pool just for grownups. The resort has its own golf course and tennis courts along with activities like Zumba and yoga. The Kidtopia Kids Club also gives parents a bit of a rest, with a nursery that can watch kids six months to three years old for two hours at a time during the day. A night camp program is for kids over three years old that are potty trained.
I'm a little hesitant to write about this one, because (like the La Jolla Cove Hotel & Suites) I think of this as our family's secret. It's not fancy. But even if it's your first visit, it feels like the place your family has been coming to for decades. You can rent hotel rooms for short stays, or for longer stays, some condos have washer/dryers and patio grills. Walk to the beach, walk to the village, explore the town, and watch the sunset from the roof.