45 Fun Things To Do in Phoenix, Arizona with Kids
12/18/21
- By
Melanie Preis
Phoenix, Arizona is where I grew up. Though I traded Phoenix's dry heat for the humidity of Atlanta after college, I still regard myself as a Phoenician for life. With family and friends still in Phoenix, we get to visit the desert at least three times a year. And what's really nice is now that I'm a mom, I get to revisit some of my favorite childhood attractions with my kids and discover awesome new things to do in Phoenix. Seriously, there are so many delicious Phoenix restaurants, fun family activities, and great hotels and resorts.
A trip to the Valley of the Sun makes for a perfect getaway for a sun-soaked family vacation. Kids love all of the fun things to do in Phoenix, and so do adults (the resort spas are out of this world). Here are the 45 top things to do in Phoenix for families with kids, plus some great family-friendly restaurants and hotels in Phoenix. Whether you stay at a five-star resort or spend your vacation with family and friends, this gem of the Grand Canyon State has a little something for everyone.
Arizona weather is a reliable forecast of sun, sun, and more sun (minus those few weeks of monsoon season), so there are a lot of things to do in Phoenix both indoors and outdoors. Don't be scared to visit during the summer—though the temperatures are scorching, everywhere you go will have air conditioning and misters (and hopefully splash pads and pools), and prices are substantially cheaper than in the busier winter months. Note: Make sure to carry water with you wherever you go, no matter the season.
Things To Do in Phoenix with Kids — Indoor Activities

Master builders of all sizes love a day at LEGOLAND. Photo courtesy of LEGOLAND Discovery Center
Located at Arizona Mills Mall in Tempe, LEGOLAND Discovery Center welcomes master builders of all shapes and sizes. Ride Kingdom Quest and Merlin's Apprentice, catch a show at Lego 4D Cinema, explore the miniature replica of Phoenix made entirely of LEGO bricks, climb the huge jungle gym, and lose yourselves in a ton of LEGO bricks. Tickets often sell out in advance, so best to buy tickets ahead of time online.

Arizona's only 360 degree ocean tunnel is right next door to LEGOLAND. Photo courtesy of SEA LIFE Arizona Aquarium
Next door to LEGOLAND is the SEA LIFE Aquarium, which is every bit as thrilling. Home to more than 250 species of marine animals in 10 themed zones, this hands-on aquarium has 30 exhibits including interactive Touch Tidepools, 7 species of shark (warm up that song!), and Arizona's only 360 degree ocean tunnel. Try to catch a critter feeding or an educational talk—and see how many LEGO models you can spot in the tanks! Combination tickets are available to both attractions.
The Arizona Science Center, located in the heart of downtown Phoenix, has many permanent, hands-on exhibits that entertain children of all ages. Save some time to explore the CREATE maker space and Forces of Nature. The center features a planetarium and is always adding interesting new exhibits.
Enjoy a puppet show at this Phoenix landmark! Great Arizona Puppet Theater is open year-round and is a great place to cool off in the summer months. Recent shows have included Cinderella and The Three Billy Goats Gruff.

Among our top things to do in Phoenix: Pangaea's interactive, dinosaur-themed exhibits. Photo by Ally Noel
Become a paleontologist at this interactive dinosaur attraction, which is housed at the OdySea Complex. Meet more than 50 life-sized animatronic dinosaurs and check out 10 interactive stations, including a fossil dig, an excavation, and a Dino-Kart ride. It's a must-stop for any adventure-seeking, dinosaur-obsessed kid. Ages 2 and under are admitted free. While you're there, plan a stop at the OdySea two-million gallon aquarium to visit the sharks and otters. And then on to...
Next door to Pangaea and OdySea, Butterfly Wonderland is the largest indoor rainforest conservatory in the United States—right here in the desert. Kids will be amazed to meet more than 3,000 butterflies from around the world, as well as other bugs and reptiles. With a little patience and a lot of perseverance, they might even be able to convince one of the winged creatures to land on them. Get your cameras ready!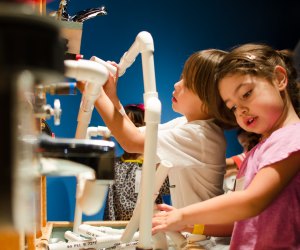 Join a workshop or drop in for free time at the Arizona Science Center's Create maker space. Photo courtesy of the museum
This theater for families has been around since I was a kid and it's still a great source of entertainment for children. Upcoming shows include The Very Hungry Caterpillar Show and School House Rock Live! Many performances come with a backstage-tour option if you reserve it in advance.
Little adrenaline junkies and thrill seekers will love Castles N Coasters, which offers an upside-down roller coaster, a multi-sensory interactive attraction, a massive arcade, a log ride, bumper boats, miniature golf, and a ton more. Food is available for purchase.

Kids of all ages love the Children's Museum of Phoenix.
The Children's Museum of Phoenix offers so much to do in an innovative way. There's an art studio, block building, a pretend grocery store, a fort-building section, Noodle Forest, an indoor climbing center, and more. Families with multiple-age kids will appreciate the dedicated baby zones in each of the exhibits, as well as the toddler-size furniture and bathroom fixtures. Review the tip sheets on the website to guarantee a good time for everyone.
This museum houses a massive collection dedicated to all things firefighting. Bring your aspiring firefighters to the fantastic children's room with its fire pole and a child-sized fire engine, complete with uniforms and other protective gear. All ages will enjoy checking out the many retro fire trucks the museum houses, too.

See more instruments than you can imagine at the Musical Instrument Museum. Photo courtesy of the museum
The Musical Instrument Museum (MIM) provides a one-of-a-kind experience with instrument displays, concerts, and drop-in kids' classes. Geographic Galleries focus on musical instruments from around the world, while the Artist Gallery introduces kids to the greatest musicians. The Experience and Encore Galleries host hands-on interactive music experiences.
Amusement rides, laser tag, bowling, and an arcade all under one roof make Jake's Unlimited a kids' paradise. Add in the "endless eats" (all-day unlimited food and drinks) with every admission, and you've got the making of one amazing day.
13. Pottery Painting
When air conditioning is a must and the creative juices are flowing, take the kids to paint pottery at As You Wish. With six Valley locations, As You Wish covers the entire metro region with fully stocked studios and ready-to-go creations. Check the online calendar for special events and classes just for kids.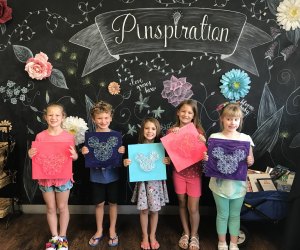 Create, make, and pin it at Pinspiration's drop-in art studio. Photo courtesy of the venue
Pinspiration is the ultimate destination for crafty makers. The Pinterest-inspired, DIY art studio and maker space has two locations in the metro area: North Phoenix and Peoria. With ready-to-go project kits, kids can choose from lots of activities. Tutorials are available, and reservations are suggested.
You may have heard of that other acronym, STEM (science, technology, engineering, math), but this museum puts the i.d.e.a (imagination, design, experience, art) into motion. Located in Mesa, it focuses on design thinking, project-based learning, and a whole lot of fun. This is a wonderful place to explore creativity.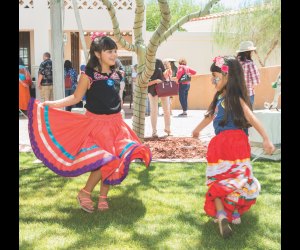 American Indian art, jewelry, and culture star at Phoenix's Heard Museum. Photo courtesy of the museum
The Heard Museum is dedicated to American Indian art. I loved visiting this museum on field trips as a child and grinding corn in the atrium. The museum's amazing collection of art celebrates the beauty and achievements of various American Indian tribal cultures across the region.
Have you wanted to go skydiving, but were afraid you'd never make it out of the plane? Visit Scottsdale to capture the feeling of flight at iFly. The national chain lets visitors experience the feeling of flying within a controlled indoor environment using a wind tunnel of sorts. Children as young as 3 are allowed to try it.

Have a colorful time at the Crayola Experience!
Add a little color to your world by visiting the Crayola Experience in Chandler. This vibrant attraction offers fun activities like naming and printing your own crayon wrapper, melting and molding crayons, creating spin art, transforming 2D drawings into animated scenes, and much more.
The rainforest-themed Mirror Maze is a unique twist on the escape-room craze. Explore the jungle, Mayan ruins, and more as jungle creatures make noise all around you. The lights and mirrors are sure to confuse your family as you try to puzzle your way out. It's a fun way excellent way to beat the heat on a hot day.
Things To Do in Phoenix with Kids — Outdoor Activities
Lions, tigers, bears, and more will entertain your family for a day at the local zoo. If you visit in the warmer months pack bathing suits for the kids, so they can enjoy its splash pads that are open from March through October. Tip: Make a reservation and bring a little cash so you can purchase lettuce at giraffe-feeding times.
The Pueblo Grande Museum is situated outdoors on a 1,500-year-old archeological site left by the Hohokam. The museum itself is not huge, making it manageable for all levels of walkers. Explore replicated dwellings and the history and culture of the Hohokam people. If you are heading here during the summer months, make sure to bring an umbrella for some shade. Children under 6 are free, while all kids 17 and under are free on Sundays.

Ride the classic carousel at McCormick-Stillman Railroad Park.
This is a must-visit for kids of all ages! Head to Scottsdale and ride on a vintage train and a classic carousel at McCormick-Stillman Railroad Park. Kids can also explore the train museum and use the circuits to run the miniature train set (replicating the city of Phoenix ) or play on the playgrounds. It's also a great spot to host a birthday party.​
Spend an entire day at Enchanted Island at Encanto Park, full of rides and attractions for all ages. Younger kids will enjoy bumper boats, a carousel, train rides, and more, while older kids can experience a thrilling spin ride and parachute tower. Pedal boats and canoes are available for rental.
Cool off with a day at Arizona's largest water park. Expect the usual high-speed water slides that thrill-seekers love, but also plenty of low-key fun for families. The park has a large wave pool, a lazy river, and a splash area designated for little kids with pint-sized versions of some of the park's thrill rides. Hurricane Harbor's season opens in March.

Get ready for some nighttime science at the Desert Botanical Garden. Photo courtesy of the garden
This cacti-filled botanical garden is simply stunning—and massive. Tall, short, and flowering desert plants, including wildflowers, are thoughtfully spread across five trails. It's home to more than 50,000 plants! Choose a trail depending on the abilities of your group, how long you'd like to stay, or what you'd like to see. Examples of native peoples' housing dots some of the trails. Kids can duck into these shelters for a break or just to explore. Remember to pack water, sunscreen, hats, and sunglasses. Many trails are stroller-friendly.
Arizona's mountainous terrain makes it the ideal spot to hike and explore the outdoors. There is great hiking throughout the city, but Camelback Mountain is famous for its great views. The two trails are somewhat intense, so only older children and experienced climbers should head up the mountain. Bring water and sunscreen and look out for wildlife along the way, especially rattlesnakes.
27. Splash Pads
Splash pads are perfect for the spring and summer—a miraculous reprieve from the sweltering heat. These free water playgrounds and fancier paid splash pads are great spots to pass the time and cool off; in fact, it's so hot that your kids will probably dry off by the time they get to the car. Don't miss the splash pad at CityScape or the pop-jet fountain at Scottsdale Quarter.
This open-air living history museum located in north Phoenix features 90 acres of an old 1800s town, giving visitors a flavor of the Wild West. Costumed interpreters bring a jail, a blacksmith shop, a complete ranch complex, and the pioneer lifestyle to life.
Catch a baseball game (or two) if you happen to be visiting during MLB's annual spring training. There are 10 stadiums where many MLB teams practice leading up to opening day. These stadiums are smaller versions of their in-season major-league counterparts, making for a more manageable day out at the ballgame for families with young kids. Check out the special children's areas at some of the stadiums.
30. Other Sports
Whether your children love baseball, basketball, football, golf, tennis, or something else, Phoenix is a sports-lovers paradise. Depending on when you're in town, catch a Diamondbacks, Cardinals, or Suns game. Phoenix is known for its superb golf courses and tennis courts, so rent some play time and don't forget the equipment.
Go back in time and view one of the largest collections of prehistoric petroglyphs in the Valley of the Sun. An easy walk leads down a path to view the clearly marked petroglyphs (rock art). Enjoy the free audio tour along the trail to get better context about the preserve.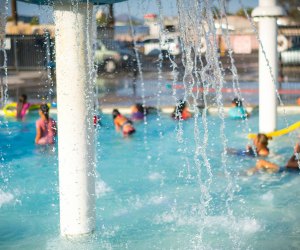 Cool off with a dip in a City of Phoenix pool. Photo courtesy of the city
32. Go Swimming
Swimming in Phoenix isn't just a luxury, it's a necessity. The summer's brutal heat is the main driving force to let the kiddos go wild in the pool. Phoenix has tons of public pools to splash around in for free during the summer months.
Whenever it's hot outside—which is often in Arizona—jumping into the pool just feels right. But who said jumping is the only way to enter the water? Golfland Sunsplash features more than 30 rides and attractions, many of which include thrilling water slides. And the mini golf can't be beat!

See exotic and endangered animals at the Wildlife World Zoo.
This zoo is a walk on the wild side! Located right off Loop 303 near Goodyear, the animal park holds a huge collection of exotic and endangered animals, including reptiles like saltwater crocodiles and a white alligator, marine animals and fish, and other amazing species.
Relive the Old West at Goldfield Ghost Town in Apache Junction. Attractions include gold panning, horseback riding, touring mines, train riding, and much more. Hungry, thirsty cowboys and cowgirls can visit the Mammoth Steakhouse and Saloon for tasty fixins'.
Phoenix Restaurants Kids Love

Rustler's Rooste is a fun, Western venue with plenty of kid-friendly food. Photo courtesy of the venue
Does it get much more "Arizona" than eating steak surrounded by whiskey barrels and wagon wheels? But, wait—there is also an indoor slide, nightly live music, and tasty food that the Lil' Wranglers will love. Rustler's Rooste is a fun, Western venue to host private events and parties.
Any kid growing up in Phoenix in the '80s could recite Peter Piper Pizza's catchy jingle and "come on over" tagline. It was, and still is, the place to host a birthday party or to visit after school. That's because besides great pizza, Arizona-based Peter Piper offers arcade games, indoor playgrounds, carousels, and more (each location is different).
Who doesn't love dinner and a show, especially if it involves delicious pizza and a gigantic pipe organ? Organ Stop Pizza (OSP) employs talented musicians to play The Mighty Wurlitzer (the O part of OSP) and entertain the crowd.
I have been visiting this bright pink ice-cream parlor since I was a child, and today's Phoenix kids continue to cool off with Sugar Bowl's sweet treats. Located in Old Town Scottsdale, Sugar Bowl opened in 1958 and has remained a state landmark, known for delicious ice cream served in dainty glass dishes. Soups, sandwiches, and salads are also available.
Need some caffeine while your kiddo burns off some energy? Head to downtown Phoenix's The Teapot. This sweet coffee shop has lattes and muffins for the adults and a huge outdoor play space for children. The Teapot also hosts lots of birthday parties and other private events. Note: Due to Covid, The Teapot has temporarily closed its public-facing shop.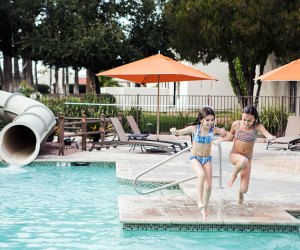 Loung poolside by day and dine beneath the desert stars by night at The Wigwam. Photo courtesy of the hotel
Family-Friendly Hotels in Phoenix and Surrounding Areas
The luxurious Gainey Ranch has everything for every age—a state-of-the-art spa and swim-up bar for adults, a rock-climbing wall and massive water playground for youngsters, and more. There are more than 10 pools, including a sand beach, a 30-foot-tall waterslide, countless water spouts and fountains, and four plunge pools.
When visiting Phoenix, cooling off is a must in the summer and just plain fun in the winter! Take a dive in style at this resort formerly known as Pointe Hilton Squaw Peak Resort. The all-suite hotel features River Ranch, a four-acre water park with water slides, a lazy river, water features, and more.
Located in Scottsdale, Great Wolf Lodge is a resort created just for kids. In fact, with so many kid-friendly amenities, you may never want to leave the premises. Features include the signature indoor water playground, a ropes course, an interactive MagiQuest scavenger hunt, mini golf, dance parties, and much more. During the winter months, the Lodge offers Snowland, which is full of winter-themed activities.
Visit the West Valley to stay at this kid-friendly hotel in Phoenix. Wigwam guests enjoy three outdoor pools, water slides, lawn games, and live music, all wrapped in a classic Southwestern motif. Depending on when you visit, there are lots of events for kids, like character breakfasts, live animal presentations, and more.
Arizona Grand is a lovely, all-suite hotel that will impress children with Oasis, the seven-acre, on-premises water park that includes eight-story tall water slides, a wave pool, a side-by-side lazy river, a massive hot tub, and Wild Cat Springs, a tamer area perfect for younger kids. Rustler's Rooste (a restaurant mentioned above) is located here.
Photos courtesy of the author unless otherwise noted. Additional reporting by Ally Noel