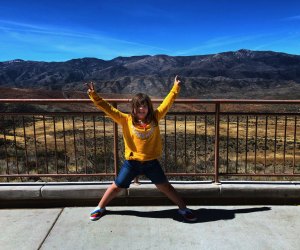 25 Fun Things to Do in the Phoenix Area with Kids
At first glance, Phoenix might seem like just cactus and desert as far as the eye can see. But we found so many fun things to do in Phoenix. There is so much more to this western city than scorching heat and golf. Truly! Families will find fantastic Phoenix museums, unique attractions, such as a stunning desert botanical garden and a Butterfly Wonderland, as well as a fascinating history that makes this capital city come to life.
A trip to the Valley of the Sun makes a perfect winter getaway or spring break for sun-seekers. There are water parks, pools, hiking, spas for the grown-ups and plenty of resorts from which to choose. We've already explored neighboring Scottsdale, Arizona, and now we want to take you on a tour of the 25 top things to do in Phoenix for families with kids. Whether you stay at a five-star resort or spend your vacation with family and friends, this gem of the Grand Canyon State has a little something for everyone.
1. Phoenix Zoo
Lions, tigers, bears, and more will entertain your family for a day at the local zoo. If you visit in the warmer months pack bathing suits for the kids, so they can enjoy its TWO splash pads that are open from March to October. Tip: Save money and time by buying tickets online, but pack a little cash, because, for an extra fee, you can feed the giraffes a handful of lettuce.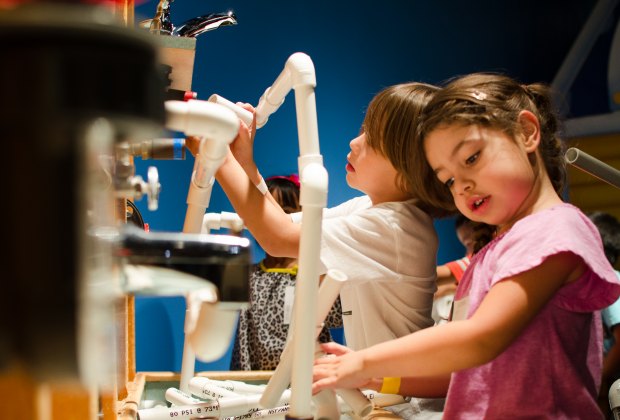 Join a workshop or drop in for free time at the Arizona Science Center's Create maker space. Photo courtesy the museum
2. Arizona Science Center
The Arizona Science Center, located in the heart of downtown Phoenix, has over 350 permanent hands-on exhibits that will entertain children of all ages for hours. Save some time to explore the Create maker space, Forces of Nature, and SkyCycle. The latter is an actual high-wire cycle that comes with a physics lesson for the brave! The center opens a temporary mummy exhibit in February 2019 and is always adding interesting new exhibits.
3. Wet n Wild Phoenix
Cool off with a day at Arizona's largest water park. Expect the usual high-speed water slides that thrill-seekers love, but also plenty of low-key fun for families. The park has a large wave pool, lazy river, and a splash area designated for little kids with pint-sized versions of some of the park's thrill rides.

Among our top things to do in Phoenix: Pangaea's interactive, dinosaur-themed exhibits entertain all ages.
4. Pangaea
You can feel like a combination of paleontologist and Indiana Jones at this interactive, indoor dinosaur attraction. Meet more than 50 life-sized animatronic dinosaurs, and check out 10 interactive stations, including a fossil dig, excavation, and a Dino-Kart ride. It's a MUST-stop for any adventure-seeking, dinosaur-obsessed kid. Ages 2 and under are FREE.
5. OdySea
The OdySea complex, which opened in neighboring Scottsdale in 2016, houses several family attractions, including Pangaea (above) and Butterfly Wonderland (below), but its crown jewel is the 2-million gallon aquarium. It's easy to spend several hours exploring its more than 65 exhibits, from otters and sharks to touch pools and even theme-park style rides. When you (or your kids) need a little break, make sure to head to Kids Cove where parents can enjoy a seat and kids can recharge with low-key activities, including Lite-Brite.
6. Childsplay
Take in a top children's theater performance at Childsplay in Tempe. In 2019 alone it will play The Very Hungry Caterpillar Show, School House Rock, and Charlotte's Web. Many performances come with a backstage tour option if you reserve it in advance.
RELATED: 25 Fun Things to Do in Jackson Hole, Wyoming, with Kids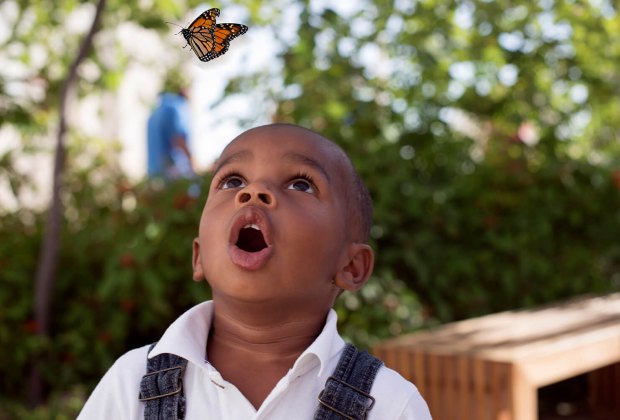 Hundreds of butterflies and a caterpillar nursery await during the spring at the Desert Botanical Garden. Photo courtesy the garden
7. Desert Botanical Garden
This cacti-filled Phoenix botanical garden is simply stunning—and massive. Tall, short, and flowering cacti and more desert plants, including wildflowers, are thoughtfully spread across five trails. It's home to more than 50,000 plants! Choose a trail depending on the abilities of your group, how long you'd like to stay, or what you'd like to see. Examples of native peoples housing dots some of the trails. Kids can duck into these shelters for a break or just to explore. Remember to pack plenty of water, sunscreen, and hats and sunglasses to protect everyone from the sun. Many trails are stroller friendly.
8. Pueblo Grande Museum
The Pueblo Grande Museum is situated outdoors on a 1500-year-old archeological site left by the Hohokam. The museum itself is not huge, making it manageable for all levels of walkers. Explore replicated dwellings and the history and culture of the Hohokam people. If you are heading here during the summer months, make sure to bring an umbrella for some shade. Children under 6 are always FREE, while all kids 17 and under are FREE on Sundays.

Get lost, or just silly, in the Noodle Forest at the Children's Museum of Phoenix. Photo courtesy the museum
9. Children's Museum of Phoenix
I know, I know what you are thinking. "No. Not another children's museum!" But, I promise this one is different. The Children's Museum of Phoenix offers so much to do and in an innovative way. There's an art studio, block building, and pretend grocery store, but also a fort-building section. There's even a Noodle Forest! Families with multiple age kids will appreciate the dedicated baby zones in each of the exhibits and toddler-size furniture and bathroom fixtures. Take some time to review the tip sheets on the website to guarantee a good time for everyone. A few hours here will almost guarantee the parents a blissful post-museum nap.
10. Butterfly Wonderland
Butterfly Wonderland is the largest indoor rainforest conservatory in the United States, and yep, it's right here in the desert. Kids will be amazed to meet more than 3,000 butterflies from around the world, reptiles, and more...bugs. With a little patience and a lot of perseverance, they might even be able to convince one of the winged creatures to land on them. Get your cameras ready!
11. McCormick-Stillman Railroad Park
Day trip to Scottsdale for a ride on a vintage train at the McCormick-Stillman Railroad Park. Kids can also explore the train museum or romp on the playgrounds here. ​

See more instruments than you can even imagine at the Musical Instrument Museum. Photo courtesy the museum
12. Musical Instrument Museum
The Musical Instrument Museum provides a one-of-a-kind experience with instrument displays, concerts, and drop-in kids' classes. Geographic Galleries focus on musical instruments from around the world while the Artists Gallery introduces kids to some of the greatest musicians. But families might most appreciate the Encore Gallery where there are options to get a hands-on interactive music experience! Expect to spend a few hours at the museum to really see it all.
13. Pioneer Living History Village
This open-air living history museum located in North Phoenix features 90 acres of an old 1800s town (1863-1912), giving visitors a flavor of the Wild West. Costumed interpreters bring a jail, a blacksmith shop, a complete ranch complex, and more of the pioneer way of life to the present day. And, yes, that includes cowboys re-enactors!
14. Hall of Flame Fire Museum
Believe it or not, this museum houses the WORLD's largest collection dedicated to all things firefighting, or at least that's what it claims. Bring your aspiring firefighters to the fantastic children's room with its fire pole and a child-sized fire engine complete with uniforms and other protective gear. All ages will enjoy checking out the many retro fire trucks the museum houses, too.

Testing out our swing during spring training season!
15. Cactus League
Catch a ball game (or two) if you happen to be visiting the Phoenix area during the MLB's annual spring training. Baseball will be the game of choice at any of the 10 stadiums where 15 of MLB's teams practice leading up to opening day. These stadiums are smaller versions of their in-season major league counterparts, making it a more manageable day out at the ballgame for families with young kids. Check out the special children's areas at some of the stadiums. We had fun practicing our baseball skills at the kid's area at Salt River Field at Talking Stick.
16. Rustler's Rooste
Does it get much more "Arizona" than eating steak surrounded by whiskey barrels and wagon wheels? But, wait, there is also an INDOOR slide, nightly live music, and views that even National Geographic has raved about. Dinner is ready.
17. Mirror Maze
The rainforest-themed Mirror Maze is a unique twist on the escape room craze. Explore the jungle, Mayan ruins, and more as jungle creatures make noise all around you. The lights and mirrors are sure to confuse all as the family tries to puzzle your way out. It's a fun way excellent way to beat the heat on a hot day!

It's gonna be hot, so save time for lounging in the pool.

18. Go swimming
Pool hopping is a summer rite of passage for any self-respecting local. Visitors can beat the heat with an afternoon spent submerged in a pool of cool water. Phoenix has TONS of public pools to splash around in for FREE during the summer months. Or splurge on a resort like Hyatt Regency with its 20 fountains, 45 waterfalls, and a 30-foot three-story water slide!
19. Amazing Jakes Mesa
Amusement rides, laser tag, bowling, and an arcade all under one roof make Amazing Jakes, well, amazing for kids. Did I mention that there is a FREE unlimited buffet included with every admission before 8pm? But, maybe you should indulge in the eight types of pizza before you go for a spin on Radius.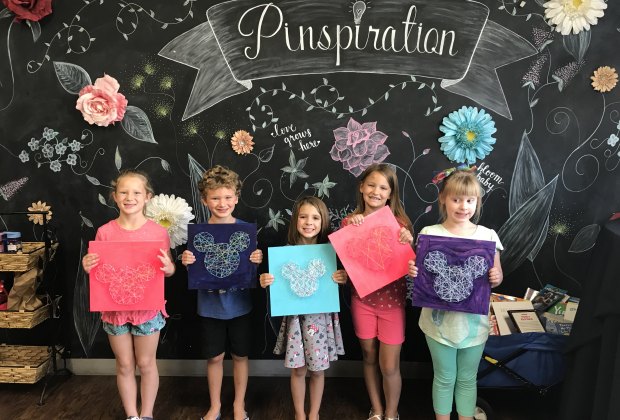 Create, make, and pin it at Pinspiration's drop-in art studio. Photo courtesy the venue
20. Pinspiration!
Pinspiration is the ultimate destination for all those crafty makers. The Pinterest-inspired, DIY art studio and maker space on High Street in North Phoenix has over 60, ready-to-go project kits that you and the kids can choose from for the day's activity. There are tutorials if needed and plenty of inspiration to be found at this local crafting mecca. (Reservations suggested.)
21. Deer Valley Petroglyph Preserve
Go back in time, way, way back in time, to view one of the largest collections of prehistoric petroglyphs in the Phoenix Valley. An easy walk leads down a path to view the clearly marked petroglyphs. Pro tip: Pick up a copy of the scavenger hunt for the kids to add some extra fun to this prehistoric adventure.
22. i.d.e.a. Museum
You may have heard of that other acronym STEM (science, technology, engineering, math), but this museum puts the i.d.e.a (imagination, design, experience, art) into motion. The museum is all about design thinking, project-based learning, and a whole lot of fun. This is an absolutely wonderful place to spend some quality time together and just explore your creativity.
RELATED: Palm Spring's 25 Best Attractions, Resorts, and Sights for Families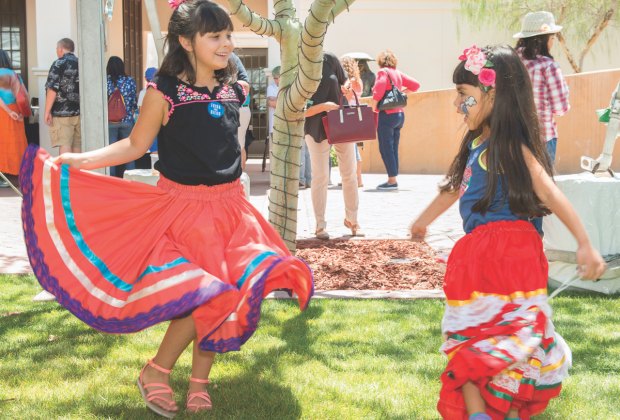 American Indian art, jewelry, and culture star at Phoenix's Heard Museum. Photo courtesy the museum

23. Heard Museum
The Heard Museum is dedicated to American Indian art. While the whole museum is amazing, check out A HOME Studio, the museum's hands-on interactive exhibition space. There is an awesome collection of rotating projects that are based on the cultures of different tribes.
24. iFly
Have you wanted to go skydiving, but were afraid you'd never make it out of the plane? Capture the feeling of flight with an indoor experience at iFly. The national chain lets visitors experience the feeling of flying, but within a controlled indoor environment using a wind tunnel of sorts. You float off the floor without having to jump! Children as young as 3 are allowed to try it.
25. Splash Pads
Hot kids are miserable kids, and there is no hiding the fact that Phoenix is H-O-T, especially during the prime summer vacation months. Thankfully the city is loaded with FREE water playgrounds and fancier paid splash pads. Don't believe me? Even this coffee shop has a splash pad (dream come true). Don't miss the splash pad at CityScape either.
Photos by the author except where noted