Sedona with Kids: Best Things To Do in Sedona, Arizona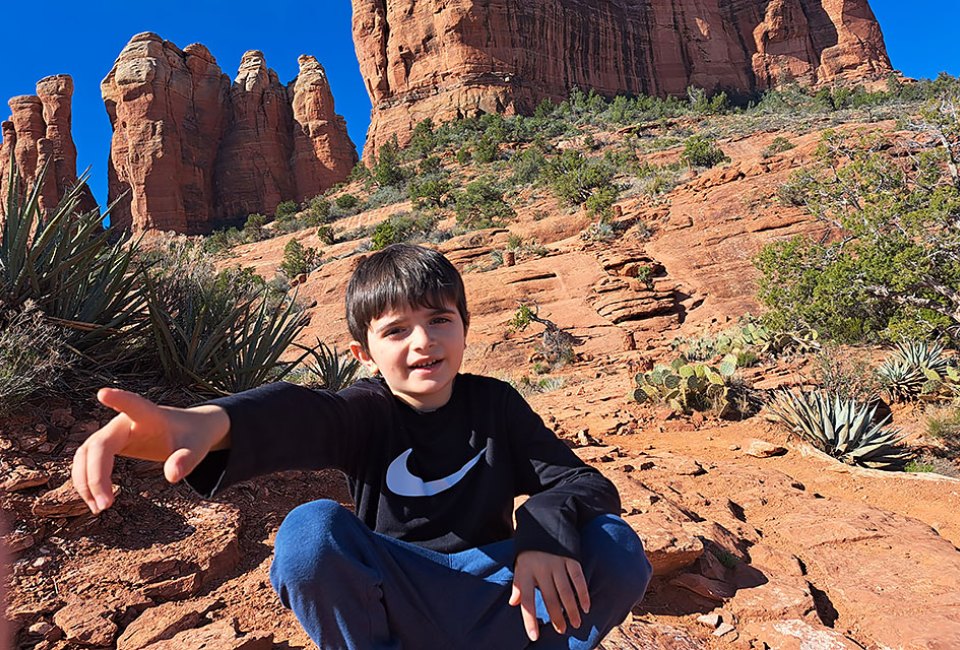 5/20/23
- By
Katherine Dhurandhar
With its magical, red-rock landscape and plethora of outdoor activities, Sedona, AZ is a great destination for your next family vacation. Whether you want to explore the art and history of this rich cultural area, catch thrills in a backcountry Jeep or ATV tour, or get up-close and personal with nature on one of the many hiking trails, there is something for everyone in Sedona.
Sedona is often called the gateway to northern Arizona because of its central location among some of the most iconic attractions in the American Southwest, including the Grand Canyon. We were able to visit Antelope Canyon, Monument Valley, and the Petrified Forest in one overnight trip from Sedona, but these are also doable as day trips.
Here are 32 things to do in Sedona with kids, including family-friendly Sedona hotels and restaurants. Check out our Western US Family Travel Guide for more adventures out west, including our visitors' guides to Phoenix, Las Vegas, and Colorado Springs.

Explore Montezuma Castle, a Native American cliff dwelling. Photo courtesy of the castle
Best Things to Do in Sedona with Kids
1. Explore Native American Culture
Sedona is near some of the best-preserved Native American ruins in the US, including Montezuma Castle, a preserved cliff dwelling, and Honanki and Tuzigoot, which feature native petroglyphs. Visitors can also book a Native American culture tour with a focus on art and history or a nature experience. And, there are many art galleries that feature work by local Native American artists from the tribes of Sinagua, Yavapai, Apache, Hopi, and Navajo. Families can also view ancient artifacts and see traditional dance performances at Sedona Heritage Museum.
2. Go for a Hike
Hiking is my family's favorite vacation activity, and Sedona did not disappoint. Hikes in the area range from an easy stroll around the iconic Bell Rock to rock-scrambling up Cathedral Rock and exploring hidden waterfalls in Secret Canyon. A Red Rock parking pass is required at most of the trail parking areas. The pass—which is available as a daily, weekly, or annual pass— can be purchased online the same day as your hike (no printing required). Be aware that the parking areas fill up fast, but there is a free shuttle service that picks up and drops off at various locations around town.
3. Take a Jeep Tour
One of the most popular ways to explore Sedona is on an off-roading Jeep tour, and there are numerous companies ready to give your family a ride. The iconic Pink Jeep Tours have the most options, but they fill up quickly, so make sure to book ahead of time. Other options are Sedona Jeep Tours, Red Rock Western Jeep Tours, and Arizona Safari Jeep Tours.
RELATED: 40 Things To Do in Denver with Kids, Other than Hiking

Sedona is one of the best places to see the stars. Photo courtesy of Sedona Stargazing
4. Go Stargazing
Sedona is known as a top stargazing destination, as it is one of only 20 certified Dark Sky Communities in the world. Visitors can check out the stars on their own at one of the many stargazing spots in and around Sedona, or book a stargazing or UFO tour. Sedona Stargazing offers a private experience guided by professional astronomers, in which participants can use high-powered telescopes to view galaxies, star clusters, nebula, planets, and the Milky Way when visible. For a more rugged experience, Sedona Jeep Tours offers nighttime stargazing and full-moon tours from the backcountry trails.
5. Ride the Trolley
Trolley tours are a great option for seeing the sights in and around Sedona, particularly for families and those with limited mobility. Visitors will learn about the area and visit some of the most iconic viewing spots for photo ops. Popular tour companies include Sedona Trolley and Red Rock Magic Trolley.
6. Explore by Helicopter
See the amazing rock formations, surrounding mountains, and even ancient ruins from an eagle-eye view in one of the many helicopter tours available in Sedona. Tours are accessible for all ages and mobility levels.
7. Explore the Verde River
Enjoy the lush scenery along the winding Verde River on a rafting, inflatable-kayaking, or tubing tour. A water-to-wine tour is also available, which includes a day of kayaking on the river followed by an outdoor wine-tasting experience.
RELATED: Top National Parks for Summer Vacation with the Kids

Take a dip in one of America's top 10 swimming holes at Slide Rock State Park. Photo courtesy of Arizona State Parks
8. Go Swimming
You might not think of swimming as a typical desert activity, but Sedona offers some nice creeks and swimming holes perfect for cooling off on hot days. Popular swimming holes can be found in Slide Rock State Park, named one of America's top 10 swimming holes and known for its natural water slide, and Wet Beaver Wilderness, which has some swimming areas but is best known for a cliff-jumping spot known as "the crack." Since it is a 3.5-mile hike one way to the crack, it is less crowded than other Sedona swimming holes.
9. Catch a Fish
In addition to providing great swimming holes, Sedona's creeks are also great ecosystems for trout, making it a top fishing destination. Take your own gear to one of these local fishing holes, or check out Rainbow Trout Farm, which provides all gear at extremely low prices. There is no fee to explore the property or for parents supervising kids while they fish. Fly-fishing tours are also available for individuals or groups.
10. Go Off-Roading
For families with older teens who want a more thrilling way to see the sights, guided ATV tours explore the rugged trails and visit spots far away from the rest of the crowd. Teens must be 15-and-a-half or older with a learner's permit to drive the ATV.
RELATED: 25 Fun Things To Do in Jackson Hole with Kids

Take a stroll through Tlaquepaque Arts & Crafts Village.
Top Attractions in Sedona for Families
Fashioned after a traditional Mexican village, the Tlaquepaque shopping village includes shops, art galleries, and restaurants amid cobblestone walkways, stucco walls, and arches that will take you back in time. The walking areas also feature decorative fountains with sitting areas surrounded by manicured gardens and animal sculptures. My son loved Tlaquepaque Toy Town, which has a good selection of LEGO sets plus local-themed toys like scorpions preserved in glass. All the kids enjoyed playing in the fountains while listening to live Native American flute music in the plaza.
Located about 20 minutes from downtown Sedona, Red Rock State Park is aptly named, with miles of simple hiking trails providing expansive views of Sedona's iconic red rocks and the surrounding landscape. The visitor center has a gift shop, a butterfly and hummingbird garden, and daily ranger-led nature programs.
RELATED: The Rocky Mountains with Kids: 30 Best Things To Do in Boulder

Slide Rock State Park features red rocks, a creek, and a natural water slide.
Nestled between the majestic cliffs of Oak Creek Canyon, Slide Rock State Park was originally a homestead apple farm. The apple orchard and historic cabins are available for viewing, and the creek features a natural water slide, the park's namesake. When we visited in the spring, the creek was roaring with waterfalls, but in the summer it slows down and turns into multiple swimming holes perfect for cooling off on a hot day.
Take a train ride through the Verde Canyon and see views of red rock formations and ancient Native American ruins that are only accessible by train. If you are visiting Sedona at Christmastime, don't miss the magical Christmas journey to the North Pole.
RELATED: The Best Zoos in the US: Take Your Kids on a Family Animal Adventure

See animals up close at Out of Africa Wildlife Park. Photo courtesy of the park
Located in nearby Camp Verde, Out of Africa is a 104-acre wildlife park dedicated to preserving exotic animals that are in danger of extinction. Visitors can take an African-style safari and see the animals up close in their spacious natural habitats, book a private animal-feeding tour, or soar above the park on a zip line.
This Roman Catholic Church is one of the most iconic sights in Sedona, as it is built right into the dramatic red rock formations. The chapel is known for its amazing views, especially at sunset. Prayer services are also held regularly.
RELATED: 12 Best California Family Vacation Ideas Kids Love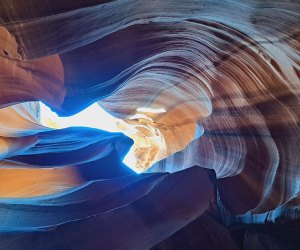 Take a tour of the breathtaking Antelope Canyon.
Day Trips from Sedona
Located in Page, Arizona—about four hours north of Sedona by car—Antelope Canyon is one of the most well-known and accessible slot canyons in the area. As the canyon is on the Navajo reservation, visitors are required to reserve a tour with a Navajo guide, who will provide information about the canyon and show how to get the best photos inside. There are numerous companies offering tours of both upper and lower Antelope Canyon, but make sure to book them well in advance of your trip.
Less than one hour north of the red rocks of Sedona is the hip mountain town of Flagstaff. The bustling downtown boasts a great selection of eclectic restaurants and nightlife with a majestic backdrop of (seasonally) snow-capped mountains. In the winter, these mountains are a popular destination for skiing, snowboarding, and snow tubing. In summer, the gondola rides offer spectacular views of Sedona and even the Grand Canyon from an elevation of 11,500 feet.
19. Grand Canyon
Approximately two hours northwest of Sedona is the iconic Grand Canyon National Park. Check out the tons of family-friendly tours and activities available in this majestic destination. Small-group Grand Canyon Tours are also available from Sedona or Flagstaff.
RELATED: Zion National Park: A Guide for Families

Petrified Forest National Park features unique landscapes and rock formations.
You'll find some of the most unique landscapes in this national park, named for the hundreds of 2-million-year-old remnants of petrified trees found there. Kids will love seeing some of the dinosaur and crocodile skeletons that have been found in the area displayed in the park's museum. Don't miss walking on the trail through the mineral hills of the Blue Mesa, which will make you feel like you're on another planet. If your kids are Cars fans, check out the Wigwam Motel on Route 66, a few miles outside the park. Reminiscent of the Cozy Cone Motel in Radiator Springs, it has a collection of classic cars parked outside, including Tow Mater's Grandpappy. This unexpected find was my son's favorite part of the trip.
From Sedona to Phoenix, you will notice a dramatic change in landscape, from red rocks and mountains to smaller hills with forests of saguaro cactuses covering the landscapes. We were lucky to experience the spectacular spring wildflower bloom when we visited in the first week of April, which also happens in the fall. We hiked to Yavapai Point just outside Phoenix in Lake Pleasant Regional Park, where we were surrounded by huge cactuses and hundreds of yellow, red, and blue wildflowers. Keep an eye out for the wild donkeys.
RELATED: Things To Do in Joshua Tree

Take in traditional southwest views at Monument Valley.
22. Monument Valley
Some of the most iconic views of the American Southwest are found in the Monument Valley Navajo Tribal Park, located at the border of Arizona and Utah. The most popular way to see the monuments is on the Valley Drive, a 17-mile road that winds through the area and offers multiple parking areas for viewing and photo ops. Don't miss out on the Navajo tacos at the Reuben Heflin Restaurant inside the Hampton Inn in nearby Kayenta, Arizona.
Where to Stay in Sedona with Kids
This family-friendly hotel is centrally located in Uptown Sedona, walking distance from tons of restaurants and activities, including Tlaquepaque Arts & Crafts Village. The hotel features a fitness center, adult and kiddie pools, and a recreation center with family activities such as tennis, ping-pong, and pool tables. Families with babies will love knowing there's no need to pack a crib or high chair, as these are available upon request. The Kids Camp for ages 4-12 offers fun activities such as arts and crafts and scavenger hunts.
Even though it is one of the more budget-friendly options in the Sedona area, Sedona Springs Resort is not short on amenities for families and kids. The resort features a playground, a clubhouse, hot tubs, and indoor and outdoor pools. Daily resort activities include arts and crafts, Native American cultural presentations, and live animal shows.
For active families who still want to be close to downtown Sedona, the Courtyard Sedona is a great kid-friendly option. Families can enjoy views of the majestic red rocks from their room or from the hotel's third-floor viewing deck. The hotel also offers many outdoor activities, including hiking and biking trails accessible directly from the parking lot, plus an outdoor whirlpool and a kid-friendly heated pool with multiple shallow areas.
This kid-friendly bed-and-breakfast features 16 uniquely decorated villas inspired by local culture, including the Wagon Wheel villa, which has a bed nestled inside of a covered wagon. The hotel features a seasonal pool and a year-round heated Jacuzzi, plus a five-course daily breakfast. If your kids want to try fishing, Adobe Grand Villas will book a half- or full-day fishing excursion for your family. Another fun family activity is the Verde Canyon Railroad, which embarks just 30 minutes from the villas.
Located in Uptown Sedona, Amara Resort and Spa is just steps away from tons of shopping and dining options as well as the Sedona Trolley. The resort also boasts an on-site restaurant, outdoor fire pits, and an infinity pool. One of its unique features is its new dedicated classroom and office space, which makes it a perfect place for families working and learning remotely. A teacher's assistant is ready to work with school-age children for no extra charge. The resort also provides access to a professional nanny (with a reservation).

The appetizer sampler at the Cowboy Club includes unique local favorites like rattlesnake sausage and cactus fries.
Best Kid-Friendly Restaurants in Sedona
Located in uptown Sedona, this iconic bar and restaurant has been in business for more than 70 years. Many famous Hollywood stars, including John Wayne and Elvis Presley, frequented the restaurant while they filmed classic Western movies in Sedona. The menu features unique local dishes such as elk chops, rattlesnake sausage, and cactus fries, plus a kids' menu.
Enjoy a selection of craft brews and spectacular views of the Sedona landscape at this upstairs brewery inside the Tlaquepaque shopping center. Food options include gourmet burgers, artisan pizzas with unique toppings such as brie and asparagus, and a separate kids' menu.
With two locations inside Tlaquepaque Shopping Village, Sedona Cake Couture's artistic cakes have been featured on Food Network and TLC as well as in numerous lifestyle magazines. Enjoy coffee and a variety of decadent desserts, including incredibly lifelike cactus cupcakes.
A visit to Arizona is not complete without trying some authentic Arizona-style Mexican cuisine, which is a blend of traditional Mexican food with native Navajo and Hopi flavors. Dishes include typical Mexican food like tacos and enchiladas, plus native favorites like Navajo fry bread (sopaipilla) pizza.
This Sedona favorite serves breakfast and lunch, with breakfast available until closing at 2pm. The breakfast menu offers traditional favorites like pancakes and omelets, plus specialty items like the famous three-pound cinnamon roll. Mexican breakfast items include huevos rancheros and breakfast enchiladas.
This article contains some affiliate links, which means we might earn a small commission if you book a hotel or activity. There is no extra cost to the reader. We only recommend hotels and services that we have personally used or have thoroughly researched.
Unless noted, photos by the author