25 Fun Things to Do in Jackson Hole with Kids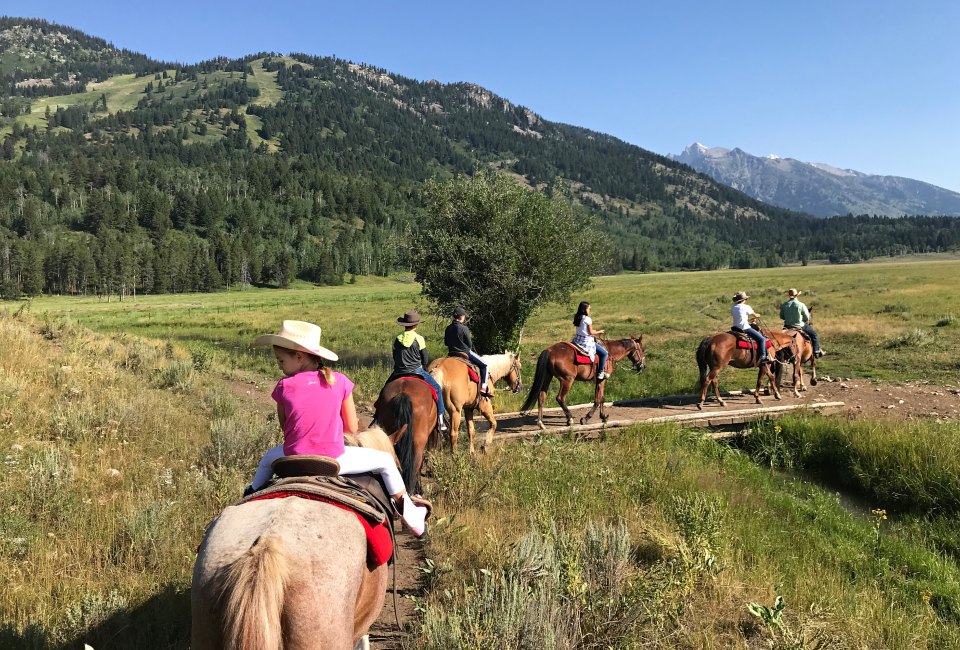 11/17/18
- By
Kelley Heyworth
Old West charm? Check. Rugged natural beauty? Check. Toss in four seasons of family-centric fun, and Jackson Hole is an ideal place to introduce kids to the American West. Our extended family—including eight kids between the ages of 3 and 13—went to this postcard-perfect Wyoming valley situated south of Grand Teton and Yellowstone National Park over the summer. But we're already dreaming of returning in the winter for ski and sleigh-ride adventures.
To quote my 6-year-old during one action-packed July day that started with a zip on a "cowboy coaster" and ended with a moose sighting in the backyard of our rental house: "There's just too much to do in Jackson Hole!" To help guide little cowpokes and parents, we've handpicked 25 special activities that will see you through both warm and wintry weather in Wyoming.
For a Mountain West adventure in a more urban setting, read our guide to Denver. Happy trails!
1. Zip down the cowboy coaster at Snow King. This zippy ride was easily our favorite activity at Snow King Mountain, a summer and winter hot spot that's conveniently situated just a few minutes outside of downtown Jackson. A one- or two-person open car ferries riders 456 feet to the top of a switchbacked ramp; from there, they glide down, using a hand brake to adjust speed. Good to know before you go: It's a summer-only activity. Also, solo riders need to be 54 inches tall and passengers 38 inches tall.
2. Pony up for the alpine slide, too. The alpine slide is next to the Cowboy Coaster, so you know the kids will be begging to do this. Suitable for kids over 6 (or ages 2 to 6 with an adult), this ride on a flat sled of sorts whooshes passengers down a curved concrete ramp at not-scary speeds. Open during the summer only.
3. If you hit Snow King in the winter, ride the King Tubes. The kids' ski program at Snow King gets raves, but don't miss the snow tubes, which is a nice activity that can bring family members of different ages together. There are three groomed trails and a rope tow to bring kiddos (at least 42 inches tall) up for repeat rides.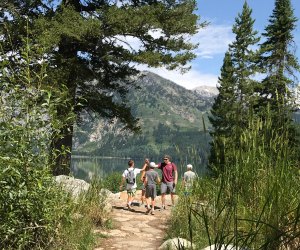 The Phelps Lake loop trail in the Laurance S. Rockefeller Preserve is a doable distance for families.
4. Surround yourself with the area's natural beauty at the Laurance S. Rockefeller Preserve. Just 45 minutes from downtown Jackson, this meticulously maintained nature preserve will give the family a taste of the Tetons. It features several manageable half-day or day hikes which lead families around crystal blue mountain lakes and on trails lined with stunning wildflowers (our favorite was the rosy "Indian paintbrush"). We even spied moose about 10 feet from the roadside near the preserve entrance.
5. Leap from Phelps Rock—if you dare! Not for the faint of heart (or small children), a jump from this 20-30-foot granite outcropping is a thrilling highlight of a hike around Phelps Lake, which is situated in the Laurance S. Rockefeller Preserve.
6. Cheer on kids wrestling piglets at the rodeo. Though it sounds more than a little strange, the kids' pig wrestling competition is a beloved—and hilarious—summertime tradition at the Teton County Fair, which happens every July in Jackson. Teams of local kids dress up in inspired costumes and work together to see how fast they can deposit little squealers into a bucket placed in the middle of a muddy pen.
RELATED: City Guides: Where to Eat, Play, and Sleep in Top Towns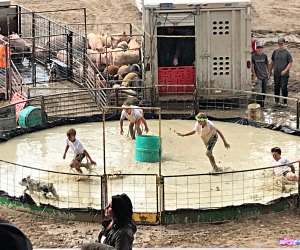 Pig wrestling is an annual tradition at the rodeo.
7. Pose for a pic under one of the iconic antler arches. If you miss a photo-op underneath the airport gateway of elk antlers after deplaning in Jackson, be sure to snap a shot downtown. The town square is framed by four sets of these arched antlers—all collected from fields after naturally falling from animals who grow new sets each year.
8. Stick around for the Town Square Shootout. Every evening at 6:15pm, except for Sundays from Memorial Day through Labor Day, local historic actors recreate an old-time gunfight in George Washington Memorial Park (aka, town square). The Shootout is the longest, continuously running gunfight in the U.S.
9. Indulge in a scoop or two at Moos. There are so many creative flavors at Moos, a fave ice cream parlor in downtown Jackson, it's hard to choose. We're partial to the Haystack flavor (fresh coconut mixed into chocolate ice cream).
10. Buy a souvenir at Jackson Hole Mercantile. Whether it's a coonskin cap or Native American dreamcatcher, kids are sure to find a unique keepsake from Jackson Mercantile, located right on the Town Square in downtown Jackson.
11. Savor some penny candy, too. Even grown-ups will feel like kids in a candy store at Yippe IO Candy Co., a downtown Jackson staple tucked underneath a restaurant and behind Jackson Mercantile. Expect to see dozens of bins of sweets both trendy and classic—Bit-O-Honey and whatnot—as well as homemade fudge.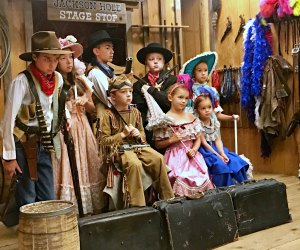 Kids love to dress up (and parents love the keepsake shot) at an old-time photo place.
12. Dress up for the old-time photo...it's worth it! There are a couple photography parlors where visitors can dress in old-time Western wear—from taffeta hoop skirts to gangster garb—and get professional keepsake photos. It's a little pricey, but the resulting photos are adorable, and the kids will enjoy playing dress-up! We had fun at Jackson Hole Old Time Photos.
13. Watch skiers or mountain bike tricksters from your lunch seat at the Four Seasons. It's not necessary to lodge at the Four Seasons to eat lunch at the Handlebar Cafe, so named because it overlooks the final stretch of a slope (Lower Teewinot) where mountain bikers finish their ride down. It's also open in the winter when skiers can chill out and enjoy a hot cocoa or a bowl of chili while warming up after the slopes.
14. Relax with a serene gondola ride that offers up spectacular views above the Jackson Hole Mountain Resort. In the summertime, the Bridger Gondola is a 10-minute, gentle and scenic tram car ride to a 9,095-foot overlook, perfect for jaw-dropping views (and photos). Lunch and refreshments are available, too.

Wildflowers abound along Jackson Hole hiking paths.
15. Or, stay grounded with a kid-friendly wildflower hike. One of our favorite little hikes was an easy, winding walk among tinkling brooks and wildflowers at the base of the Jackson Hole Mountain Resort. Little ones can peel off whenever they get tired, but kids and grown-ups can continue up farther to where to Bridger Gondola lets off.
16. Saddle up for a gentle horseback ride along the Teton foothills. Teton Valley Trail Rides is situated at the entrance of Teton Village, which makes it easy to pair a ride with a meal or one of the many other cool activities throughout the village. Staffers match horses with riders, and there are one-hour, two-hour, and four-hour trail rides that loop through meadows and wooded trails. If kids are too young or too skittish to ride any distance, staffers can arrange for brief walks closer to the paddock.
17. Set aside a day or two for Yellowstone. You've come this far; if you have the time in your schedule, it's worth it to visit the world's first national park, which is a two-and-a-half-hour drive from Jackson. All facilities and roads are open in July and August, but these are also the most crowded months, so consider going in the off-season (there are plenty of spring, fall, and winter activities available).
18. Ride a snowcoach to Old Faithful in the wintertime. There are lots of ways to access this famous geyser in the summertime, but if you are in the area between November and March, your only option is a thrilling one: snowcoach!
RELATED: 25 Top Things to Do in Palm Springs with Kids

Kids ages 6 and up can go along for the ride in a family adventure with Jackson Hole Whitewater.
19. Raft in some gentle whitewater along the Snake River. There are outfitting companies aplenty that offer rafting rides along the Snake River, which winds through the valley. We had a great experience with Jackson Hole Whitewater. Expect to be outfitted with neoprene waterproof gear in Jackson and then take a 45-minute bus ride to a launch site farther along the Snake. Guides are careful to seat passengers according to strength, size, and an interest in getting wet, and even our 6-year-old loved the ride.
20. Spend a cold or rainy day at the Jackson Hole Children's Museum. Enjoy interactive exhibits, a book nook, and more at this downtown family go-to that's a testament to the family-friendly nature of the town.
21. Set aside a date night to go to the Million Dollar Cowboy Bar. Expect to feel as if you've been dropped into a movie set at this famous downtown Jackson bar. There's entertainment—western dancing and music—but it was fun for us just to sidle up to a saddle seat at the bar and have some grown-up time with a beer and a proper cocktail.
22. Follow the storyboards while strolling through Rendezvous Park. This great little park, centrally located in Jackson Hole, is an ideal place to walk along the Snake River. From the parking area on the Jackson side of the river, there's a series of handpainted signs with whimsical, storybook-like drawings and descriptions of local wildlife, making the whole walk extra kid-friendly.
23. Enjoy a family meal at Calico, which features not only great food but also nearly two acres of outdoor space where kids can frolic while you sit out on the deck. The Italian-influenced menu, with superb pizza, is excellent, and the children's menu very modestly priced.
24. Slough off stress with a family swim in the Granite Hot Springs. Located one hour south of Jackson, this developed, concrete hot springs pool is nestled in a huge spruce, pine, and fir forest. It's accessible by car in the summer and early fall, and then by snowmobile or dog sled in the winter.
25. Take a sleigh ride across the National Elk Refuge. Horse-drawn rides onto the refuge are a popular activity between mid-December and early April, allowing riders a unique wildlife viewing experience and an incredible opportunity for photography. More than a thousand elk reside in the refuge, which is situated between downtown Jackson and the airport.
26. Don't leave without a visit to the National Museum of Wildlife Art. This surprisingly stunning museum is conveniently situated near the airport (which comes in handy during a flight delay—I speak from experience). See massive sculptures and paintings of some of the region's most iconic animals, and don't forget to stop in the Children's Discovery Gallery, where children can create their own wildlife art to tack up on the display wall—and revisit the next time they come to Jackson Hole.
Know Before You Go
Like most western locales, activities in Jackson Hole can be up to an hour or two apart. Invest in a rental car; the aiport has many options from which to choose.
There are many hotels and motels in Jackson, Teton Village, and nearby Wilson, but if you're looking for something roomier, Outpost JH has rental homes and condos, and even offers concierge service if needed. (We had a moose wander into our backyard at a JH rental home, but we were told that is an unsusual—and lucky!— event.)
Jackson Hole features several activities that may not be suitable for little kids. When adventure calls but a napper is back at the hotel or rental home, call a sitter: Jackson Hole Babysitters can help.
All photos courtesy of the author
Click Here to Sign Up!
i