10 Tips for Last Minute Yellowstone National Park Accommodations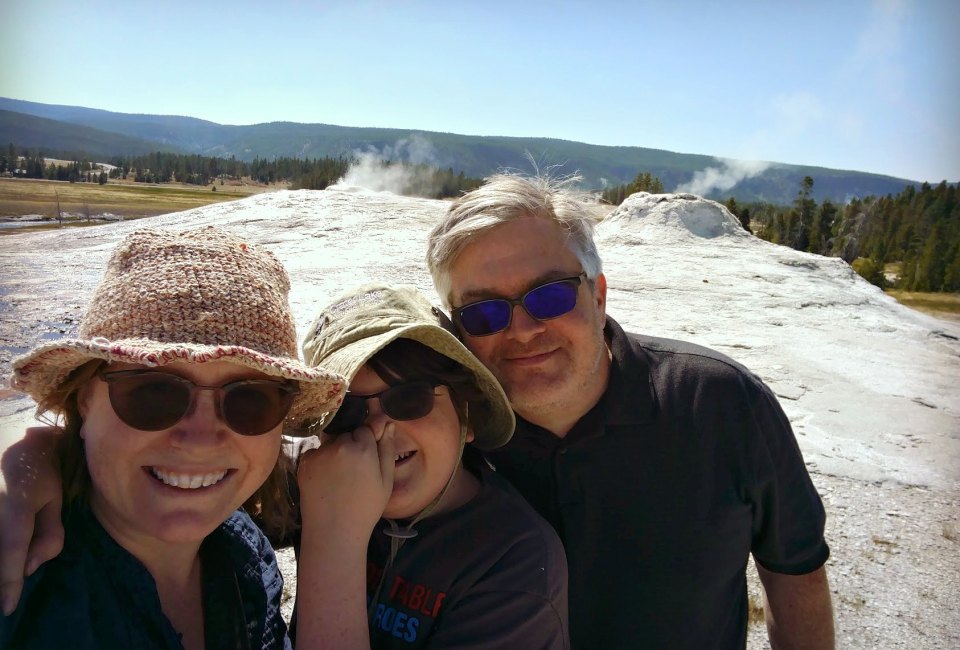 5/7/17
- By
Anna Fader
The word is that if you want to visit the popular national parks like Yellowstone or the Grand Canyon you have to plan a year in advance because the accommodations get booked up.
When we decided to take a last minute cross country drive last summer, I thought we might have to skip Yellowstone. In a panic, I started looking into how to get accommodations about a week before our arrival. Sure enough, all the rooms were booked for the two nights we wanted to stay in the park. But, in the end, it all worked out and we had an amazing stay. It was definitely worth it. Read on for my best tips for booking last minute accommodations at Yellowstone and other national parks.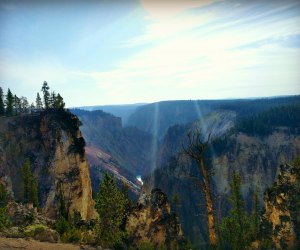 The natural beauty of yellowstone is varied and stunning at every turn.
1. How to book Yellowstone accommodations online.
All national park reservations are booked through a central booking system called Xanterra. They have online booking or you can call and speak to a human being. The online booking is a little annoying because you have to check each lodge for availability in a separate search.
2. How to book accommodations by phone.
If you call Xanterra at 307-344-7311 you will speak to a very friendly and helpful person who will try to help you book a room. If there are different options available they will help explain the differences, which is useful since I found it a little confusing on the website.
3. Types of accommodations in Yellowstone National Park.
There are four main lodging areas, Old Faithful, Roosevelt, Canyon, Lake and Mammoth Hot Springs. Each area has its own flavor and style of accommodations. In addition to accommodations each area has plenty of services like dining and snack options, a general store, and a visitors' center. You can find information about the different accommodations on the National Park Service website.
4. How to choose which lodge to stay in.
If you are booking last minute accommodations you don't want to be too picky about where you stay—just be grateful you found a place—but if you do have choice you can think about location within the park, or whether you want a more rustic cabin experience or a grand lodge. Peruse the options before you call, because if you happen to find find an opening, you want to be able to grab it on the spot.
5. What about camping?
There are are first come, first served campsites, but counting on one of those would be even more adventurous than I care to be. If your plan is to camp, I suggest having a back-up plan.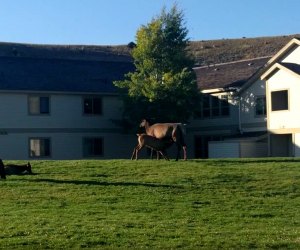 A fawn nurses on the lawn outside of Mammoth lodge.
6. Try, try, and try again.
I had read that your best bet on booking last minute accommodations was to call morning and night until something opens up. Before I ever got around to calling, however, I casually checked the website a few times. On the third try I found a room available for our dates. Was I just unusually lucky? I don't think so. The same day we were planning on arriving at the park I called Xanterra to see if we could do a different lodge on our second night so we could see a different part of the park and was able to book a room that same day, too.
7. Timing is everything.
The free cancellation period is two days before the booking, so there is a lot of movement in that period. It's nervewracking to wait literally until the last minute, but it can be a great strategy snag a room.
8. Be prepared to pay.
There are downsides to booking late. You won't get much choice, and since the less expensive lodgings often go first, you may have to accept a more expensive option than you had hoped for.
9. Be flexible.
If you are planning on visiting other attractions in the area consider sliding your dates around a bit. Sometimes checking different dates can make all the difference in availability.
10. Staying outside the park.
If you can't find a room in the park, you can also stay just outside of the park. West Yellowstone is probably the best location since it is close to the most popular destinations in the park, but if you search an online site like hotels.com for Yellowstone it will offer you hotels and motels in West Yellowstone and other nearby towns since they can not offer the accommodations directly in the park. Yellowstone National Park is really big so even though West Yellowstone is right outside the park it will probably take you about an hour to get from your hotel to your first attraction, especially if you don't leave early in the morning and hit high season traffic. If you are spending a few days in the park it is slightly less convenient to have to drive in and out of the park each morning and night, but the park is so big everything is long drives anyway. In peak season though even West Yellowstone can be fully booked. We tried to book a room same day in West Yellowstone in August and the closest we could get was 45 minutes south.
All photos by author.
t Click Here to Sign Up!