The Rocky Mountains with Kids: 30 Best Things To Do in Boulder, CO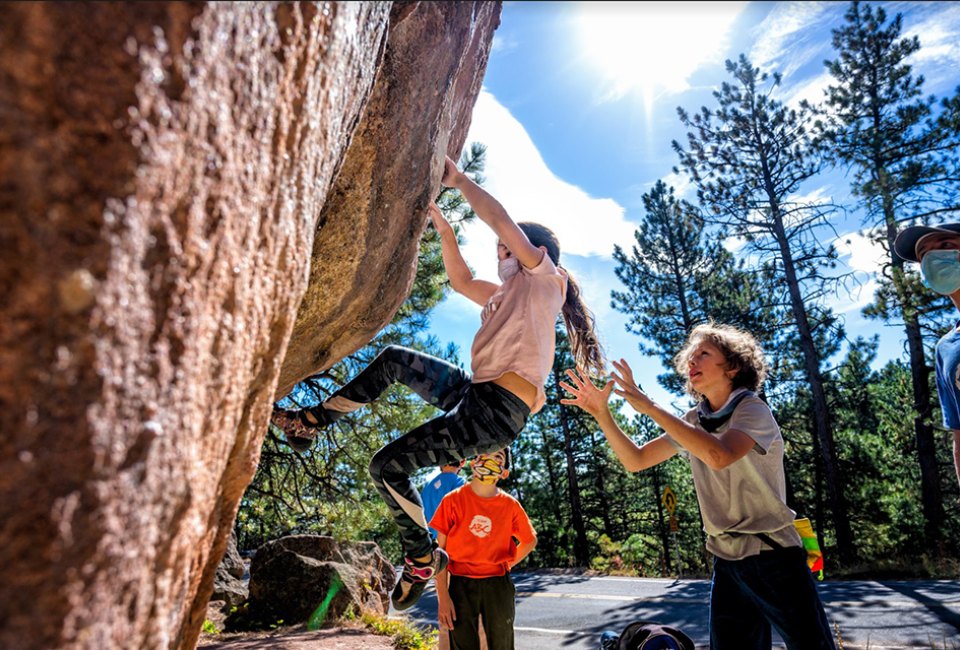 5/28/22
- By
Lauren Saunders
The Colorado Rocky Mountains are an ideal destination for a family vacation in any season with tons of breathtaking hiking trails, awesome skiing slopes, abundant wildlife, and more. And at the heart of it all is Boulder, which offers great museums, delicious restaurants, and many family-friendly hotels.
Traveling to Colorado has been a treasured adventure for my family for years. With so many things to do in Boulder and the Rocky Mountains, it can be hard to narrow down the best choices. Here are 30 great things to do (many of them free) in Boulder and the Rocky Mountains with kids, including kid-friendly Boulder restaurants and great Boulder hotels.
For more tips on visiting Colorado with kids, check out our Denver Family Travel Guide which includes 40 Things To Do in Denver with Kids and so much more.
Free Things to Do in Boulder and the Rocky Mountains with Kids

There are so many kid-friendly hiking trails in Boulder and the Rocky Mountains!
1. Hiking
Obviously, hiking is one of the most popular activities in the Boulder area, and for good reason—there are tons of trails in and around the Colorado Rocky Mountains that offer breathtaking views. And, many of these trails are kid-friendly. We loved Realization Point, an easy drive up on Flagstaff Mountain. We hiked this trail even in February, when many other trails are not accessible due to snow. We also enjoyed the 2.1-mile Flatiron Loop Trail.
The lively Pearl Street Mall is one of the most popular destinations in Boulder. You'll find street performers, boutiques and toy stores, and restaurants galore with practically every type of food imaginable. The four-block pedestrian mall is closed to traffic, making it a great place to wander with little ones.
Related: Keystone Wants To Be Colorado's Best Family Ski Resort

Chautauqua Park is steeped in history and nature.
This park, part of a National Historic Landmark dating back to 1898, offers so much for families to do—gorgeous hiking trails, a playground, basketball and tennis courts, a demonstration garden, and more. Chautauqua Park also offers beautiful views of the famous Flatirons, slanted sandstone formations that make up part of Boulder's foothills. Arrive early to get parking, which costs a fee on summer weekends.
Along with a great view of the Colorado Rocky Mountains, Scott Carpenter Park has a wonderful playground with a rocket ship, an asteroid climbing structure, a huge sand-play crater, and new play equipment installed in spring 2022. There is also a large pool open in the summer, and sledding is allowed in the winter. A large parking lot makes for an easy, stress-free outing.
Related: Museums Worth Planning a Vacation Around

Kids can get hands-on at the CU Museum of Natural History.
This little gem on the University of Colorado Boulder campus houses more than four million artifacts and specimens. Families can explore exhibits on paleontology (think dinosaur fossils), zoology, and more. The museum also offers hands-on, nature-focused activities for toddlers and preschoolers, as well as fun little nooks to play in. Admission is free, but there is a small suggested donation.
We are big fans of the Boulder Public Library, especially the Main Library. It has an inviting, colorful children's section with kid-sized tables at which to sit and read. Computer games are set up for elementary-aged children. Do not miss the appealing nature-inspired playground with climbing structures and fun activities out front.

You never know what you'll find along the Boulder Creek Path.
Walk, run, or bike the paved Boulder Creek Path, which is over five miles long and runs along the beautiful creek through downtown boulder, various parks, and more. It passes fun places for kids like the Boulder Public Library and a sculpture garden just west of 9th Street. Pick a portion of the path and see what fun places you can find!
The Boulder area boasts many reservoirs and lakes, which are gorgeous for hiking and picnicking. We especially love Boulder Reservoir, which has a sandy beach open during the summer with lifeguards, when the water warms up enough for swimming.

Kids have a fishing spot just for them at Evert Pierson Kids' Fishing Pond.
This fishing pond adjacent to Boulder Creek (and accessible from the Boulder Creek Path) is just for kids ages 12 and under! The Boulder Fish and Game Club stocks the pond with about 3,000 fish each year from Memorial Day through Labor Day, and kids are allowed to catch up to three fish per day. Children must bring their own fishing poles and bait.
This 42-acre park is designed for—you guessed it—biking! The park offers bike paths with all sorts of natural terrain, dirt jumps, slopes, and more for cyclers of different abilities. There is also a playground and restrooms. Check the park's Facebook page before going, as Valmont Bike Park sometimes closes due to poor trail conditions.
Related: United States National Parks Family Travel Guide

Hike and explore the Arapaho and Roosevelt National Forests.
The Arapaho and Roosevelt National Forests, just a short drive outside Boulder, encompass 1.5 million acres of grassland, mountains, lakes and rivers, and more. There are 10 specially designated Wilderness Areas where families can hike and explore. Peaks include the over 14,000-foot Mount Evans, where you can spot mountain goats, elk, deer, and other wildlife.
The 12-mile Longmont-to-Boulder Regional Trail (also known as the LoBo Trail) is a great easy trail to walk with young kids in or out of strollers, no matter the weather. We did this as a winter walk to take in the views of the snow-covered peaks that are easily seen from many locations along the trail. Many sections of the trail are far from traffic and traverse residential areas for a relaxing stroll.
More Fun Things to Do in Boulder and the Rocky Mountains with Kids
The views can't be beat from the high-altitude hikes through Golden Gate Canyon State Park. There are several family-friendly areas offering short hikes on rolling hills (we loved the Coyote Trailhead). If you can go in fall to see the aspens changing color, it is well worth the trip. You can also camp, fish, and rock climb here. And, there's a great visitor center open seven days a week.
Related: 40 Things To Do in Denver with Kids, Other Than Hiking

Catch a space show at the Fiske Planetarium.
Fiske Planetarium at the University of Colorado Boulder is a favorite among kids. If you are driving, arrive early to find a space to park (paid parking is available on campus). It's open to the public on Thursdays through Sundays for various shows. Purchase tickets in advance on the website to avoid a long wait.
This museum chronicles the history of Boulder through artifacts, photos, and documents. What makes it wonderful for families is its two children's exhibits—Playzeum and Google Garage. Playzeum, recommended for ages 2-7, encourages unstructured play by allowing kids to create, invent, and explore. Google Garage, geared towards ages 5 and up, offers hands-on activities like building robots and structures and playing music by touching colors.
Gateway Park, Colorado's only indoor/outdoor family fun center, offers activities for all ages including mini golf, go-karts, batting cages, a driving range, an arcade, and a human maze. There's no admission fee; just pay for each activity individually. When you get hungry, grab pizza, nachos, and more from the snack bar.
Related: Rocky Mountain National Park: Guide for Visiting with Kids

Spot a plethora of wildlife at Rocky Mountain National Park. Photo by Jody Mercier
Let Boulder serve as the true entrance to the Colorado Rocky Mountains and drive into the high altitudes to visit Estes Park and Rocky Mountain National Park. You will have to pay a vehicle entrance fee, but the park is vast and there are so many trails to explore, including hikes around alpine lakes. Check the park website for a list of stroller- and kid-friendly trails.
This 7,200-square-foot indoor climbing gym prepares kids ages 2.5-19 to someday climb the real Rocky Mountains. Kids can attend an Open Gym session to try their hand at bouldering, top-roping, and more. There are also zip lines, slides, and other fun features. Adults accompanying kids are welcome to climb as well, so the entire family can join in the fun.
This art studio founded by educators and artists offers Make & Take sessions on most Mondays through Thursdays. Families can reserve a table for one of the sessions (up to six people per table), during which they can complete a rotating variety of projects such as pottery, mosaic, sewing, and painting. Keep in mind that you'll have to wait seven to 10 days to pick up pottery and mosaics, but all other projects can be brought home on the same day.

Enjoy classic Italian food at Pasta Jay's.
Kid-Friendly Boulder Restaurants
This classic pizza and pasta joint on Pearl Street, complete with exposed-brick walls and red-and-white checkered tablecloths, has been open for over 30 years. Kids will love building their own pizzas or choosing one of the many pasta dishes or other items on the kids' menu.
The Sink is an iconic piece of Boulder history known as much for its mouthwatering burgers and pizza as for its famous visitors like Guy Fieri and President Barack Obama. Robert Redford even worked there as a janitor in 1955. See which other famous signatures you can spot on The Sink's Wall of Fame, and don't forget to sign the ceiling yourself before you leave.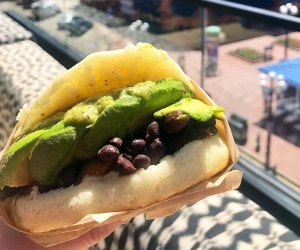 Take your pick of a variety of cuisines at Avanti Food and Beverage.
Even the pickiest eater can find something they'll like at this modern food hall on Pearl Street—pizza from New Yorkese, burgers from Rooted Craft Kitchen, sandwiches from Rye Society, and more. The rooftop deck is the perfect place to enjoy your meal on a nice day, or you can opt to eat in the indoor dining area.
Rosetta Hall is another fun food hall with eight restaurants to satisfy any craving. You can get everything from pizza and burgers to Caribbean and Middle Eastern food.
Find just about any food under the sun at this popular restaurant—wood-fired pizza, burgers, sandwiches, salads, and more. Grown-ups can enjoy 21 Mountain Sun ales, 10 guest beers, and eight wines on tap. Children will appreciate the kids' menu.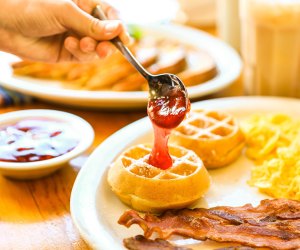 Full up on a hearty breakfast at the Parkway Cafe.
If you're looking for a delicious breakfast, this is the place to go! Try classic comfort foods like omelettes and pancakes or Mexican-inspired entrees such as breakfast burritos and huevos rancheros. The Parkway is also open for lunch, serving everything from burgers and sandwiches to street tacos and quesadillas. There's a kids' menu, too.
Boulder Hotels for Families
Opened in 1909, the Hotel Boulderado is listed on the National Register of Historic Places. It features Victorian-inspired rooms, two restaurants, and an amazing location only one block from the Pearl Street Mall. Every room gives guests sweeping views of Downtown Boulder, the Flatirons, and the foothills of the Rocky Mountains.
Embassy Suites, located five minutes from the Pearl Street Mall and Downtown Boulder, offers a free hot breakfast every day, a two-story fitness center, and a rooftop pool with gorgeous year-round views of the Rocky Mountains. Plus, there are pet-friendly rooms!

The St. Julien offers a luxurious stay in the heart of Boulder.
This luxurious hotel in the heart of Boulder has three on-site restaurants, a spa, live entertainment on the terrace in the warmer months, and fantastic views of the Rocky Mountains.
This amazing resort in Broomfield is worth the 15-minute drive from Boulder. It features two heated outdoor pools, a fitness center with Pelotons, a spa, four restaurants, 27 holes of championship golf, and pet-friendly rooms. Through the Omni Junior Chefs Program, kids receive a welcome tote with a lunch bag, a to-go cup, healthy treats, and an activity book with crayons.
Another Broomfield hotel, the Renaissance Boulder has many amenities that make it family-friendly—an indoor pool and outdoor whirlpool, a fitness center, a laundry room, an on-site restaurant, and an outdoor patio with a fire pit. All of the rooms are suites, giving families plenty of space for a comfortable stay. Add in gorgeous views of the Rocky Mountains and this hotel is a great choice!
All photos courtesy of the parks and venues unless otherwise noted
Click Here to Sign Up!
i