Keystone Wants To Be Colorado's Best Family Ski Resort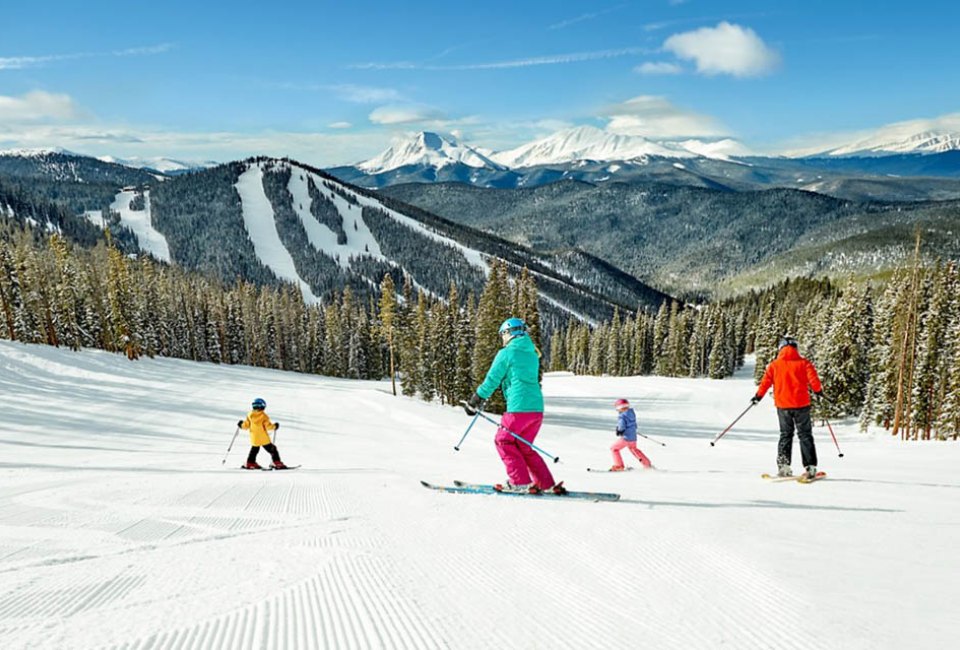 1/15/22
- By
Anna Fader
Many ski mountains want to attract families, but Keystone Resort in Colorado is raising the bar for family ski resorts with more amenities, perks, and free skiing for kids.
One of the closest ski towns to Denver airport, Keystone does all it can to make itself a fun and family-friendly destination. On top of conveniences like ski-in/ski-out condo accommodations and wagons for hauling all that gear, Keystone has a full lineup of children's programming to keep kids entertained on and off the mountain, plus special perks like an express family gondola line and free family parking. And, perhaps best of all, kids 12 and under ski free.
About 75 miles west of Denver and a roughly two-hour drive, I visited Keystone Resort to check it out. Here are the top things that make Keystone one of the most family-friendly Colorado ski resorts. For more kid-friendly ski resorts, check out our Skiing, Snowboarding, & Snow Sports Guide for families.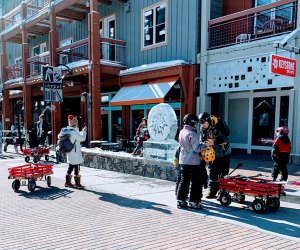 Anything that helps with wrangling kids and toting gear is welcome, and Keystone does just that.
Keystone Amenities for Easier Kid-Wrangling
Getting around with kids and gear can be a hassle. Keystone does its best to make it easier with free priority family parking and red wagons for pulling gear (although I never found a free one when I wanted one—they are popular). An express family line for the gondola means you don't have to wait in long lift lines with antsy kids and gear. Free shuttles also make it easy to get around different parts of the resort. The buses come very frequently, so it was actually fast and easy to get around.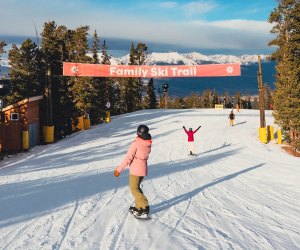 Take it slow on the family ski trail. Photo by Katie Young
Kids Ski Free. Really!
Keystone has one of the most generous kids-ski-free programs, offering free lift tickets for kids 12 and under when you book just two nights of accommodations. No need to do anything extra; your free lift tickets are automatically added to your reservation (no blackout dates, any accommodation level).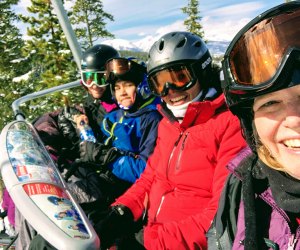 Lots of thoughtful touches make Keystone a great place for families to learn to ski together.
Great Skiing for Beginners
Although Keystone is a great mountain for intermediate and advanced skiers, the resort has lots of thoughtful touches for families and beginners, including a Family Ski Trail for slow skiing only. There are also rest areas where families can meet and take a break, as well as little adventure areas for beginners who want to try some easy tree skiing or rails.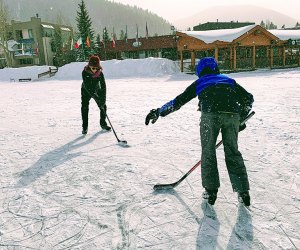 Skiing isn't the only snow sport available: try ice skating, snowshoeing, snow biking, and more.
More Than Skiing and Snowboarding
Family vacations are more fun when there's more to do than skiing and snowboarding. Keystone offers tubing runs for kids of all ages, including a short run for kids under 42 inches. If you like to ice skate, Keystone offers hockey sticks and pucks, which make it extra fun to zoom around the huge, five-acre skating lake. Nordic skiing and snowshoeing, snow biking, family snowcat tours, and more make sure you'll never be bored at Keystone.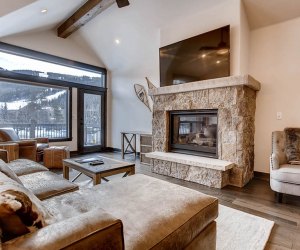 Cozy up in these family-friendly condos. Photo courtesy of Keystone Lodge
River Run Village Condos
Although Keystone Resort offers many types of accommodations at different price points, one thing that distinguished it for me was the convenience of staying at the River Run Village. The all-condo accommodations are located right at the base of the gondola and one of the lifts. The village offers multiple dining and shopping options, so literally everything we needed was at our fingertips—a real convenience when we wanted to get on the slopes quickly or get home after a long day of skiing.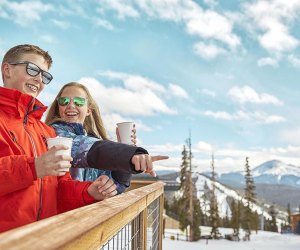 Warm-up with a hot chocolate on the deck at Maguire's. Photo courtesy of Keystone
Service and Convenience
The number of amenities at Keystone is probably too long to list. I'll just say that overall I was really impressed with the thoughtful services offered throughout the resort. Little things like having guest services pick up our bags and hold them for us so we could ski after we checked out, as well as promptly cleaning out our wet ski locker when asked, made the level of service feel luxurious. Other little amenities like a lift line bot to help you avoid crowds and professional photographers right on the slopes help make Keystone Resort a step above other ski destinations I've visited.
Unless noted, photos by Mommy Poppins
Editor's Note: This publication accepts hosted travel for the purpose of review. All opinions are based on the honest experience of the author.
Places featured in this article: