Kennywood Amusement Park: Thrill Rides, Water Fun & KidsFest This Summer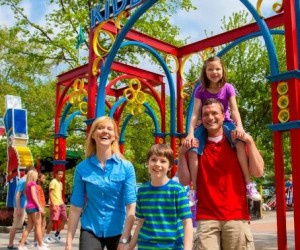 My favorite summertime memories involve the beach, ice cream, and roller coasters. As a kid, I visited just about every amusement park in our area with my family; and now I'm able to create new memories with my own kids—who have finally reached the minimum height requirement! If we can make a weekend out of it and sneak in a visit to a city with plenty of other family-friendly activities and attractions, even better.
Kennywood Amusement Park in Pittsburgh has been one of America's most popular parks since it first opened in 1898. Located just minutes from downtown Pittsburgh, the park draws loyal fans from all over to experience its 31 major rides for kids of all ages. Visitors are also rewarded with a slew of special events planned for this summer—including its first annual KidsFest.
Our sponsor Kennywood is such a classic park that it was designated a National Historic Landmark in 1987. Families can explore some of Kennywood's history in "Lost Kennywood," a replica of turn-of-the-last-century architecture that houses some of the park's most popular rides, ranging from mild to wild. Kiddieland, the hub for the younger set, is one of the first themed ride areas for small children in the world, featuring gentle rides like Crazy Trolley, Elephant Parade, and Kenny's Karousel. And, as little tykes get more adventurous, they can warm up their squeals on Lil' Phantom, Pounce Bounce and Whirlwind.
Older kids—along with mom and dad—are going to want to try out one of the park's many thrill rides, like the new Black Widow, which stands 90 feet tall, but reaches a height of 146 feet in full swing. A total of 40 riders form a giant circle to experience the feeling of weightlessness. And Phantom's Revenge is one of the fastest roller coasters in the world, with the biggest drop a whopping 230 feet, reaching speeds of 85 mph. Coaster purists love the classic wooden experience to be had on the Thunderbolt or Jackrabbit. And families can cool off from all that action on one of the park's water attractions, such as the Pittsburg Plunge or Raging Rapids.
But there's more to Kennywood than just its rides. This summer, the park is launching its first annual KidsFest (June 23-25) featuring games, activities and contests for children, as well as the chance to meet favorite superheroes and princesses. From June 30-July 5, it's time to Celebrate America with patriotic music, special daily entertainment, a hot dog eating contest and fireworks nightly. Other events include Italian Day (July 12), WTAE Summerfest (July 25-31), Cheerleading Day (August 3), Kennywood's 66th Annual Fall Fantasy Parades (August 8-25) and First Responders Day (August 30).
Families can easily spend the entire day at Kennywood; it's a great size for filling everyone's wish list without overwhelming. But if you're looking for a break from the action or want to spend the weekend in the area, downtown Pittsburgh is just 12 miles away and boasts a children's museum, science center and more.
For lodging options, as well as tips on the best times to visit the park, ticket prices, special events and more, be sure to check out Kennywood's site.
This post is sponsored by Kennywood, but the opinions are those solely of the author.