Kids' Guide to Canobie Lake Amusement Park and Castaway Island Water Park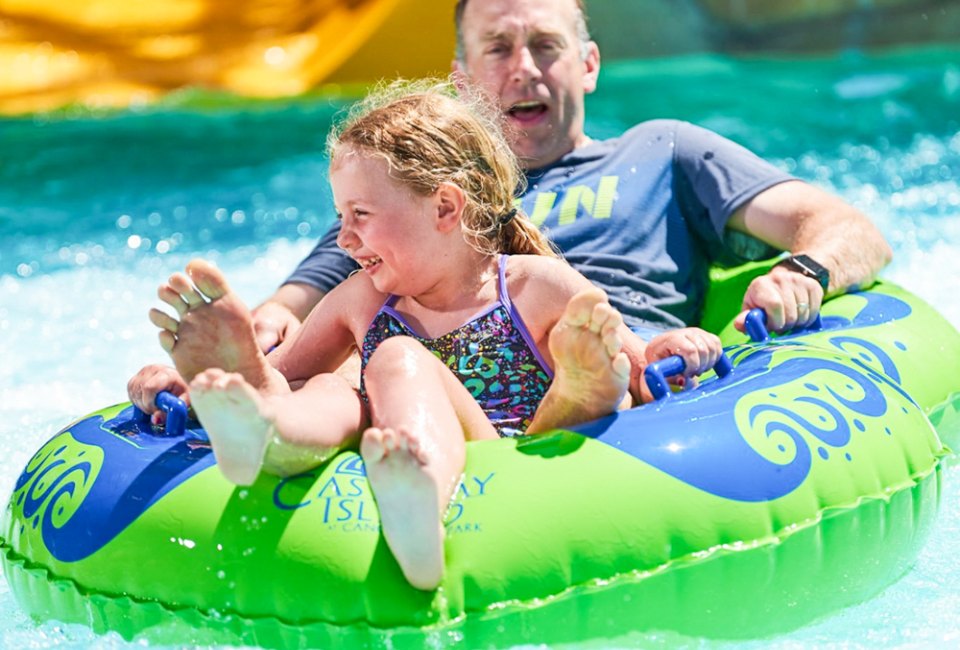 5/14/23
- By
Kelley Heyworth
Canobie Lake Park is a family-run amusement and water park in Salem, New Hampshire, less than an hour from Boston. The amusement park is jam packed with fun for everyone in your family. We've gathered our best insider tips and must-do activities for the perfect day out with kids at Canobie Lake Park and the Castaway Island Water Park. So read on for all our tips- from getting your Canobie Lake Park tickets to finding the best Canobie Lake Park rides!
We're thrill ride—and kiddie ride—fans here at Mommy Poppins! For more fun-filled theme parks, check out our Boston Theme and Waterparks Guide.
Visiting Canobie Lake Park - A Kid's Guide
Canobie Lake Park has been welcoming familes and kids since 1902. Its central location has helped make Canobie a destination for all New Englanders. The park has a great balance of thrill rides and kiddie rides. And parking is always free!
How Many Rides Does Canobie Lake Park Have?
There are 50 Canobie Lake Park rides, everything from fun atttractions for the little ones to wild coasters for the daredevils! Add in the midway games, arcades, and all the features at Castaway Island, and there are over 85 Canobie Lake Park rides and attractions.
Must See things at Canobie Lake Park
With all the attractions, it's hard to narrow them down to a short list of Canobie Lake Park rides!
"Jump Around" in Kiddieland.
Canobie has a special area devoted to the under-48-inches set. Your little kid will surely want to try every ride, but the clear winner in our family is the Jump Around, in which kids "drive" cars that bounce up and down spotaneously, leading to giggles galore.
Go for a spin at the Canobie 500, one of the top Canobie Lake Park rides!
4. Cruise around the Canobie 500.
This modified "race course" allows drivers 48-inches and over to ride in electric vehicles modeled after old-fashioned sports cars. The best part for parents: the speed limit is 5 mph.
5. Take a ride on the Yankee Canonball.
A great first "real" roller coaster, the Yankee Canonball delivers a special, old-fashioned experience on wooden rails.
Things get really wild on Untames, Canobie Lake Park's newest roller coaster!
Kick things up a notch on Untamed roller coaster.
Canobie's newest coaster lifts riders in grizzly-bear-shaped cars 72-feet into the air, and then into a drop that's 97 degrees. Uh, I'll take a pass. But brave big kids will surely think it's the coolest ride in the park.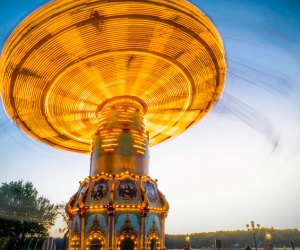 The lights and music of Da Vinci's Dream add to the ride's high-flying fun!
Swing into DaVinci's Dream.
This majestic swing ride is more chills than thrills, with riders getting a refreshing blast of cool air coming off of the lake as they swing around and around. Little ones who may be nervous about the height and speed of the swings can get similar excitement from the Alpine Swing, a mini version of the ride.
Catch a show.
Performances at Canobie aren't limited to the standard lip-sync park fare. Past performances have included an exciting science show and a vaudeville magic show. Live shows provide a great way to have a rest between rides.
Stay for the fireworks.
A pass for Canobie is all-inclusive, and covers you for both daytime and nighttime. The fireworks over the lake, which happen on most Saturday nights, are more spectacular than might be expected from a family-run operation.
Know Before You Go - Discounted Canobie Lake Park Tickets and More
Hit the water slides early.
Unlike many water features attached to theme parks, Castaway Island is included in the price of admission, and is perfectly sized for an hour or two of fun. There are lockers, changing rooms, and a variety of slides and sprinklers. Because it tends to crowd up after lunch, consider heading straight to the back of the park upon entry and start your day at Castaway. Pack some plastic bags to stash your wet suits afterwards.
Discounted Canobie Lake Park tickets make the fun even more affordable
Under the Events/Calendar tab on Canobie Lake Park's website, you can find days on which the regular admission fees are discounted. Some past examples include Mother's Day, Scouts Day, and Athletics Day (when kids wear a sports uniform for a free ticket with each ticket purchase). Check the calendar for this year's offerings.
Eating at Canobie Lake Park
There are 25 different spots to grab food inside the amusement and water park These cover everything from a light snack to a full meal. With Barbecue, burgers, salads, seafood, and more, there's something for every appetite!
Treat yourselves to some soft serve.
A twist cone is good anywhere, but Canobie's are big, creamy, blanketed in sprinkles, and somehow taste even better than the usual. Hit the stand hidden behind the Corkscrew coaster—lines don't tend to be as long there as in other places.
Can You Bring Water/Food to Canobie Lake Park?
The park does not permit outside food or beverages inside the park. There is a re-admission policy, so you can keep something in the car. Please note that there are no picnic areas outside the park.
Visiting Canobie Lake Park
The park typically opens at 10:30, though there are days when the park opens at 9am or in the afternoon. It is open Wednesday through Monday during the summer and on select weekends in the spring and fall. Check the calendar before planning your visit.
Canobie Lake Park Tickets
Canobie Lake Park Tickets can be purchased online. You can purchase tickets for a specific date, grab "any day" tickets, or splurge on a season pass!
What Age Is Free at Canobie Lake Park?
Cabobie is free for children three years of age and younger.
RELATED: Top New England amusement parks
All photos courtesy of Canobie Lake Park
Originally published in 2017; updated May 2023.
Places featured in this article: