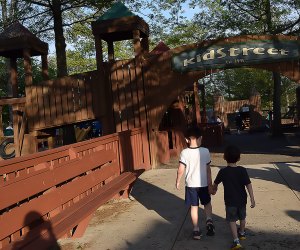 Best Shaded Playgrounds To Keep NJ Kids Cool
During cold winter days, I fantasize about picnics and lazy afternoons at the pool. But once summer temperatures soar into the 90s, a teeny part of me is starting to look forward to that first crisp fall breeze. Sigh. Instead of schlepping to the air-conditioned mall again, how about a shaded playground outing where the kids can burn some energy (and not their skin!), and the adults can relax on a bench without breaking a sweat?
Read on to get the scoop on where NJ kids and parents can go to beat the heat. And find more awesome places to play in our Guide to Playgrounds and Parks in NJ.

Brookdale Park's canopied, nature-inspired area is a perfect spot for toddlers.
Brookdale Park – Montclair/Bloomfield
Beautiful Brookdale Playground has a larger climbing/slide structure designed with covered peaks that offer some modest shade. What's really great for little ones is the canopied nature-inspired area with a butterfly, turtle, and other small structures for toddlers to climb on. The area also has a huge spider web climber, swings, a tunnel, and more, though these play areas are not shaded.
Hacklebarney State Park – Chester
A true hidden gem, Hacklebarney State Park offers families an outdoor summer experience that feels worlds away from bustling suburban life. Although there's a quaint playground surrounded by a few picnic tables, parents say the real draw here is hiking along the red trail down to Black River. Older kids will have a total blast climbing the waterfall made of boulders, and everyone can splash and cool off in the calm brook down below. There's also a small "island" right off the river where you can grill and take a lunch break. Between a dip in the water and the canopy of trees, this outing is sure to be an oasis on a scorching summer day. Even better, bathrooms conveniently situated near the river and grill site provide a place to change and regroup after an afternoon of "roughing it."
RELATED: 10 Themed Playgrounds in NJ that Take Fun to New Heights

There are plenty of trees at KidStreet to keep the play structures cool.
KidStreet – Bridgewater
This favorite among Somerset County locals is surrounded by trees and has numerous tall wooden structures that offer some shade. Everyone from toddlers to tweens will enjoy this park with its unique design that includes rope zip-lines, high and low climbing structures, a huge boat, a large platform swing, a family-sized tire rocker, and more.
Monmouth Court Community Center Park – Livingston
This inclusive, newly renovated park is fenced in and has some shade from nearby trees/buildings, plus a freestanding canopy over some of the toddler equipment. There are tunnels, swings, slides, and lots of interesting climbers to keep the kids busy.
RELATED: KidStreet Playground: Play Date Perfection in Bridgewater, NJ

Kids and caregivers can take shelter from the sun on shaded benches at Morgan Pellowski Playground.
Morgan Pellowski Playground at Colonial Park – Somerset
Between the pedal boats, mini-golf, gardens, and picnic areas, families could literally spend the day at this park. As for the play area, there's decent shade certain times of the day, especially over the swings. Parents will love the covered pavilion in the play area, which has plenty of shade for when the kids are ready for a water break. The mini-golf course also has pretty good shade throughout the nine holes.
Staib Park – Hackensack
We love parks that separate equipment for the big kids and wee ones, and Staib Park offers fun climbing and sliding equipment for all age groups. The playground also boasts some fun extras, such as a fireman's pole, playhouse, circular monkey bars, and rings. In addition, the park area has facilities for both basketball and baseball. The whole playground area and some of the surrounding picnic benches are fully shaded (even on hot summer days) by tall trees. And if your kids are in the mood to explore, take the short hiking path from the parking lot to the adjacent Coles Brook and listen to the calming sounds of the flowing water.
Stephen R. Gregg Park – Bayonne
On any given summer day, you'll find moms with toddler in tow, pre-teens chatting on the swings, and campers from the nearby JCC all having a blast at Stephen R. Gregg Park. This huge playground boasts six different play structures AND a pretty neat water play area (featuring a purple dragon that shoots water!), so it never really feels crowded. Wee ones will love the pretend school bus and police car, and older kids looking for excitement will head straight toward the sky-high tunnel, twisting slides, and swaying bridges. And if the playground isn't enough entertainment, bring the bike or stroller and exercise along one of the many shaded paths or sports fields that overlook the Newark Bay.
Taylor Park – Millburn
This 16-acre park is a calm haven in the middle of Millburn and its surrounding neighborhoods. Home to the city's basketball and tennis courts as well as a community center, the park also boasts walking paths, picnic areas for family gatherings, and a playground shaded by thick trees. The playground includes all the usual equipment, including a few medium-sized slides, swings, rocking animals, and even a sandbox. Since the playground area is fenced in and relatively small, it's a sure bet that younger kids will enjoy morning play dates here.

Van Vorst Park – Jersey City
Van Vorst Park is a blossoming neighborhood square located in a historic brownstone-lined section of Jersey City. The small playground area includes some fun slides, a bridge, and a separate section for little ones to swing. Be sure to take a stroll around this 1.8-acre urban park and admire the beautifully kept community gardens, filled with roses and other seasonal flowers. Throw in a gazebo, fountain, and plenty of benches all shaded from the summer sun, and you've got a wonderful meeting space for family and friends. Van Vorst also hosts a weekly farmer's market.
Photos by the author.
Originally published 2012; updated 2018.