12 Hidden Beaches on the Jersey Shore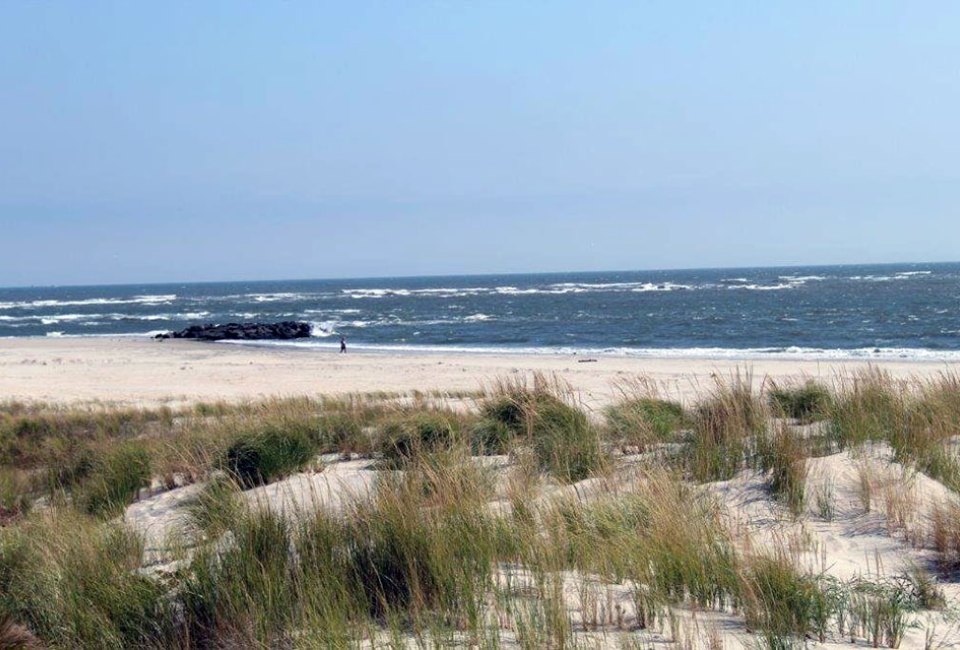 7/12/22
- By
Margaret Hargrove
Searching for hidden beaches on the Jersey Shore is a bit of an impossibility. But year after year of hitting the same sandy spots can leave you craving something new. If your family wants to steer clear of the busiest Jersey Shore beaches, we have a few ideas for you. Here are 12 great hidden beaches on the Jersey Shore that are off-the-beaten-path but oh-so-fun to explore this summer and beyond. Just keep them between us, OK?
Bookmark our Jersey Shore Family Guide for more fun seaside picks all summer long.
Subscribe to our newsletters to get stories like this delivered directly to your inbox.
Just north of busy Belmar, Avon-by-the-Sea is a favorite among local families. This hidden beach has it all: soft, white sand, fewer crowds, lifeguards, and clean bathrooms. Free street parking is plentiful along Ocean Avenue, making this slice of paradise worth the drive. If you're hungry, grab a bite at the landmark Avon Pavilion. Located right on the beach, you can enjoy breakfast, lunch, or dinner while gazing out onto the Atlantic Ocean. The beach is cash-only, and daily wristbands are $12. Kids under 11 are FREE.
OK, it's not really the end of the earth, but this hidden beach definitely feels that way. This 1.5-mile stretch of Long Beach Island south of bustling Beach Haven is more peaceful and less crowded than other LBI hot spots. There's plenty of parking—and restrooms—in the lot at the south end of Long Beach Boulevard. Lifeguards are on duty, and beach badges are required. A daily pass is $10. Feeling hungry? Grab a late breakfast or lunch at Bowker's South Beach Grill, a family-friendly eatery just a short walk away.
RELATED: Jersey Shore Boardwalks and Amusement Parks for Family Fun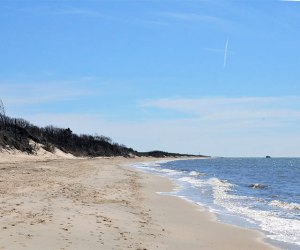 Higbee Beach looks out over the Delaware Bay. Photo courtesy of Cape May Beaches
Escape the Cape May crowds at Higbee Beach, a secluded 1.5-mile stretch of hidden beach sand along Delaware Bay. Popular for bird watching, it's one of our favorite FREE Jersey Shore beaches, and dogs are welcome. Higbee is literally off-the-beaten-path—you have to drive down a dirt road to reach it, and there's limited parking in a small gravel lot, then it's a bit of a hike through the woods and hilly dunes. A word of caution: The only bathroom on-site is a port-a-potty. Be sure to pack a picnic lunch since there are no restaurants nearby. There's also no lifeguard on duty, but the bay waters are calm for little kids.
Sandwiched between Lavalette to the north and Seaside Heights to the south, this small square of Toms River beach offers a quiet respite for families who would rather chill than experience the thrill of other Jersey Shore beaches. The beach is easily accessible via FREE street parking, but if you don't arrive early in the morning, you may have to walk a few blocks to the hidden beach. There's plenty of room on the sand spread out. Kids 12 and under swim for FREE; daily beach badges are $10 on weekdays and $11 on weekends.
Named one of the least crowded Jersey Shore beaches by USA Today, Pearl Beach is located at the southernmost tip of New Jersey in Cape May. You won't find a boardwalk or any concessions here, but there are plenty of butterflies, birds, dragonflies, and little-bitty crabs in the sand. Keep an eye out: You may even spot some dolphins. The wide hidden beach gem offers lots of room to spread out your blankets, and there's a lifeguard on duty for swimming. A beach pass is $8 per person for ages 12+, and there's ample street parking available.
RELATED: Free Beaches in New Jersey: No-Cost Family Fun in the Sun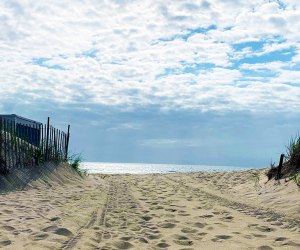 Follow the path through the dunes to Ocean Grove Beach. Photo courtesy of Ocean Grove Beach, NJ
Backed by a long boardwalk, the 2.5-miles of wide, flat beach and fewer crowds make this hidden beach in Monmouth County a welcome respite from the typical hustle and bustle of Jersey Shore beaches. Kids under 11 are FREE; daily passes for everyone else are $10 and must be purchased via the Viply app. Plan your visit around fun beach events including a sandcastle building contest, scavenger hunt, and movie nights. After surf and sun, the charming Ocean Grove downtown is only two short blocks from the boardwalk—convenient for a quick bite and shopping.
Sea Isle City offers families the best of both worlds. You get a small beach town feel with the excitement of the Jersey Shore right at your fingertips. Located between Ocean City and Wildwood, there's so much here to keep your family busy: miles of clean, pristine beach, strolling along the oceanfront promenade, FREE family nights with character visits, movie nights under the stars, and several local playgrounds. Food choices abound, and you can choose between pizza, hot dogs, tacos, healthy breakfast and lunch spots, ice cream, and more. The beach is FREE on Wednesdays and always FREE for kids under 12. Daily beach tags are an affordable $5.
RELATED: Check Out the 15 Top Water Parks in New Jersey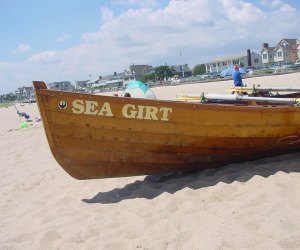 Sea Girt is a well-kept secret beach in the heart of Monmouth County. Photo courtesy of Sea Girt Beach, NJ
Monmouth County folks know how to keep a secret, and one of them is just how awesome Sea Girt beach is. This small, beautiful beach is a favorite among locals for quiet and quality family time. You can collect shells, walk in the water, soak up the sun, and build sandcastles. Insider tip: Enter the beach on the far west side of the boardwalk, away from the restrooms and snack area, for even more peace and quiet. Beach badges must be purchased online in advance and are $11. Kids 11 and under are FREE.
Think of Seaside Park as the calmer cousin to neighboring Seaside Heights. Located across Barnegat Bay from Toms River, the 2-mile stretch of public beach is ideal for little kids and offers all sorts of fun activities: movie nights on the beach, kids fishing tournaments, and kite nights. Kids 11 and under are FREE; daily badges are $13. Beyond the beach is a modest amusement area with five kiddie rides, a water-gun game, and a small arcade with skeeball and other interactive games. It's just enough to entertain your kiddos for a few hours. Don't miss the jumbo pizza slices at The Sawmill, a local landmark since 1977, and there's a Playa Bowls here, too.

Sunset Beach offers beautiful views, a chance to hunt Cape May diamonds, and a slice of history. Photo courtesy of Cape May Beaches
Adjacent to Higbee Beach in Cape May find Sunset Beach, which, you guessed it, offers a breathtaking view of the sunset. This hidden beach is a favorite spot for families who want to park for FREE close to the beach. Little treasure hunters love digging for Cape May "diamonds" or sparkly quartz crystals in the sand. Take home your treasures or turn them into jewelry at one of the nearby gift shops. History buffs can see the remains of the S.S. Atlantus, one of 12 concrete ships built during World War I, sticking out of the Delaware Bay. Be sure to stick around for the daily flag ceremony at dusk. It's been a tradition for more than 40 years, as the American Flag is lowered and "Taps" plays in the background.
RELATED: Best Swimming Lakes in New Jersey for Families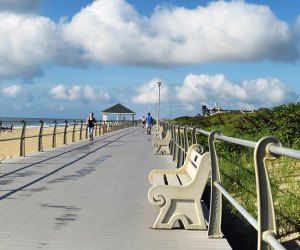 Spring Lake offers low-key fun within close proximity to Asbury Park's more lively scene. Photo courtesy of the Borough of Spring Lake
Where else on the shore can you find a low-key beach and boardwalk? Super clean and quiet, the 2-mile stretch of white sand gives kiddos lots of space for sandcastles and wave jumping. Food is not permitted on the beach, but you can leave a cooler on the boardwalk to grab snacks and drinks during the day. Or, hop over to the shopping district on 3rd Avenue for lunch or ice cream. Need a break from the sand? Take a relaxing stroll along the boardwalk without any neon, bells, or whistles (but if you need the bright lights of a big boardwalk, Asbury Park is just five minutes away). Beach passes are $12 and must be purchased in advance online for crowd control; kids 12 and under get on the beach for FREE.
Nestled between Ocean City and Sea Isle City, this super-small shorefront community (Population: 158) boasts a rare FREE beach with a lifeguard on duty, plus FREE street parking. Located at the northern tip of Ludlam Island, the 7-mile sliver of land occupies less than 1 square mile. The blink-and-you'll-miss-it charm makes it a relaxing alternative to its busier, buzzier neighbors. Behind the high dunes at the southern end of Strathmere is Whale Beach, which gets its name from the whales that periodically beach themselves there. No lifeguards patrol this area, so the crowds here are even thinner; however, parking is limited.
Sign up for the Mommy Poppins Newsletter today!