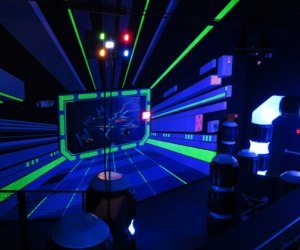 Laser Tag and Paintball in New Jersey with Kids
Looking for a high-energy activity to keep older kids moving? Try laser tag or paintball, two amped-up versions of manhunt featuring running, hiding, and shooting at your opponents. Race through rough outdoor terrain to avoid the harsh splat of incoming paint pellets, or dart from cover to cover in a darkened arena trying to dodge laser beams. Either way, teens, tweens, and older kids will feel the rush of competition as their teams try to stay alive in the game. Both are great for older kids' birthday parties or family outings.
Most paintball venues allow players age 10 and up, while laser tag is appropriate for children as young as 5 or 6. Check websites for age limits, drop-in hours, party packages, equipment rentals, and reservations.
Paint Ball
Look for low-impact paintball guns to take some of the sting out of being hit, and always be sure kids wear protective safety gear.
Accurate Paintball – Williamstown
A Young Guns program provides training to new players age 12 and under, with special referees teaching game rules and offering tips and tricks to beginners.
Battle Creek Paintball – Milford
Explore 15 acres of woodlands, hills, paths, and simulated "battlefields" at this large outdoor arena. Offers low-impact paintball for kids 8-12. Open Fridays and weekends year-round.
Paintball Depot – West Milford
Monthly kids-only days allow children 10 and older to take over a field for themselves, hiding in bunkers and dashing across the terrain while trying to avoid the dreaded splat.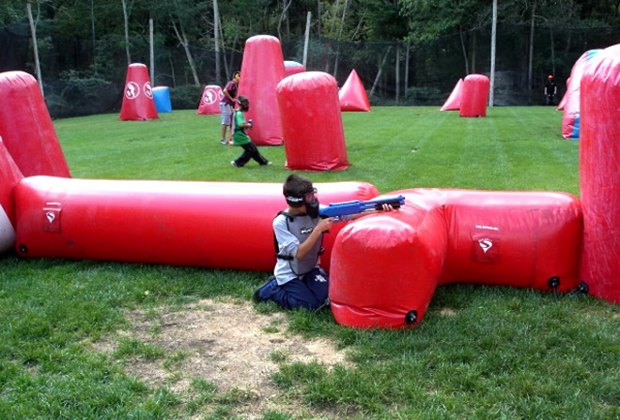 Quick Shot features a new setup every weekend.
Quick Shot Paintball​ – Belvidere
Grassy fields set up with obstacles and hideouts are rearranged every weekend to keep competition fresh. Five different woodland terrain fields feature blockades, huts, barriers, and a pond. Less powerful splat guns are available for younger kids and family play. Open weekends year-round.
TopGun Paintball – Jackson
Newly added low-impact, reduced caliber guns allow younger players to compete on some of TopGun's sprawling, wooded fields spanning 130 acres. Check out the LEGO- or Alamo-themed fields. Children must be at least 8 years old to play.
Laser Tag
Big League Dreams – Medford
This huge, sports-themed indoor family entertainment center offers indoor and outdoor laser tag. It also features an arcade, cafe, and nine-hole mini-golf.
Bonkerz Family Fun Center – Princeton
With a 5,000-square-foot laser tag arena, enormous arcade, and indoor mini-golf, this family fun center is a hit for parties and rainy day fun.
RELATED: Zip Lines and Adventure Ropes Courses for New Jersey Kids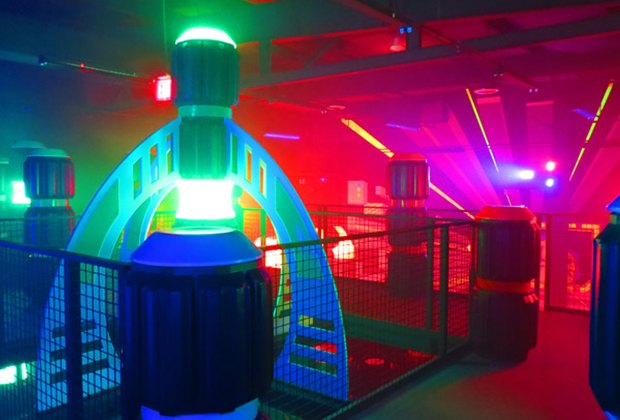 Play laser tag in a two-level arena at The Bounce Factory.
The Bounce Factory – Warren
Known for its bounce houses, this venue also specializes in laser tag games in a two-level arena designed for kids ages 7 and up.
Bridgewater Sports Arena – Bridgewater
This ice skating venue offers laser tag, along with an arcade and party area.
Branchburg Sports Complex – Branchburg
This family entertainment complex includes a 9,000-square-foot laser tag arena, in addition to arcade games, an indoor maze, and sports facilities. Limited drop-in hours for laser tag play.
Fireball Mountain – Wrightstown
​This outdoor laser tag arena for kids 8 and up specializes in birthday parties, camp outings, and corporate events.
The Funplex – East Hanover and Mount Laurel
Race up ramps, scale obstacles, and hide behind barriers at this indoor laser tag arena. The Funplex also features rides, bowling, video games, and a cafe.
iPlay America – Freehold
This sprawling, indoor amusement park offers "Cosmic" laser tag in a two-story, 6,500-square-foot arena. The venue also features go-karts, carnival games, rides, a ropes course, and restaurants.
Jersey Shore Arena – Wall
Though ice skating is the main event here, a small laser tag room is big hit for birthday parties, along with the arcade room.
Kidoolo Play Club – Springfield
With video games, laser tag, and a toddler play area, this family activity spot has something for the whole family.
Laser One – Wantage
Laser One features a multi-level arena and laser tag challenge maze, plus an arcade, nine-hole mini-golf, and small bowling area.
Lasertag New Jersey – Kenvil
Outdoor, mobile laser tag that brings the party to you. Play onsite or arrange for laser tag equipment to be set up in your backyard or school gym.
Power Play Gaming – Denville
This video game center offers mobile laser tag for birthday parties at home.
Spec-Ops – Sicklerville
This mobile laser tag operation brings the competition to your backyard or local park.
Ultimate Battlezone – Pleasantville
This 12,000-square-foot indoor play space offers low-impact paintball, laser tag, dodge ball, and archery tag. Birthday parties and special events for kids ages 6 and up.
Top photo: The Bounce Factory. Photos courtesy of the venues.
This post was original published in 2012 and has been updated for 2017.