Zip Lines and Adventure Ropes Courses for Kids in and Around NJ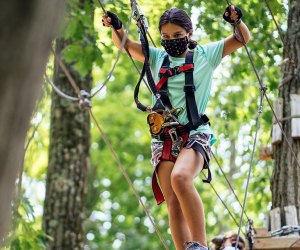 Gear up for an outdoor adventure at one of New Jersey's treetop obstacle courses, or buckle up for a soaring ride on a zip line. Swaying bridges, wobbly balance logs, cargo nets, high wires, and rope ladders are among the features at these sky-high ropes courses, along with tree climbers and platforms built right into tree trunks. Many treetop courses are best for older kids and teens, but some also offer tykes courses closer to the ground.
We've rounded up some of the coolest zip lines and ropes courses in New Jersey, plus a few in Pennsylvania, and even a trio of options just over the border in New York, including one year-round pick. You'll find these parks at local zoos, amusement parks, down on the Jersey Shore, and even at some Poconos family resorts.
Editor's note: While we are trying to promote safer activities that occur outdoors or with social distancing guidelines in place, please keep your family and others safe by always wearing a mask and practicing social distancing.
Most of these parks are open only spring through fall. All require signed waivers, safety harnesses, and closed-toe athletic shoes to participate. Please pay attention to height and age restrictions, and book reservations ahead of time for the most popular parks.
Zip Lines and Ropes Courses in New Jersey
Towering above the parking lot, this four-story, rope climbing structure is not for tots. Suit up in a safety harness and try to climb the rope ladders and bridges to the top of this enclosed course before heading into Diggerland to explore the backhoes, trucks, excavators, and a brand new water park. A 32-story rock-climbing wall is right next to the ropes course. The height minimum is 42-inches to climb with an adult. Closed-toe/heel shoes are required. Open March–November.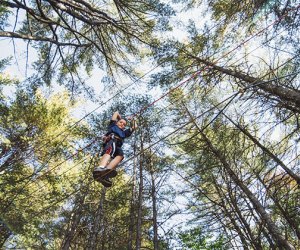 Walk a tightrope at Cape May County Tree to Tree Adventure Park.
Located at the Cape May County Park and Zoo, this high ropes course features pulleys, tightropes, rope swings, climbers, and ladders. Geared toward adults and children ages 7 and older, it features six different color-coded courses, with the most difficult ones reserved for adults. The season runs May through October, daily during the summer, but weekends only in spring and fall. Reservations are required, along with a 20-minute training session.
Adjacent to the Turtle Back Zoo, this aerial obstacle course features both adult and junior courses, as well as a 40-foot-high zip line. The kids' course is 10-feet high with 15 different challenge elements, from ladders and bridges to climbers and swings. The adult course is 35-feet high and features 30 different elements. Open on weekends, weather permitting. Reservations are strongly recommended.
RELATED: Indoor Obstacle Courses for Jersey Kids

Jenkinson's Adventure Lookout Ropes Course
2021 update: Masks and gloves are required and will be provided if you do not have them. The Adventure Lookout is included in the admission price for the amusement park but can be purchased separately if you aren't spending the entire day.
This family-friendly beach and boardwalk include a ropes course with two different levels: a Jr. Adventure Course for children less than 48-inches, and a 36-foot-high course that kids taller than 42-inches can climb with an adult. Brightly colored climbers, cargo nets, a pirate's plank, and a zip line make this a must-do when the surf is too rough or your kids want a change from traditional boardwalk rides. Visitors must wear closed-toed shoes. Tank tops, dresses, and bathing suits are not allowed. Open late March-October.
2021 update: Face coverings are required while indoors but not outdoors. Harnesses and trolleys are disinfected between uses.
A popular warm-weather attraction at this ski resort, the zip line soars above a mountain-top lake, offers panoramic views of New York, New Jersey, and Pennsylvania. Make a zip tour part of an overnight getaway, and enjoy the resort's pool and other amenities. Kids must be at least 60 pounds and 48-inches tall to ride. Open Thursdays-Sundays, weather-permitting, and reservations are required. Or check out the TreEscape Adventure Park, which opened in 2017, where kids 4+ can tackle rope walks, obstacles, climbing elements, and zip lines. Open spring through fall.
2021 update: The Sky Trail High Ropes Course and Sky Tykes Kids Ropes Course remain closed due to the pandemic.
The newest addition to this indoor play land, the Sky Trail high ropes course and Sky Kidz ropes course test your kids' agility with rope bridges, zig-zag beams, cargo nets, and vertical ladders. The Sky Kidz course is for children less than 48-inches, and the height minimum for Sky Trail is 48-inches. Open year-round.
2021 update: Due to its location within the Safari Off-Road adventure portion of the park, which is currently operating as a drive-thru, the Soaring Eagle is currently closed.
Part of the safari at Six Flags Great Adventure, this family-style zip line takes two riders soaring above the amusement park and safari, providing a bird's-eye view of roller coasters and safari animals. Riders are seated for a backward glide above Camp Aventura, the park's animal nursery area, before being released for a zooming zip ride. The minimum height requirement is 42 inches to ride with an adult or 48 inches to ride alone. There is an additional fee for the Soaring Eagle, which is not covered by park or safari admission. Open April-December. Check the website for operating hours.
Zip Lines and Ropes Courses in Pennsylvania
2021 update: Currently, only the Kidventures and Zip Quest attractions are open. Tickets must be purchased in advance as strict capacity limits are in effect.
This family-friendly aerial course includes eight ropes courses with more than 90 elements, some reaching a height of 40-feet. Included in that is a Zip Quest with nine zip lines connected by platforms. A special KidVenture course is geared toward ages 4-7. The Zip Racer, featuring dueling 1,000-foot zip lines, is an added attraction. Open year-round, weather permitting.
2021 update: All Camelback Mountain Adventure Tickets must be purchased online in advance.
Plan an offseason visit to this family-favorite ski resort, and try your skill on the elaborate ropes course featuring 100 aerial obstacles. The main course is for adults and kids ages 9 and up with a vertical reach of 5-foot-9. A Explore TreeTops Adventure course is open to kids who can reach 4-foot-10. Open daily April-November, weather permitting. Reservations required.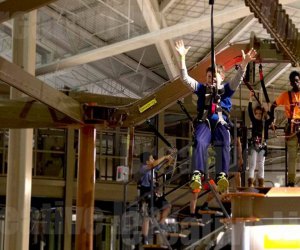 Adventurous types can tackle the Palisades Climb Adventure in the Palisades Center Mall.
Zip Lines and Ropes Courses in New York
Towering 85 feet high inside the massive Palisades Center Mall, this indoor ropes course is not for the faint of heart. Accessed from the fourth level of the mall, the course features 75 different challenges, from beginner to expert, including a tremor bridge, vertical rope ladder, cargo net climber, tight ropes, and balance beams. A separate Sky Tykes course is geared toward kids less than 48-inches tall. Open year-round.
2021 update: Tickets must be booked online in advance.
Seven courses await at this adventure park companion to our favorite NYC zoo. The highlight, though, is undoubtedly the 400-foot-zip line that whisks you across the Bronx River and back—beware, though, this is a separate charge. The climbing portion of the Treetop Adventure course includes seven course options of varying difficulty and is made up of wobbly bridges, ladders, tightropes, and more. The best part? It's set into the tree canopy. With all the wildlife around, perhaps it will feel like a true jungle adventure. Visitors must be at least 7 years old and able to reach 5-foot-6 inches from flat feet. The Bronx Zoo Treetop Adventure is a separate experience from the zoo and requires its own tickets.
RELATED: Jersey Playgrounds Even Big Kids Will Think Are Cool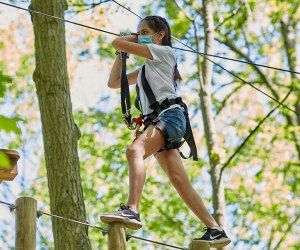 Boundless Adventures has nine different challenging courses where visitors can test their skills.
2021 update: Reservations are required, and guests must complete waivers online in advance, too.
This outdoor adventure course offers four different types of courses for visitors to explore, and guests as young as 7 years old can get in on the action on the beginner courses, which rise 10 feet above the ground. The expert-level courses rise 30-40 feet above ground level, and guests must be 14 or older to try their hand on them. Climbers are fitted with full-body harnesses and walked through safety training before they are let loose on the courses and given 3 hours to challenge themselves all they want. Most visitors can complete between two and five of the nine courses during a single adventure. Some courses require adult supervision, either from the ground or accompanying kids along the trail.
Unless noted, all photos courtesy of the courses/parks. This post has been updated for 2020.