Best Snow Tubing near New Jersey for Families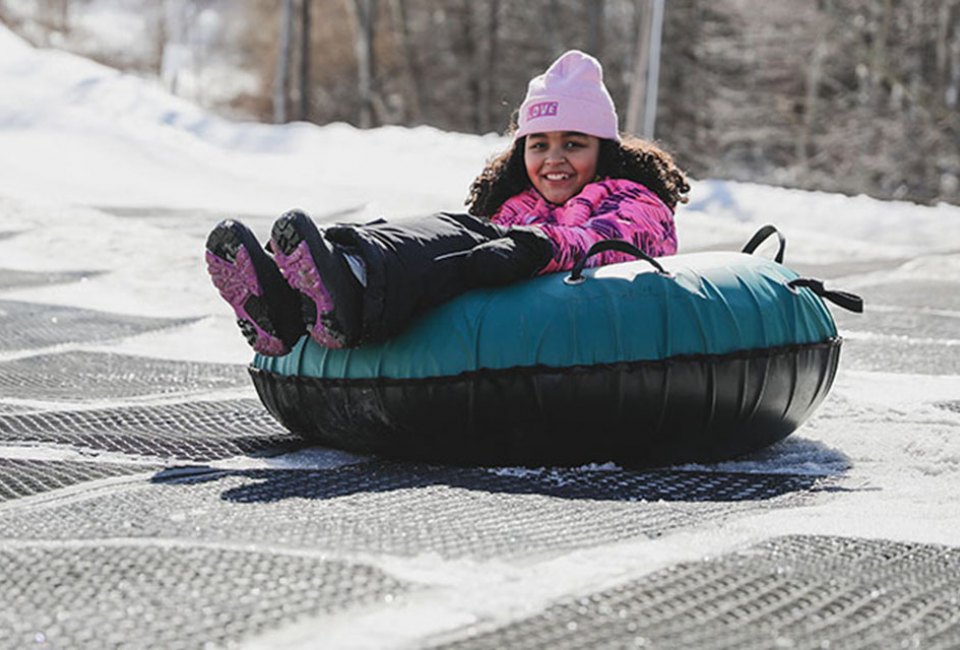 12/16/22
- By
Scott Edwards
Looking for snow tubing spots near New Jersey? Read on for our top picks.
When it comes to winter activities, snow tubing is one of our favorites. Of course, we love ice skating, skiing, and other winter sports, but snow tubing is something the whole family can enjoy—regardless of skill.
No experience or equipment is necessary, and you can go snow tubing alone or in groups. Snow tubing is a lot like sledding, but easier. You can barrel down the snowy slopes at thrilling speeds without having to hike back up the hill. Read on for a list of local ski resorts that offer snow tubing in New Jersey and nearby, then find more active winter fun in our Skiing, Snowboarding, and Snow Sports Guide.
Subscribe to our newsletters to get stories like this delivered directly to your inbox.
Many local ski areas offer snow tubing in New Jersey, but hours of operation, height, weight, and age requirements vary. Unseasonably warm temperatures mean many of the resorts listed have yet to set their opening dates for the season. Check the resort's website for more details and waiver forms that can be downloaded and filled out before you arrive. Often, ticket sales are capped at maximum amounts, and many sell tickets online, so purchase in advance to avoid missing out. Remember to wear warm, waterproof clothes and snow boots. All tubing parks prohibit wearing ski or snowboard boots.
Best Snow Tubing in New Jersey
Now open; call and check the website for updates.
Mountain Creek boasts one of the largest snow tubing parks in the region—and the country, for that matter—with 30 lanes spread across more than five acres, all of them open to kids ages 5 and older, who are at least 42 inches tall. Two magic carpet lifts take you to the top of the hill, so there's no need to hike. Sessions are 2 hours long. Advance ticket purchase is required.
RELATED: 25 Things To Do in Lake Placid on a Winter Vacation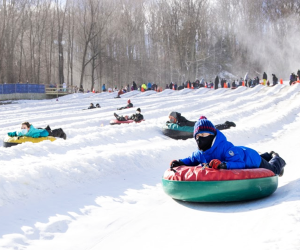 There's a tubing option for everyone at Campgaw Mountain. Photo courtesy of Campgaw Mountain
Opening day: TBD in late December; check the website and Facebook page for updates.
Campgaw offers snow tubing in an intimate setting. Not only can you ride your tube down the slopes, you can ride it up as well! There are different levels of rollers and pitch, which means older kids can flex their courage a bit. There's no age requirement, but tubers need to be at least 42 inches tall. Open weekday afternoons and weekends, tickets are sold by sessions, which run for 2 hours each. Tickets go on sale six days in advance and sell out quickly. Advance ticket purchases are strongly recommended.
Where To Go Snow Tubing in Pennsylvania
Opening day: Projected for Friday, December 23, 2022
There are 46 lanes and three lifts here, but our favorite Blue Mountain perk is this: You can choose between riding a single tube or double the fun and descend two at a time in a double tube. There's no age requirement, but kids need to be at least 36 inches tall. Tickets are sold by 2-hour sessions and run from 9am-9pm Fridays, Saturdays, Sundays, and holidays (closed Christmas Day). All tickets must be purchased in advance online.
RELATED: Best Sledding Hills for New Jersey Families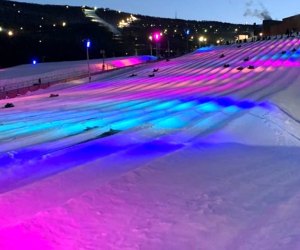 Go galactic snow tubing after dark at Camelback.
Now open
If the prospect of flying down a snow-packed slope at a fast (but totally safe) speed is exhilarating, picture doing it at night amid an LED light show. That's Camelback's Galactic snow tubing. Camelback boasts the largest snow tubing park in the country, with 42 lanes. Most parks require a single rider per tube, but here, tubers under 44 inches tall (but at least 33 inches tall) can ride with a parent. A participating parent must accompany all riders under age 14. Advance online reservations are required. Open daily.
Now open
Shawnee's the closest of any of the Pennsylvania parks to New Jersey. It's also one of the smallest parks at seven lanes—in case you're harboring a fear of humiliating yourself in front of large crowds. Kids under 46 inches can ride in a tandem tube with a parent, though the recommended age is 5+. Sessions are 2 hours long. Currently only running on weekends; check the website for updates. Online reservations are required.
RELATED: Top Outdoor Ice Skating Rinks in New Jersey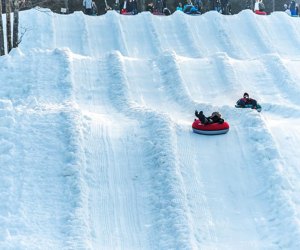 The whole family can enjoy a day of snow tubing fun at Jack Frost.
Opening day: Big Boulder opens Friday, December 23, 2022; Jack Frost opens Saturday, December 31, 2022. Call and check the website for updates.
Jack Frost/Big Boulder is, in fact, two resorts in one—and snow tubing is available at both. There are six lanes at Jack Frost, or "chutes," as it calls them, and two tows to pull tubers back up the hill. Big Boulder has 20 chutes and two 600-foot conveyor carpets. Again, there is no age requirement, but tubers must be at least 42 inches tall. Tubing is available on weekends only on Jack Frost. Big Boulder has weekdays and weekends available; check the site for updates. Advanced ticket purchase is highly recommended.
Snow Tubing Spots in New York
Opening day: Tuesday, December 27, 2022
Hunter is New York's largest tubing park, with 20 lanes that run nearly 1,000 feet long, plus a mini-park for the littlest kids. There's also a snack bar and fire pit, which is ever so critical for those necessary recovery periods. (Plan on taking many.) Tubers need to be at least 44 inches tall to ride and 36 inches to ride with an adult. Tickets are sold in 2-hour sessions. Online reservations are required and the resort and facilities are cashless.
RELATED: Explore Ice Castles Across America with Kids this Winter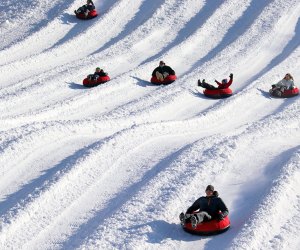 Snow tubers hurtle from top to bottom at exhilarating speeds at Mount Peter.
Opening day: Tentatively set for Saturday, December 17, 2022
Enjoy a 600-foot ride down and a conveyor ride back to the top. Kids must be at least 42 inches tall, and those younger than 12 must be accompanied on the hill by an adult. For the under-42-set, there is a Little Tikes tubing hill, with a smaller hill plus an area for kids to play in the powder. Tandem tubing is allowed for guests 36-48 inches with an adult on the big hill. Tubing reservations must be booked online. They operate Thursday (for special groups only) and Friday-Sunday. See the website for specific hours and rates.
This post was originally published in 2012 and is updated annually.
Photos courtesy of the mountains
Sign up for the Mommy Poppins Newsletter today!
i