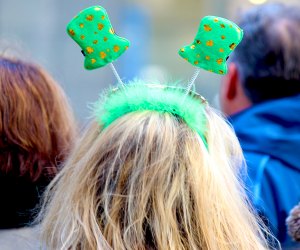 St. Patrick's Day Events and Free Parades for NYC Kids
If your days of celebrating until you're green around the gills on St. Patrick's Day are a distant memory, don't worry: There are plenty of kid-friendly ways to mark the holiday in New York City this March. After all, everyone in the city feels a wee bit Irish around St. Patrick's Day. Best of all? Most of these festivities are FREE.
This year, St. Patrick's Day—Sunday, March 17, 2019—is a Sunday, but you can get started a day early with the Midtown Manhattan parade. The festivities continue with additional popular parades in Rockaway and Sunnyside, Queens, as well as Staten Island. In addition to St. Patrick's Day processions in all five boroughs, there are family fests, stepdancing performances (and places to learn), Gaelic workshops, and kids flicks.
Here are our favorite ways to celebrate Irish culture and St. Patrick's Day with kids in New York City. Sláinte!
Be sure to click through to our listings for all the details, including addresses, times, costs, and recommended ages.
St. Patrick's Day Parades
Queens County St. Patrick's Day Parade – Rockaway Beach, Queens
Saturday, March 2
The 44th anniversary of this annual Queens parade struts down Rockaway Beach Boulevard with plenty of pageantry, connecting the Irish enclaves of Belle Harbor and Rockaway Beach. St. Camillus School hosts a post-parade awards ceremony. FREE

Delight at the St. Patrick's For All Parade. Photo by Josef Piniac via Flickr
St. Patrick's For All Parade – Sunnyside, Queens
Sunday, March 3
As the name implies, this parade is completely inclusive, allowing everyone in the diverse neighborhood to feel Irish for the holiday. The result is a spirited, multicultural affair that embraces community groups, children's bands, Irish organizations, religious groups, and the LGBT community. FREE
Staten Island's St. Patrick's Day Parade – West Brighton, Staten Island
Sunday, March 3
Head to the isle for this 55th annual procession, which travels through the borough's West Brighton neighborhood on Forest Avenue. Viewing stands are positioned at Blessed Sacrament Roman Catholic Church. FREE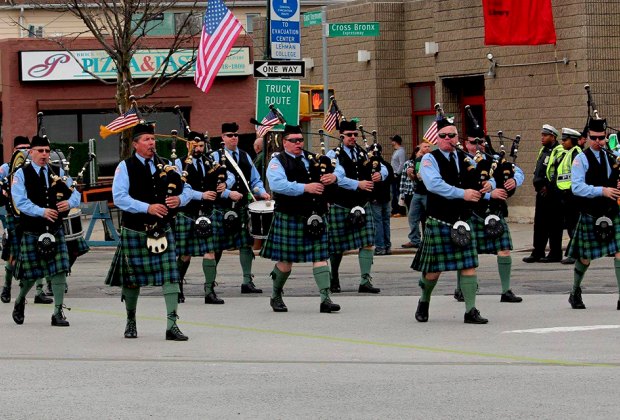 The Throggs Neck St. Patrick's Day Parade. Photo by Honorary Grand Marshal Elizabeth Roche

Throggs Neck St. Patrick's Day Parade – Throggs Neck, the Bronx
Sunday, March 10
Throggs Neck Benevolent Association presents its 21st annual St. Patrick's Day parade. The celebration starts with mass at St. Benedict's Church followed by a complimentary breakfast in the church hall. A parade around the Bronx neighborhood and a party celebrating Irish heritage round out the day. FREE
RELATED: March GoList: Best Things to Do this Month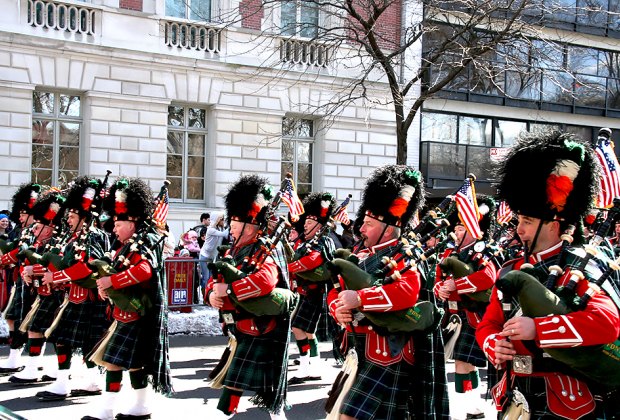 Bagpipers make their way up Fifth Avenue in NYC at the nation's oldest and largest St. Patrick's Day parade. Photo by Rachel Clarke via Flickr
NYC St. Patrick's Day Parade – Manhattan
Saturday, March 16
Manhattan's procession, which dates back to 1762, is the biggest and oldest St. Patrick's Day parade in the United States. It is full of pomp, pageantry, blaring bagpipes, and countless enthusiastic spectators. Years ago, the parade had a reputation for rowdyism, but these days it isn't nearly as wild. There are still huge crowds and a few tipsy revelers. If you're bringing kids, watching at the northern end, where it's typically calmer, is your best bet. FREE
Brooklyn St. Patrick's Day Parade – Park Slope, Brooklyn
Sunday, March 17
This small, family-friendly parade features bagpipers and lots of local Irish charm. The procession participates in a rededication ceremony for the victims of 9/11 at Prospect Park West and 15th Street. From there, it makes a loop to Seventh Avenue, where it goes to Garfield Place, then returns to Prospect Park West, and marches back to 15th Street. FREE
Bay Ridge St. Patrick's Day Parade – Bay Ridge, Brooklyn
Sunday, March 24
The intimate Bay Ridge parade marches down Third Avenue after mass at St. Patrick's Roman Catholic Church. Kids can have shamrocks painted on their faces, too. FREE
Other St. Patrick's Day Celebrations
FunikIJam's SHENANIGANS: Irish Celebration! – Midtown West
Multiple dates
Join the Agents of Jam on a special St. Paddy's Day-themed mission to discover all the magic of the holiday, from leprechauns to rainbows and pots of gold. You'll be bopping to a lively mix of music and be treated to a performance by stepdancers from the Aherne Sheehan School of Irish Dance.
Family Fun Series: Irish Dance – Downtown Brooklyn, Brooklyn
Saturday, March 2
Why simply watch Irish dancing when you can try your hand (or feet) and learning the steps? The Mark Morris Dance Group invites you to its Family Fun Series where it will teach you basic steps for solo dances as well as group numbers.
Craic Fest: Kids Film Fleadh – Chelsea
Saturday, March 9
Celebrate all things Irish at the Craic Fest's annual family day, which features award-winning short films and Irish stepdancing. Organizers ask that you not bring children under the age of 5.
RELATED: Winter Fun List: 50 Things to Do Indoors with NYC Kids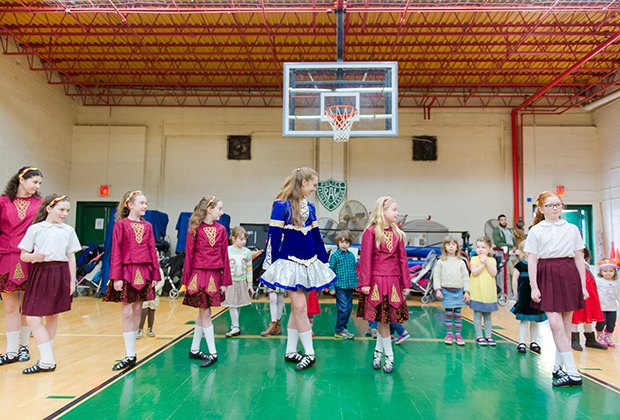 Enjoy a stepdancing workshop at the Irish Arts Center's open house. Photo courtesy of the venue
St. Patrick's Day Open House – Midtown West
Sunday, March 10
The Irish Arts Center's annual fete comes alive with authentic music and dance performances. Families are invited to sample more than 40 adult and children's classes. There are arts and crafts, crowd-pleasing face painting, and plenty of Irish culture to soak up. FREE
Irish New York Walking Tour – Financial District
Saturday, March 16
Best for tweens and older, this two-hour tour explores the former "Little Ireland" on the Lower East Side, once home to more Irish than Dublin. You'll learn why St. Patrick's Day is more popular in NYC than in Ireland and other Irish lore while visiting historic sites.
Family Workshop at the Queens Museum – Flushing, Queens
Sunday, March 17
Milk all the fun you can out of the holiday weekend by rainbow suncatchers during a family-friendly workshop at the Queens Museum. Round out the fun with a rainbow-themed storytime, too.
This post, originally published in February 2009, is updated annually. Katie Nave Freeman contributed additional reporting.