Drop-In Storytimes for Kids in Queens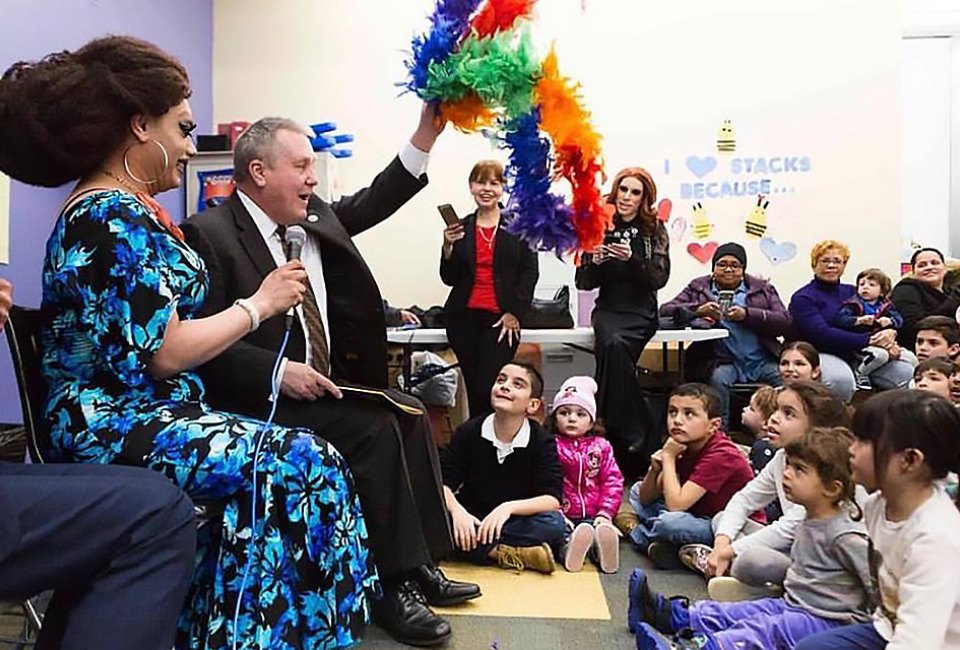 9/26/18
- By
Rosalind Muggeridge
Kids in Queens have no shortage of storytime opportunities, with popular library branches, bookstores, and playspaces all offering great choices. We've rounded up the best spots where babies, toddlers and preschoolers can enjoy listening to their favorite books in Jackson Heights, Astoria, Sunnyside, and other family-friendly Queens neighborhoods.
A number of these read-along sessions include crafts, music, puppetry, or even yoga, so it's a great way to pass the morning for parent and babe or caregiver and tot. After the stories are put away, peruse the bookshelves or nearby toys. Most are drop-in events, but we've noted if registration is required. Expect all sessions to be FREE or inexpensive. Read on for our insider's take on Queens storytimes with kids.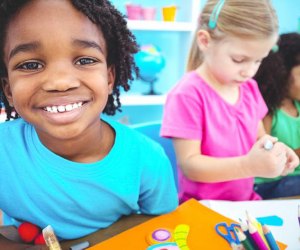 Many Queens libraries have storytimes with arts and crafts and other activities too!
Library Storytimes
Many Queens Library branches host FREE storytime sessions, so it's likely your neighborhood one does, too. Some libraries require registration, and many storytimes close during the holidays and take a break for extended periods during the summer. Check with the branch for details. Here are three of our favorites:
Long Island City Library — Long Island City
37-44 21st Street
718-752-3700
This branch of the Queens library system is loaded with tons of inventive kid programming, including Minecraft Mondays. Little ones will appreciate its bilingual storytime, complete with storytelling puppets. FREE
Richmond Hill Library — Richmond Hill
118-14 Hillside Avenue
718-849-7150
Two weekly storytimes are on tap at this branch. Picture Book Time, including stories, songs, and more runs Wednesdays from 11:30am to 12:30pm for children 5 and younger. A Thursday story read-along, "Mother Goose Time," with rhymes and stories for infants and toddlers takes place 1:15 to 2:15pm. Registration is not required. The Richmond Hill branch also occasionally hosts a "Pajama Story Time," where kids can go in their pajamas for a bedtime story. FREE
Sunnyside Library — Sunnyside
43-06 Greenpoint Avenue
718-784-3033
Storytimes are broken into two age groups here: Toddler Time, featuring stories, songs, and rhymes, is Wednesdays from 10 to 10:30am for ages 19 months to 3 years. Mother Goose Time, for ages 6 months to 18 months, is Fridays from 11 to 11:30am. Registration is not required for either program. FREE
Other Storytimes
Alley Pond Environmental Center — Douglaston
228-06 Northern Boulevard
718-229-4000
Alley Pond offers the Toddler Tales program featuring a nature related storytime on select Saturdays from 10:30am-12pm for ages 3-4 with an adult. Cost is $15 for members and $21 for nonmembers. The event is limited to 8 toddler-adult pairs. Advance registration is required.
Astoria Bookshop — Astoria
31-29 31st Street
718-278-2665
A volunteer reader selects books during a free storytime session on Thursday mornings from 11am to 11:30am. All ages are welcome, but you'll find loads of babies and toddlers at this popular read-along. Themes vary depending on the reader and time of year. Check its calendar of events for details. FREE
Queens Botanical Garden — Flushing
43-50 Main Street
718-886-3800
Enjoy nature-inspired children's stories along with a botanical-themed craft activity on select days. Check this gorgeous Queens green space's website for the latest times. All ages are welcome and storytime is free with admission: $6 per adult; $2 for children ages 4-12.
Sabrina's Play Studio — Woodside
52-07 Queens Blvd.
929-522-0104
All ages are welcome at this spot popular with preschoolers and babies. Storytime begins on Tuesdays and Thursdays at 10am and sometimes includes guest puppet appearances. Admission is $15 for walkers and $9 for crawlers and includes story and play session.
RELATED: Best Storytimes for Kids and Babies in Manhattan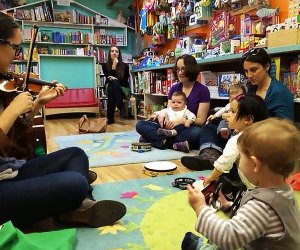 Hang out with your tot at story and music times at Book Culture.
Book Culture LIC — Long Island City
26-09 Jackson Ave.
718-440-3120
Kids events abound at the Queens location of this popular mini-chain. There's a storytime on Wednesdays at 3pm and special storytimes (often with the author) on select Saturdays and Sundays at 11:30am. Check the calendar for the full schedule. FREE
RELATED: 13 Play Spaces in Queens with Drop-In Hours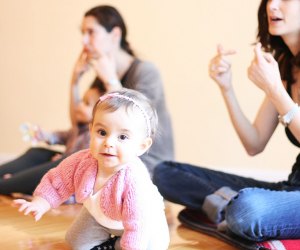 Take a journey with your child through stories and music.
Sunnyside Plays — Sunnyside
43-09 48th Avenue
929-328-0757
The under 3 crowd gathers for a weekly storytime at this play space. Music & Stories: The Pineapple Explorers Club event happens every Friday from 9:30-10:30am. Admission is $20 per child and $15 for siblings and includes story and play session.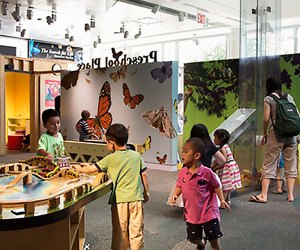 Preschool Place has hands-on-exhibits, art activities and storytimes.
New York Hall of Science — Corona
47-01 111th Street
718-699-0005
Head to the museum's Preschool Place, which is specially designed to meet the developmental needs of children up to 6 years old. Singalongs, storytimes and art activities are featured here regularly during weekends and holidays. See the calendar for upcoming events.
Photos courtesy of the libraries/bookstores
This post originally published in September 2015 but is regularly updated.
t Click Here to Sign Up!