New Kid Books: Top Picks from Picture Books to Teen Novels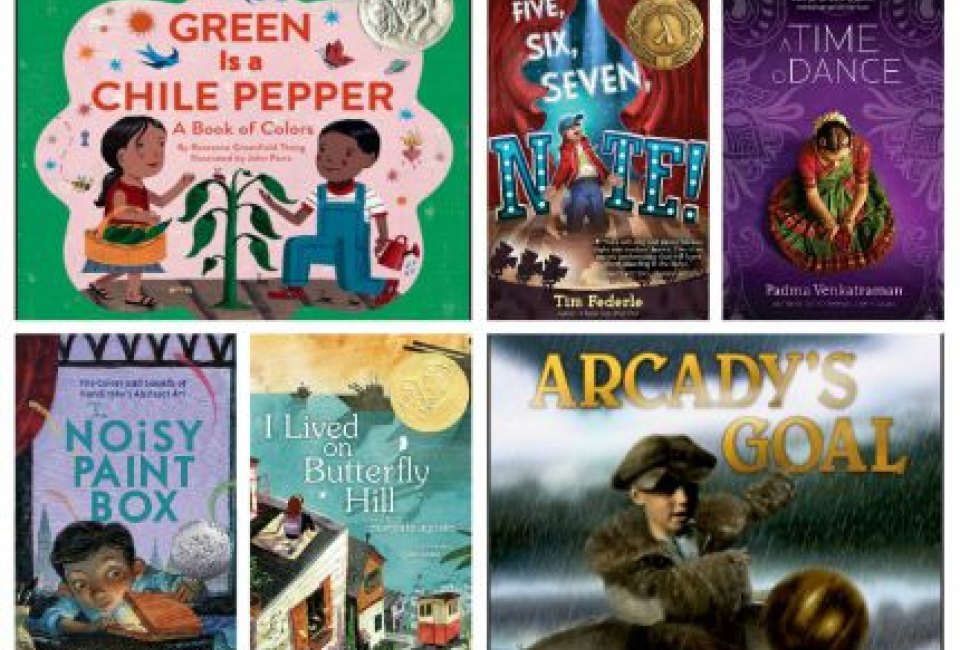 9/1/15
- By
Alina Adams
We've already stocked up on back-to-school supplies from new backpacks to jeans, but now comes the fun part: books!
If you have voracious summer readers, it's likely your kids are already complaining that they've read everything. Or maybe you want to inspire a less than enthusiastic reader to kick off the 2015-2016 academic year on a wordy note.
Either way, Mommy Poppins has put together a list of more than a dozen books for kids of all ages, from preschool to high school, that were published within the last year, and, based on the awards they've already won, seem destined to become future classics. So pull up a comfy chair, whip out that library card and read on. You might just find a new family favorite.
Picture Books for Ages 4-6
My Teacher is a Monster! (No, I am Not) by Peter Brown
Kids heading to school for the first time may be feeling a little nervous about it. This book helps calm opening day jitters. Bobby isn't a fan of his teacher's policies, which include yelling at him over the slightest infractions, like throwing a perfectly harmless paper airplane. For that he should miss recess? But then, he runs into his teacher outside of the classroom and the story really takes off.
The Noisy Paint Box: The Colors and Sounds of Kandinsky's Abstract Art by Barb Rosenstock
The fascinating story of artist Vasily Kandinsky, one of the first painters of abstract art, is brought to life in this beautifully illustrated tale. This picture book celebrates creativity in all its rebellious forms as it follows the painter who said he could hear colors and see sounds.

Waiting Is Not Easy! by Mo Willems
Waiting for a new Mo Willems book isn't easy! Even though, as research done with marshmallows has proven, it's good for you. Well, Willems' latest title is out, featuring Gerald the elephant's desperate attempt to wait patiently for the surprise Piggie promised him. Will he make it? Bet you can't wait to find out!
Star Stuff: Carl Sagan and the Mysteries of the Cosmos by Stephanie Roth Sisson
How do you make big ideas child-sized? Filter them through the eyes of a child. Carl Sagan worked to make the vastness of the cosmos accessible to everyone, and now this book makes his work—and his life—comprehensible to even the youngest space lovers.
Green Is a Chile Pepper by Roseanne Greenfield Thong
Last April, the #WeNeedDiverseBooks hashtag sent a tidal-wave through #KidLit on Twitter with a call for books that showcase all sorts of cultures and kids. A perfect candidate for the kind of stories we need more of is this sturdy picture book, which teaches colors, a concept all young children need to master, but through rhymes that chant, "Green is a chile pepper, spicy and hot. Green is cilantro inside our pot," and illustrating boys and girls who might not look like traditional KidLit protagonists, yet prove just as appealing and fun.
RELATED: DIY Kid-Lit Camp: Fun Inspired By Children's Books
Short Chapter Books for Ages 7-10
Freedom Summer: The 1964 Struggle for Civil Rights in Mississippi by Susan Goldman Rubin
Attitudes on race in America may have changed since 1964, but the issue persists as the #BlackLivesMatter movement and recent events demonstrates. This book is an excellent introduction to history, as well as a gentle, but honest recounting of how three Civil Rights workers came to be murdered.

Mysterious Patterns: Finding Fractals in Nature by Sarah C. Campbell
Whether you first heard of fractals while Elsa was singing "Let It Go," or you're a passionate math-a-magician who located them in everything from trees to mountains to broccoli long before it was cool, the photos here will make you see the world in a new way, and drive home the point of how all of nature—and all of life—is math-based.

Kinda Like Brothers by Coe Booth
Every kid has had occasion to complain about the siblings they were stuck with, but when protagonist Jarrett is forced to share his room with a foster brother he didn't know he was getting, preteen drama (and learning) ensues.

Arcady's Goal by Eugene Yelchin
The award-winning Soviet-born author uses minimum words and detailed illustrations to show what life was like in Stalin's USSR, where anyone could disappear, and the perceived sins of "enemy of the state" parents trickled down to their children. Follow 12-year-old soccer fan Arcady as he navigates this complicated world.
I Lived on Butterfly Hill by Marjorie Agosín
Another book to open the eyes of privileged American children, this time about a girl whose "subversive" parents disappear following a revolution in Chile, and her attempt to rebuild her life afterward.
Longer Chapter Books for Ages 11-14
The Swap by Megan Shull
Remember your parents' Freaky Friday? How about your generation's body-switching movies from the 80s? This time, we've got an inter-gender twist as a popular jock magically trades places with an outcast girl to learn how the other half of middle-school really lives.
A Time to Dance by Padma Venkatraman
Diversity meets different-ability meets perseverance in a story of an Indian dancer who loses her leg, but comes back to perform with a prosthesis.
Five Six, Seven, Nate by Tim Federle
This sequel follows theater geek Nate as he travels to NYC with dreams of dancing on Broadway but encounters middle school drama as he begins rehearsals for ET. This fun book told from the point of view of an aspiring child star adds the fresh twist of the hero being a male dancer.

The Crossover by Kwame Alexander
Conveying the energy of being 12 years old and playing basketball via the rhythms of free-form and hip-hop poetry, this book isn't something to be read, but to be experienced through a multitude of senses.
And One To Look Forward To
The Sword of Summer by Rick Riordan
Coming in October 2015, a new read from the man who made your kids gaga over Greek Mythology and enamored of Egyptian gods will now make them nuts for Norse. As always, there's a resourceful teen in danger, a pretty much useless parent, and many, many monsters on the attack. Just follow your Norse!
What new books are you loving for the 2015-16 school year? Tell us in the comments!
Click Here to Sign Up!
i