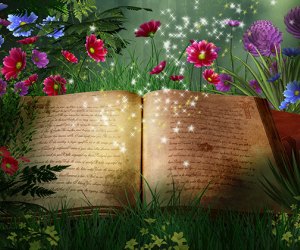 DIY Kid-Lit Camp: Summer Fun Inspired by Children's Books
Summer is a great time to catch up on reading, and not just because many local libraries gives out prizes. Whether your kids are nose-in-book types or the sort that require a little literary nudge, summer has plenty of room for playing your way through some great kids' books. Check out my time-tested list of vintage classics, modern classics, and recent best sellers that inspire fun activities beyond their pages—and at very little cost.
Looking for more low-cost ideas for a summer of play? Mommy Poppins' 100 Summer Play Activities List is a great place to start.
Vintage Classics
Little House Series by Laura Ingalls Wilder
When my daughter wanted to "live like Laura and Mary," we went beyond merely wearing long skirts for the day. We took up embroidery, salted our own pickles, made our own butter, dipped some candles, turned berry juice into ink, cut out paper dolls, and even made snow candy just like Laura's husband-to-be, Almanzo in Farmer Boy (though we made ours in the freezer). There are plenty more recipes and frontier days activities worth checking out if these go down well.
The Secret Garden by Frances Hodgson Burnett
At roughly the same time as the Little House books, but on the other side of the world inside a castle on the Yorkshire moors, little Mary Lennox and her bedridden cousin Colin bloom to life while tending a secret garden. Summer is a great time to plant your own, either outside or indoors. You might even end up producing a crop of vegetables your children will be willing to eat, so that, like Mary, they'll put a bit of color in their cheeks.
All-of-a-Kind Family Series by Sydney Taylor
Whenever my kids whine that they're bored, I tell them to clean the house. If they're reading All of a Kind Family, they might actually want to, as long as you play Mama's button game. Hide buttons all over your home. The kids need to find them when they dust. Don't tell them how many you've hidden, and if they locate them all, they get a prize! (Your prize is the newly dusted house, of course.)
Charlotte's Web by E.B. White
While I don't advocate bringing a suckling pig into your home, a fun, Charlotte-inspired activity is to weave your own patterns and words out of string. You can then hang them over bedroom doors, just like Charlotte's web hung over Wilbur's barn to announce that "Some (Kid)" is in residence.

Modern Classics
The Ramona Series by Beverly Cleary
Ramona's idea of fun includes squeezing all of the toothpaste out of a tube, pulling each Kleenex out of a box, and taking a single bite out of every apple in her parents' cellar. You can whip up some homemade applesauce like Ramona's mother did to deal with the latter disaster or, for something non-destructive, try making the same tuna-fish can stilts that Ramona and Howie tromped about their neighborhood on. (They sell plastic romper-stompers now, but what fun is that?)
Harriet the Spy by Louise Fitzhugh
Sure, Harriet ultimately got into trouble for lurking around New York City, jotting down (non-flattering) notes on her friends. But it's still a fun activity. Kids can observe everything about the world around them and record all the details on their tablet or a good old-fashioned notebook.
The Stories Julian Tells Series by Ann Cameron
If you're located near a body of water, follow Julian, Huey, and Gloria's lead and pop a note into a bottle, then toss it out to sea. Send out a bunch; include an email address, and wait to find out where they wash up.

Best Sellers
Harry Potter Series by J.K. Rowling
Who need World Cup Soccer when there's a US Quidditch Association? It hosts Regional Championships all over the country, its own World Cup, online fantasy tournaments and, who knows, one day maybe even college athletic scholarships. There are modified real-world rules for middle school teams, in case you want to start your own.
Diary of a Wimpy Kid Series by Jeff Kinney
Greg and Rowley seek to break the local high-school's expensive monopoly on haunted houses by setting up a cheaper, obstacle course version in Rowley's basement. A baby pool filled with ketchup is blood, and the Hall of Screams is just kids crawling under a bed while being yelled at. They also planned a whole bunch of other scares that they didn't get around to. Maybe you could actually make those (rats and acid optional).
Ivy & Bean Series by Annie Barrows
When Bean can't attend the same camp as her sister, she and her best friend, Ivy, make their own camp in the park. Activities include colored string friendship bracelets (that turn into colored string friendship tangles, that turn into colored string friendship knots for tying your friends' arms and legs together for a Houdini Escape unit); a nature study where anything you find in nature goes into a paper bag for further study; sticking thumbtacks into your shoes for a tap-dance performance on a metal tub; fencing with sticks; and first aid instruction with red face paint and cut up old curtains (lesson also doubles as proper attire for Zombie Tag).
What are some of your favorite children's books to bring to life? Tell us in the comments section!
For more old-fashioned summertime fun, try our 25 Water Games ideas, our list of '70s Outdoor Games, and 10 Cool Car Games to play along the way.
Image via Bigstock