Queens Sensory Gyms for Kids with Disabilities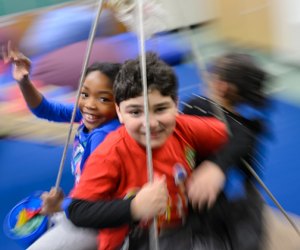 Sensory gyms are a great resource for children with special needs or a developmental delay or concern. The specialized play equipment entertains as it provides treatment, and it's often a supportive environment for families, too. While there are many activities parents and children can do at home, a sensory gym offers equipment not usually available in a New York City apartment. Some facilities even offer time with trained therapists.
Queens doesn't have as many sensory gyms as Manhattan or Brooklyn, so it can be difficult to find quality classes or even an indoor play space where kids can play safely with other youngsters. It does, however, have a growing number of well-equipped gyms run by experienced therapists; we rounded up six for you below.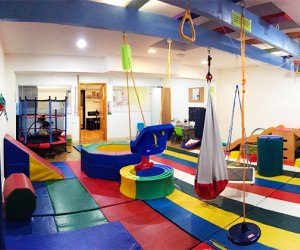 Children and therapists work side by side at Big Stride.
Big Stride Sensory Gym — Forest Hills
108-12 72nd Avenue, lower level
At this gym, therapists and children often work together on a one-on-one basis. Open play is available on weekends for one hour with a reservation. The 900-square-foot space offers entertaining equipment, including a trampoline, ball pit, and swings. Kids can self-regulate the amount of stimulation they receive. Big Stride also offers a handwriting clinic, sensory exploration, and a social skills group for children of all ability levels. Suggested ages: Preschoolers through age 18.
RELATED: NYC Support Groups for Parents of Kids with Special Needs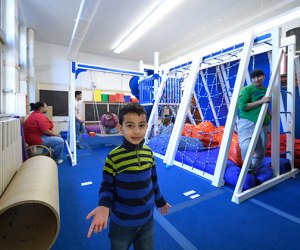 Kids can enjoy the art room or gym at Extreme Kids & Crew. Photo by Flip Wolak.
Extreme Kids & Crew — Ridgewood
62-85 Forest Avenue (within P.S. 71)
This facility, located within a local school, is a wonderful neighborhood resource we have featured before. During the week, therapists serve P.S. 71 students, but open play is offered for children with disabilities or special needs on Friday afternoons from 2:30 to 4:30pm and on Saturdays from 1 to 4pm. Kids can come with their families, caretakers, and friends, to play in the art room or gym on equipment normally reserved for therapy. Kids can enjoy a variety of specialized swings, jump or roll into the ball pit, peruse books in the reading loft, or just lounge on giant pillows called Foofs. Best of all, open play is FREE. Extreme Kids follows the school calendar and is closed during the summer.
Kidz Lounge — Howard Beach
158-01 Cross Bay Boulevard
Kidz Lounge offers a variety of services, including classes, one-on-one therapy, and community support for parents and caregivers. The Confident Kidz SensoriMotor Class uses play to enhance therapy. Fine motor skills are refined through other classes. such as handwriting. Age range: Infants through early teens.
My Gym — Fresh Meadows
176-60 Union Turnpike, third floor
While My Gym is more of a general play environment, it does offer a sensory play class for kids ages 3-10. Play is child-directed and less structured than at other classes with the goal of refining sensory and motor skills and awareness.
Playworks — Rego Park
65-10 99th Street
More traditional in that therapy is available only through one-on-one time with a therapist, Playworks still provides physical, occupational, speech and language enhancement to children with special needs from babyhood through adolescence.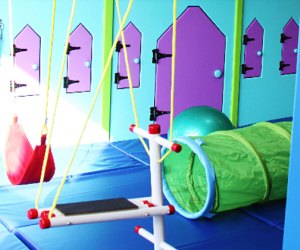 Open play and more structured development programs are available at Sensory City.
Update: New owners took over the Sensory City space in July 2017.
Theraplay NYC— Long Island City
11-11 44th Road, Suite 402
Theraplay, a Manhattan sensory gym and classes spot for kids, recently took over the old Sensory City therapy gym in LIC. It brought with it even more classes and development for kids. The gym has a two-story play castle, a climbing wall, a ball pit, monkey bars, and trapeze equipment. Open play is offered, as are structured programs such as social skills group, which focuses on helping children make and keep friends, develop increased self-confidence, and behave more appropriately in social situations. Open play costs $15 (cash only) per child and takes place for two hours on weekdays.
Top photo: Extreme Kids & Crew. Photo by Flip Wolak. Unless noted, photos courtesy of the facilities.