Sensory Gyms in Brooklyn: 8 Spots for Children's Physical Therapy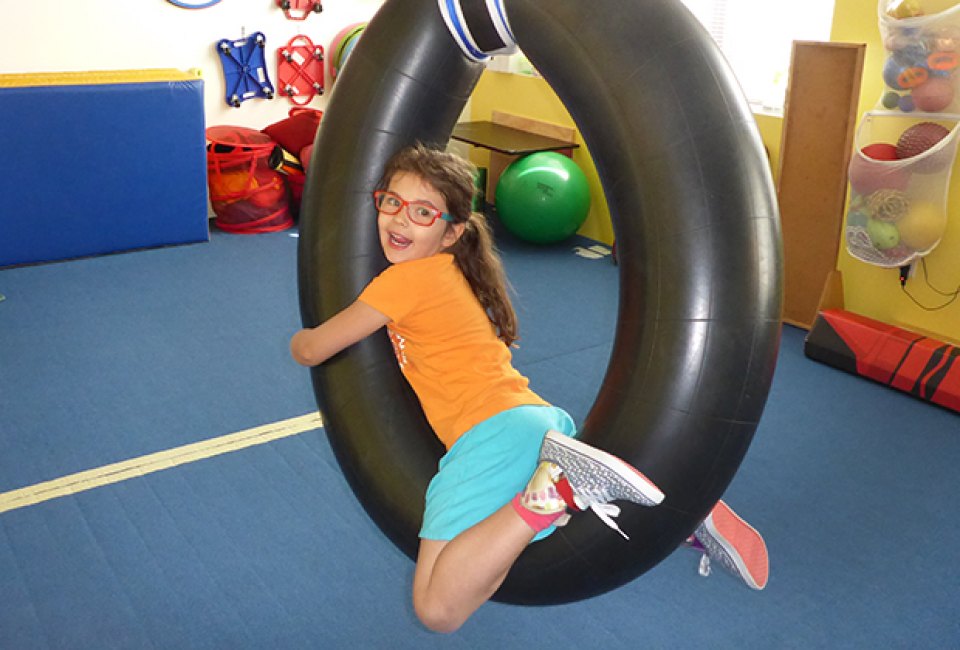 8/5/16
- By
Sarah G
We've written about sensory activities before, and while there are plenty of things your kids can do at home, sometimes you want an expert to address certain issues. That's when you might need a sensory gym, one of those highly specialized (and fun) spaces where occupational and physical therapists help kids. Children work on gross and fine motor skills, core strength, neurodevelopmental delays, balance, coordination, and sensory integration, but the activities are usually so engaging they just think they're having a great time.
Finding a sensory gym that's a good fit for your child can be a challenge. Once you do, snagging a great therapist and a decent time slot usually involves multiple wait lists (and relentlessly checking in on those wait lists) and a willingness to remain flexible about scheduling. Fortunately for Brooklyn families, the borough has a number of well-equipped sensory gyms staffed by accomplished therapists.
Trying to navigate NYC's special education services and programs? Check out our Special Needs Guide for NYC families.
The Ability Center – Marine Park
3514 Avenue S at East 36th Street
718-336-3832
Along with physical and occupational therapy in a sensory gym, this practice offers play therapy and social skills groups for kids ages 3 and older.
Dynamic Solutions Physical and Occupational Therapy – Carroll Gardens
532 Court Street at Huntington Street
718-254-0800
37 Eighth Avenue
718-636-0545
This small, warm, and popular mini-chain treats infants as well as school-age kids. A team of therapists addresses issues such as handwriting, orthotic fitting and gait training, feeding, newborn positioning and treatment.
RELATED: Sensory Gyms in Manhattan for NYC Kids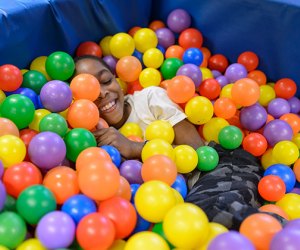 Ball Pit at Extreme Kids and Crew. Photo by Filip Wolak/courtesy of Extreme Kids and Crew.
Extreme Kids and Crew – Red Hook
71 Sullivan Street
347-410-6050
Extreme Kids and Crew was founded by a local mom to serve the needs of her three children, including one of whom has a disability. Extreme Kids and Crew offers open playtime for families in a sensory gym stocked with equipment typically reserved for therapy. It's a safe space where kids, siblings, and parents can co-mingle. We've visited its Brooklyn and brand-new Queens location and always had a great time.
Gowanus Treehouse – Gowanus
540 President Street Suite 1E, between Third and Fourth Avenues
917-676-6004
This fully equipped sensory gym is housed in a renovated garment factory with big windows, high ceilings, and plenty of light. You'll find custom-designed equipment such as a tree house loft with ropes and multiple ladders, a zip line, rock wall, swings, and large closets stuffed with fine-motor-enhancing games. Occupational therapy for infants through school-age kids is the focus here, though there is some physical therapy, special-education advice and behavioral intervention.
Sensory Freeway – Bay Ridge
8804 Fifth Avenue at 88th Street
718-238-7451
At 6,000 square feet, this spot is the largest on this list. It includes two gyms set up for sensory and motor work, a group therapy space and private session rooms. There are also classes, including Creative Movement, a parent and child class called To Crawl of Not to Crawl and social groups such as The Teen Clubhouse.
RELATED: Drop-In Play Spaces and Kiddie Gyms Around Brooklyn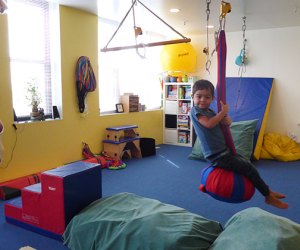 Swing, climb, or throw a ball at the gym at Small Steps Big Leaps. Photo courtesy of SSBL.
Small Steps Big Leaps – South Slope
159 20th Street Suite 3A, between Third and Fourth Avenues
347-534-7796 or 917-699-2724
Cheery and engaging, this gym is the brainchild of several committed therapists who banded together to create a productive and comfortable therapy space. The staff speaks English, Spanish, and Cantonese, and offers occupational, physical, and speech therapy services.
SPOTS – Brooklyn Heights
26 Court Street
718-855-5600
Special Programs in Occupational Therapy Services, or SPOTS, caters to children ages 6 months to 16 years, providing occupational, physical and speech therapy. Services begin with an evaluation to determine the appropriate course of treatment. In addition to one-on-one work, SPOTS offers a summer camp for children 5½ to 8 years old. SPOTS has sister locations in Manhattan and Nyack, New York.
Sensory Street – Lefferts Gardens
703 Flatbush Avenue
718-789-2451
Under the direction of occupational therapist Beatrice Hector, Sensory Street offers occupational therapy for infants through age 21. Sensory Street offers parent-and-me sensory classes for infants, toddlers, and their caregivers and provides handwriting support classes daily during the school year.
Read more of our posts about children with special needs.
This article first published in May 2012 but has since been updated.
Top image: The popular tire swing at Small Steps Big Leaps. Photo courtesy of SSBL.
t Click Here to Sign Up!