The Very Hungry Caterpillar Show
DR2 Theatre

NYC Easter Brunch Cruise 2023
Event Cruises NYC

Easter Fun Cruise with Egg Hunt 2023
Event Cruises NYC
Sign up for our free newsletters.
Big Stride: Sensory Gym and Play Space Now in Forest Hills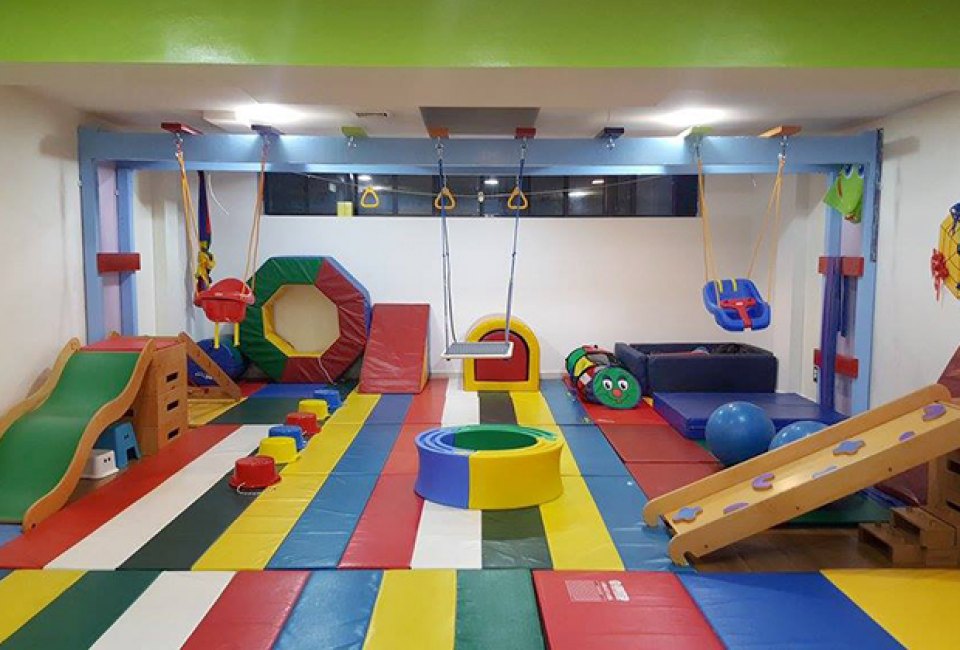 11/2/16
- By
Rachel Sokol
If there's one thing Queens might always need, it's another sensory gym, indoor party venue, and play space for kids. Well, Big Stride of Forest Hills, is a "triple threat," offering all three options for residents. While it's predominately a sensory gym and classes space for toddlers to teenagers with disabilities, it also can be reserved for birthday parties and private play dates. We checked out the new space to learn more.
Pediatric sensory gyms are generally for children with special needs, although not exclusively. Each child works one-on-one with a licensed pediatric physical or occupational therapist. Both Manhattan and Brooklyn are loaded with sensory gyms, and while you can find them in Queens, the reopening of Big Stride in the popular neighborhood of Forest Hills is certainly a welcome addition.
Big Stride co-owners Moirajune Caringal, an occupational therapist, and Charmaine Morcilla, a physical therapist, met in their native Philippines. Both moved to New York to advance their studies. In 2014, they opened Big Stride sensory gym in Kew Gardens, but they've just relocated it to a new location to Forest Hills, right off the popular shopping mecca of Austin Street.
Their new and colorful space, which had been a dance studio, is 900 square feet; sessions with therapists are both on- and off-site, depending on the needs of the children. Younger children with special needs and their therapists can work solely in the gym using age-appropriate equipment. Or the therapist can meet an older child and parent/guardian at an offsite location, such as a local post office, to aid him or her in whatever they need guidance with, including conversing with an employee at a post office or mailing a letter.
Including owners Caringal and Morcilla, there are five therapists at Big Stride. A speech language pathologist comes by appointment for evaluations.
RELATED: Special Needs Guide for NYC Families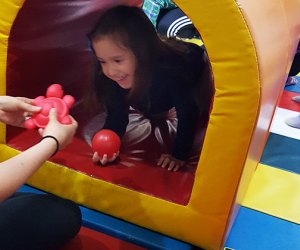 Sensory-themed classes are also held in the gym; the room is rearranged during class times to accommodate students.
Gym equipment includes hanging rings, a slide, ball pit, trampoline, various swings, including a hammock swing, common in occupational therapy, and more. There can be a few children in the gym at once, but they're all working in separate areas with their therapists. Parents are encouraged to view their children from an outside window in the lobby. Also in the lobby is an LED bubble machine, used for promoting relaxation. "It may also help a child to better focus on a functional task that follows the sensory integration technique," Morcilla says.
"At a sensory gym, a trained therapist engages your child in activities that aren't too overwhelming or underwhelming while physically and/or emotionally assisting them at the same time," Morcilla says. "The parents and caretakers can then emulate these activities at home."
Big Stride Sensory Gym works with private clients, including those in Committee on Preschool Education and Rehabilitative Services Administration programs. Additionally, it is happy to refer parents with questions to local intervention offices.
Another bonus: Big Stride offers acting classes for special-needs children taught by pediatric occupational therapist and filmmaker Gerry Balasta. In Kids Acting Workshop for Film, kids learn ways to improve their confidence, public speaking, teamwork, poise, understanding of different viewpoints, communication skills, and more.
Other onsite classes include a handwriting clinic, sensory exploration, and a social skills group, all led by trained and certified pediatric therapists. Classes are open to all children, not just those receiving services from Big Stride.
On weekends, open play is available for all kids, but preferably those younger than 5. Group open-play space needs to be reserved in one-hour increments in advance with a maximum of 10 children and their parents/caretakers per group. Families cannot walk in at any time and play. Birthday parties are available; contact the facility for more information.
Top image: The 900-square-foot facility has kid-friendly, age-appropriate equipment used for pediatric physical and occupational therapy. All photos courtesy of Big Stride.