Luna Park Guide: New Rides and Tips for Visiting Coney Island with Kids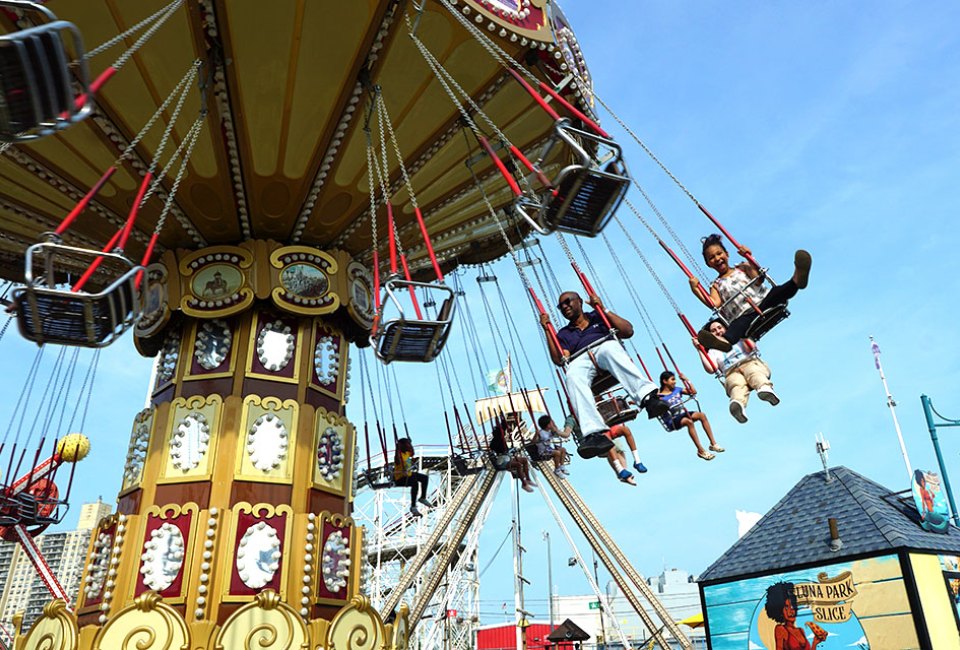 7/7/23
- By
Jody Mercier
Luna Park has lured generations of New Yorkers to Coney Island for summertime fun, and the newest iteration of its famed boardwalk amusement park is celebrating 120 years of fun on Coney Island with a huge expansion that brings a brand new ropes course and adventure zone, plus a family-friendly roller coaster, and wet-and-wild log flume ride to the already action-packed park. That, in addition to classic crowd-pleasers like the iconic Coney Island Cyclone roller coaster, and all the fun along the Coney Island boardwalk and beach make Luna Park a bucket list destination for ultimate summer fun.
Whether you want to make a day of it, or just duck into the amusement park for some carnival games en route to the beach, here are our top things to do at Luna Park, plus some parent-tested tricks to keep you sane during a visit. Find more epic seasonal destinations in our Ultimate NYC Kids Summer Vacation Guide.
Subscribe to our newsletters to get stories like this delivered directly to your inbox.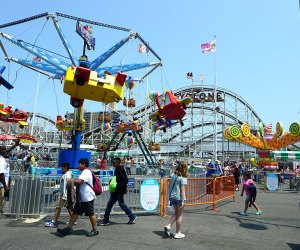 From a collection of kiddie rides to the classic wooden roller coaster, the Coney Island Cyclone, Luna Park offers attractions for all ages and thrill levels.
Exploring Luna Park with Kids
For the uninitiated, Luna Park is a boardwalk amusement park nestled on the Coney Island Peninsula. Home to more than 50 attractions and games, it provides all-ages entertainment from an antique carousel and collection of kiddie rides to roller coasters big enough to attract thrill seekers. It is, of course, home to the classic Coney Island Cyclone, too, a 1927 wooden roller coaster that's synonymous with the seaside enclave.
While there's a long history of boardwalk amusement parks—including the still operational Deno's Wonder Wheel Amusement Park—Luna Park has been a mainstay on the landmarked Riegelmann Boardwalk since its debut in 2010.
Rides at Luna Park are ranked by thrill level—from mild for little parkgoers to the extreme for adrenaline junkies.
RELATED: Best Amusement Parks near NYC via Public Transportation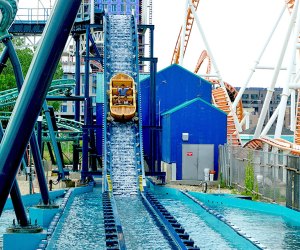 Brace yourself for the big splash when you hit the bottom of the hill at Leti's Treasure!
What's New at Luna Park
The 2023 season marked the long-awaited debut of a new trio of rides at Luna Park. The new additions include Leti's Treasure, which is a log-flume ride with a pair of splash zones that are perfect for cooling off on a hot summer day, and easily the most visited ride by my family—ages 9 to 51, we all enjoyed it!
Intertwined with Leti's Treasure, you'll find Tony's Express, a family-friendly coaster that ebbs and flows alongside the water attraction. Reaching speeds of 30+ miles per hour, it's a perfect starter coaster, and kids 36 inches and taller can ride with an adult; those 42 inches plus can go it alone if you (like me!) don't love a coaster ride!
The two new rides have been erected alongside the Sky Chaser and Sky Tykes ropes courses, which allow breathtaking views from a perch up to 50 feet above the boardwalk. Sky Chaser caters to visitors 42 inches and taller, though little ones can conquer the lower-to-the-ground Sky Tykes course with kid-sized, mild thrills and zip lines.
Other 2023 improvements include a new entrance and pedestrian plaza on Stillwell Avenue and a reimagined eatery, Salt and Sizzle, that serves everything from cheesesteaks and margaritas to chicken tenders and hand-cut fries.
RELATED: Best Carousels in NYC: 13 Merry-Go-Rounds City Kids Love

My daughter loved that many of the kiddie rides at Luna Park mimicked the bigger kid attractions, letting her test her nerves with smaller thrills before taking on the more trilling rides.
Best Luna Park Activities for Toddlers and Preschoolers
Little ones have more than a dozen kiddie rides to choose from at Luna Park, including some that are all-ages crowd pleasers like the stunning and lovingly restored B&B Carousell an enchanting tea cup ride, a mini Ferris wheel and even the lollipop-looking Circus Candy swings that convinced my youngest to try out the more wild swings! Even better, on the day of our visit, we barely waited for any kiddie rides, which was a boon to my daughter who got mega use out of her wristband!
Inside Tips for Visiting Luna Park
One of the things I've always loved about Luna Park is that, unlike supersized theme parks nearby, Luna Park won't totally break the bank. There's no admission fee here, and only visitors who want to ride have to pay. You can choose from pay-per-ride options or unlimited wristbands when purchasing your tickets, so it can be part of a fun-filled day on Coney Island, or a destination unto itself.
Weekdays are always going to be less crowded with visitors than weekends, and I'd suggest arriving at opening with little ones in tow, or holding out for an evening session if you've got big kids. Even better? Time it right and catch fireworks on the beach when you've had your fill of the thrills.
One word to the wise: Luna Park's footprint almost completely envelops Deno's Wonder Wheel Amusement Park; so pay close attention to what rides you promise kids a spin on! All of Deno's attractions, including the big, blue wheel, require different tickets from Luna Park's.
RELATED: Ride a Thrilling Mountain Coaster Near NYC This Summer

Luna Park's 2023 upgrades bring with them a brand new entrance and pedestrian plaza on Stillwell Avenue.
Getting Here and Parking
Depending on where you're coming from, all the Coney Island attractions, Luna Park included, are easily accessible by the D, F, N, and Q trains to Coney Island-Stillwell Avenue. If you drive, there are paid parking options at the nearby New York Aquarium or other local lots.
Food at Luna Park
In addition to the aforementioned Salt and Sizzle, there are several eateries inside Luna Park or on the adjacent boardwalk to grab a bite. Whether you pick Ruby's, Nathan's, Paul's Daughter, or another local haunt, expect traditional fair foods, like burgers, corn dogs, and my girl's favorite: funnel cakes. Looking for something a little different, might we suggest one of these nearby family-friendly restaurants?
Strollers and Potties at Luna Park
Though the crowds can make it hard to navigate, strollers are allowed in Luna Park, and ramps will take you from one amusement area to the boardwalk so you can navigate between the park's different sections. There are several bathrooms in the park as well as along the beach and all we visited had changing tables, too.
How Much are Luna Park Tickets
As mentioned before, we love that Luna Park doesn't charge admission for all visitors. Extraordinary Wristbands provide four hours of unlimited ride time and can be booked for a date and time-specific slot online in advance. Guests over 48 inches tall pay $65; for those under 48 inches tall, the price is $43. The only Luna Park attractions that are excluded from the wristbands are the brand-new Sky Chaser and Sky Tykes, which are 22 and 12 credits respectively.
If you're not in the mood for a day of amusement park fun, pay-per-ride cards can be purchased on-site. Mild thrill kiddie rides cost four credits, while Extreme Thrill rides range from 10 credits to 22, and those in the middle cost 5-8 credits. Credits cost $1 a piece, though you'll earn bonus credits the more you purchase.
RELATED: Legoland New York Debuts Water Playground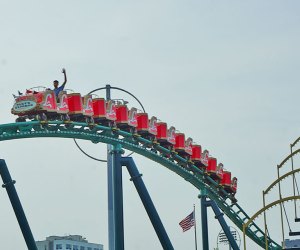 Tony's Express is one of the park's new rides—a relatively mild roller coaster with tracks that dip and dive around Leti's Treasure.
When is Luna Park Open?
Luna Park is a seasonal attraction on the Coney Island boardwalk, generally open for weekends in the spring and fall and daily during the summer. Hours vary by date, and the best way to plan your visit is by bookmarking the park's operating calendar.
More Family Fun on Coney Island
No visit to Coney Island is complete without dipping your toes in the sand on the beach, though you're equally apt to find us spending a half day at Luna Park and the rest of it at the New York Aquarium. Find all our top picks for things to do with kids in our Coney Island neighborhood guide.
Photos by the author
Places featured in this article:
Click Here to Sign Up!
i