Photos of NYC's New Carousel: The B&B Carousell in Coney Island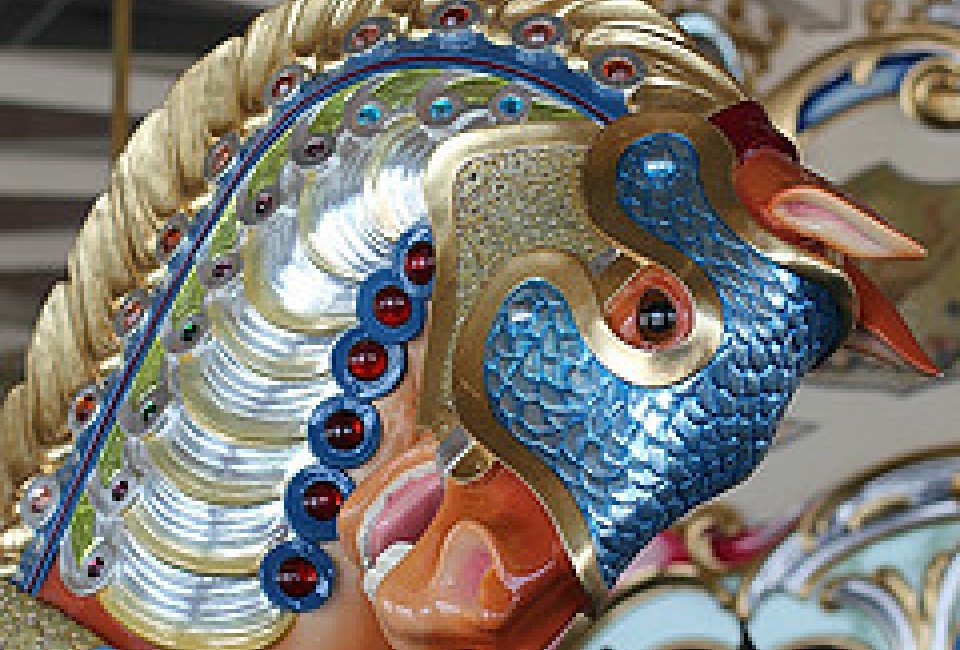 6/18/13
- By
Raven Snook
From a kid's point of view, most merry-go-rounds are created equal. There are horses (or other animals) to sit on, and they all go round and round. But some carousels are more eye-catching than others. Just look at Dumbo's glass-encased Jane's Carousel, Harlem's kid-designed Totally Kid Carousel and the Flushing Meadows Carousel, the centerpiece of Queens' mini-amusement park Fantasy Forest.

Now there's a new merry-go-round in town: the B&B Carousell in Coney Island. To be accurate, the merry-go-round isn't really new at all—parts of it date back to 1906 and it was turning in Coney Island up until 2005, when the owners planned to take it apart and sell the scraps. Happily, the city bought it intact and over the past eight years, the B&B Carousell was meticulously restored in Ohio before being returned to its Brooklyn home.

We recently took a few spins on the historic merry-go-round, which debuted Memorial Day weekend 2013. Check out our pics and find out why It should definitely be on your to-do list the next time you hit Coney Island.
There was a time when Coney Island was home to more than a dozen merry-go-rounds but the B&B Carousell is the last of them. It's located in the revamped Steeplechase Plaza on the boardwalk alongside the derelict Parachute Jump. The Rockwell Group (the firm behind the awesome Imagination Playground in South Street Seaport) designed a cool pavilion for the carousel, with doors that can open and let in the ocean air during nice weather.

There are 50 overhauled horses, all repainted to their original colors, along with the original organ. Vintage signs on the walls add to the retro feel. The carousel is operated by Luna Park, even though the amusement park sits a few blocks south. A ride costs $3 and is not included in the Luna Park wristband. If you want to learn more about the carousel's history and the restoration process, The New York Times has a great in-depth article that even has a video of them putting it together. It's nice to have the B&B Carousel back where it belongs in Brooklyn and it's a great addition to a Coney Island itinerary, especially if you have a young one who isn't ready for big thrill rides.

NYC is set to get another merry-go-round that's 100% brand-spanking-new. Battery Park City's much-ballyhooed, aquatic-themed SeaGlass Carousel opens in summer 2015.

Find out about other seasonal activities in our Summer Fun Guide.
Places featured in this article:

Sign up for our free
newsletters.
Mommy Poppins is a family activity website that helps people find things to do with kids.
©
2023
MommyPoppins. All Rights Reserved.
mp-prod4-v4.32.99
We use cookies and other data collection technologies to provide the best experience for our customers.
Learn More