Coney Island After Sandy: Help Save the Mermaid Parade and Find Out What's Open for Summer 2013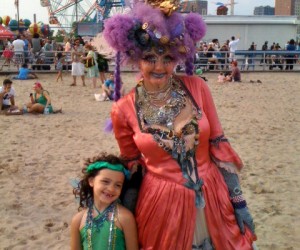 Even though Hurricane Sandy may seem so long ago, many communities are still recovering from all the damage done. One of the hardest hit areas in NYC is one of our favorite places to play in the summer: Coney Island in Brooklyn.

While the Parks Department says the beach will be ready to welcome swimmers and sunbathers come Memorial Day weekend, many other Coney Island attractions like the New York Aquarium are struggling to open for the season, and some iconic events like the annual Mermaid Parade may not happen at all without support from fans. We've got up-to-date info on what to expect when you visit Coney Island this summer, and how you can help the People's Playground bounce back.
Coney Island Beach and Boardwalk
The Parks Department insists that the Coney Island Beach and Boardwalk will open as usual Memorial Day weekend. New elevated comfort stations are scheduled to be installed to replace the bathrooms that were destroyed by Sandy. As for the two cool marine-themed playgrounds in the area, they are both closed until further notice.

New York Aquarium
After suffering devastating damage during Hurricane Sandy, the Aquarium is set to partially reopen to the public Memorial Day weekend. The staff had to do a lot of work to get the 14-acre attraction up and running again. Come May 25, Conservation Hall, Sea Cliffs and a revamped Aquatheater with a new sea lion show will all welcome back visitors, but the Aquarium still has a long way to go. This is a great time to buy an annual membership or make a tax-deductible donation. Sign up for the newsletter to stay on top of all the happenings at the Aquarium.

Amusement Parks
Luna Park and Deno's Wonder Wheel Amusement Park reopened earlier this spring. Though both suffered extensive damage during the storm, all rides were repaired and are up and running, including Deno's namesake Ferris wheel, the historic Cyclone and the rest of the Luna Park rides. Luna Park is offering some new pricing options this year so it's worth figuring out what package works best for your family. Luna Park is also apparently building a few new rides, including a water adventure, but hasn't released further details. We'll update this post once they're unveiled.

B&B Carousell
Speaking of new rides, after a painstaking restoration process, this overhauled merry-go-round is set to debut Memorial Day weekend. Originally built in 1919, this relic from Coney Island's past was saved from the auction block by the Bloomberg administration in 2005. It boasts 50 horses and is installed in a glass pavilion with ocean views in Steeplechase Plaza. We can't wait to check it out!

Brooklyn Cyclones
Although the field at MCU Park was severely damaged by Sandy, the minor league baseball team will play their first home game on Tuesday, June 18 thanks to a brand-new $1 million FieldTurf surface. As always, games will be short, inexpensive ($9-$16) and extremely family-friendly, and there will be lots of promotions, giveaways and special activities, like fireworks on Saturdays and theme nights such as Star Wars Night on Friday August 9 and Princess Night on Saturday, August 17.

Iconic Coney Island Events: The Mermaid Parade and More
Every year, my daughter and I and thousands of others attend the Mermaid Parade—but that may not happen in 2013. Organizer Coney Island USA was almost destroyed by Sandy and has spent months trying to rebuild its historic two-story Surf Avenue building, home to the Coney Island Circus Sideshow and the Coney Island Museum. The spot hopes to reopen Memorial Day weekend, but the cost of repairs means the Mermaid Parade can't go on without the support of its fans. The hope is to raise $100,000 via Kickstarter in order to pay for permits, security, insurance and other unglamorous things. Thankfully the rewards are pretty sweet. The campaign is almost halfway to its goal! If the Mermaid Parade does go on, it will happen on Saturday, June 22 at 1pm.

Another highly anticipated Coney Island happening impacted by Sandy? Nathan's Famous Hot Dog Eating Contest on July 4. The famed frankfurter restaurant on Surf Avenue has been closed since the storm and while it was on track to reopen Memorial Day weekend, a fire earlier this month may have slowed progress. Luckily Nathan's boardwalk kiosk is open so even if the flagship store isn't finished in time, the Hot Dog Eating Contest should go on. Update: Nathan's reopened on Friday, May 24, just in time for the season!

The annual Coney Island Sand Sculpting Contest and Unity Day will also happen on Saturday, August 17 at noon. Lots of families participate in this annual competition, including actor Vincent D'Onofrio and his brood—they've even won.

Coney Island's fireworks will be back. Deno's Wonder Wheel sets off free sparklers every Friday night at 9:30pm from June 21 though Labor Day weekend. Meanwhile The Cyclones sponsor blazing displays after select games, usually on Saturdays. Click here for the schedule.

The third annual Pet Day takes place on Saturday, June 15 at Deno's Wonder Wheel. In addition to bringing your animal pals for rides, there will be a pet costume contest with some pretty awesome Coney Island prizes. Preregistration required.

Sadly, Coney Island's Barrels of Fun event, when people paint the Boardwalk's trash cans, was canceled for 2013.

Coney Island Treats
We already shared the state of the Nathan's on Surf Avenue. The good news (or bad, depending on how healthy you are) is that most of the Boardwalk purveyors of cotton candy, candy apples, fried dough, etc. will be back come Memorial Day. Old-school sweet shop Williams Candy is also open, though it will face competition from new gift and treat emporium IT'SUGAR, a national chain. Denny's Ice Cream Shop has sadly permanently closed.

The best way to support all of these Coney Island businesses? Go and enjoy and spend your money! They're all hoping a busy season can help them recoup at least some of their recovery costs.