Register Now for Free After-School Program From NYC Parks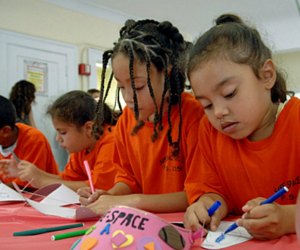 Registration for the FREE after-school program run by the Parks Department opens on Monday, September 13 for NYC kids ages 6 to 13, and we've got details on what the program offers and how to sign up.
Find more after-school classes and enrichment options in our guide to Classes and Activities in NYC for Kids.
The NYC Parks Department's after-school programs are run at 11 recreation centers spread throughout the five boroughs. The 2021 program kicks off Monday, September 20, and runs through June 10, 2022. Care is provided from 3-6pm on school days. The Parks Department does not provide transportation for students to its after-school centers.
What to Expect from the Free NYC Parks After-School Program
Parents can expect an after-school program that complements students' school-day learning, the Parks Department tells us. Trained staff provides academic enrichment, supervised use of computer labs, and healthy snacks while also leading students in team-building activities, sports, arts, and cultural programs.
How to Register for the Free NYC Parks After-School Program
Registration is first-come, first-served. Necessary forms will be available on the Parks Department's after-school page. Completed paperwork, along with a medical physical form from your pediatrician, which must be dated July 2021 or later, can be returned—in person—to the recreation center of your choice.
One change from years past: All visitors eligible for a COVID-19 vaccine—including students ages 12+—must show proof of vaccination to enter any programs at NYC Parks Recreation Centers, including the after-school sessions. Masks must be worn by all individuals inside Parks facilities at all times.
Registration continues at each site until all spots are filled, Parks tells us. As with many FREE programs, parents are encouraged to sign up at their preferred site ASAP. The amount of time it takes for spots to fill varies by location, though all sites are usually full by October.
Visit the NYC Parks' website for more information.
Photo courtesy of the NYC Parks Department.
This story is updated annually.