10 Spots to Explore the Immigrant Experience with New York City Kids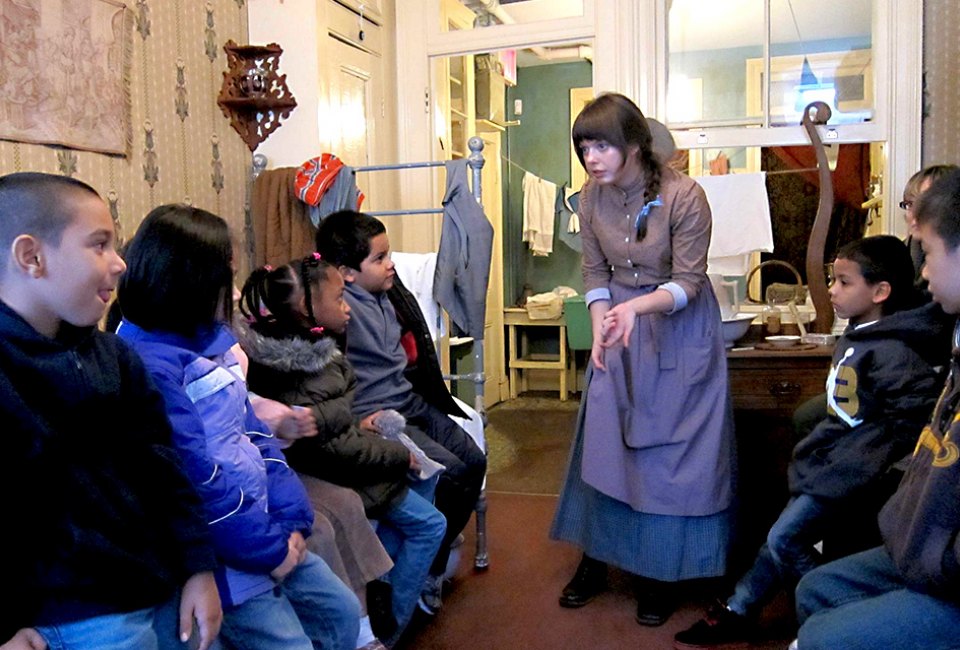 8/6/19
- By
Jody Mercier
No matter your political leanings, immigration is a hot topic of conversation these days, and New York has a rich and ongoing history as a gateway to our country. We've combed through our city's top museums and cultural institutions to pinpoint some of the most kid-friendly destinations for those curious about the immigrant experience, or looking to teach children about diversity and cultural acceptance.
Of course NYC often plays host to rotating art exhibits related to this theme, which you can always find in our event calendar. Read on for ten NYC spots where history leaps off the pages for interactive exploration.
Sign up for our FREE newsletters to get posts like this delivered to your inbox.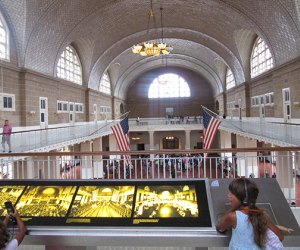 The historic Registry Room on Ellis Island, where millions of immigrants entered the country, impresses all ages. Photo by Jody Mercier
Ellis Island – Lower Manhattan
Whether you can trace your family's roots to Ellis Island or not, there's something awe-inspiring about a visit to this isle, which served as the nation's most active immigration station from 1892–1924. You'll walk in the footsteps of the 12 million immigrants whose first steps in America came when they deboarded ships to endure processing before they could head into the city and their new lives. The museum here is huge, covering a trio of floors in the expansive, historic building. When I visited with my school-age children last summer, I was struck by the grandeur of the Registry Room, a large, beautiful soaring space, which, in its heyday, hosted legal and medical examinations—making it a terrifying place for most immigrants. There's tons of reading (and explaining) necessary to take in the whole experience, but each gallery also has telephones kids can pick up to hear a bit about the room's theme. We have tons of tips for visiting both Ellis Island and Liberty Island, including a rundown of the new Statue of Liberty Museum, but a word to the wise: Don't wait until day's end to catch the ferry (the only way to access it) to Ellis. There is truly tons to see there; we've visited twice and always wished we had more time.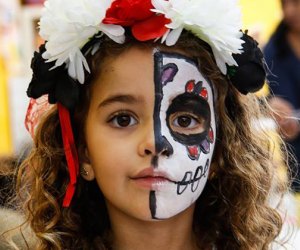 Celebrate Latin and Caribbean culture at El Museo del Barrio in East Harlem.
El Museo del Barrio – East Harlem
Those looking to learn about the Caribbean and Latin American experience in the Americas should head to this uptown museum. Though heavily focused on art, culture is always on full display, too, and the museum has really become a hub for the community. Its popular Super Sabado series of free family programming draws crowds each month. Kids will love the opportunity to learn, play, and explore during El Museo's monthly bilingual program, held on the first Saturday and Wednesday of every month.
Japan Society — Midtown East
Founded in 1907 to help foster cultural exchange between the United States and Japan, the Japan Society is today much-loved for its calendar of engaging family programs that introduce kids to the cultural and artistic traditions of Japan, both at home and abroad. There's always something happening here, from storytimes to festivals to art-making workshops, and even on a slow day, there's still the beautiful indoor gardens (complete with waterfall) to enjoy.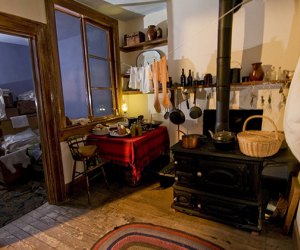 Peek into the cramped quarters of Lower East Side immigrants at the Tenement Museum, profiling families from 1863 through post-WWII.
Lower East Side Tenement Museum – Lower East Side
Walk in the shoes of early immigrants at this spot, which offers three ways to explore one of the city's most historically rich neighborhoods. For the most traditional museum experience, head to the building at 97 Orchard Street, where you can book a variety of tours, from stepping inside the ground-level stores to seeing how sweatshop workers lived and worked to exploring apartments of immigrants from Jewish and Irish backgrounds. Kids might especially appreciate the museum's Meet the Residents program, where they can interview costumed characters playing the part of former residents or tenement inspectors. The Under One Roof guided tour at 103 Orchard Street shares the stories of newer families who came to the LES after World War II seeking a new chapter in their lives. A word to the wise: Many of the tours here admit only children over the age of 8 (or 12), so heed the age advisories when you book your tickets.
Museum at Eldridge Street – Lower East Side
Another LES institution, the Museum at Eldridge Street is housed in the historic Eldridge Street Synagogue, which first opened its doors in 1887, serving the neighborhood's predominantly immigrant Jewish population. Its From Ellis to Eldridge collection of artifacts tells the story of the congregation's early days, as Jewish immigrants attempted to marry old-world traditions with Americanized ideals. An overflowing events calendar offers more ways to explore Jewish heritage, too, including interactive storytime-and-walking tours, which tell the story of early 20th century children in the neighborhood, showing where they played, shopped, and lived. For more spots to learn about Jewish heritage, be sure to read our full roundup on the topic.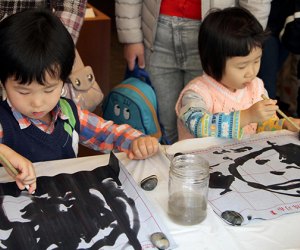 Enjoy festivals, storytimes, and drop-in art at the Museum of Chinese in the Americas.
Museum of Chinese in the Americas – Chinatown
MOCA was founded in 1980 in a community-based effort to document the history of Chinatown's rich cultures, which organizers feared would disappear with its older generations if not properly preserved. It has since evolved into a robust community organization where families can connect over shared history, celebrate traditional holidays, and learn about the immigrants who built not only Chinatown, but the transcontinental railroad, and so much more in American history. In addition to its popular family festivals, MOCA offers drop-in art and storytime to engage young visitors. Its core exhibit, With a Single Step: Stories in the Making of America, is a can't-miss, detailed history of Chinese immigration.
Museum of the City of New York – East Harlem
At the upper end of NYC's Museum Mile, the Museum of the City of New York is a bit off-the-beaten-path, but a true city gem. While there's plenty to see here that chronicles the rise of New York, the New York at Its Core exhibition is a thorough look into NYC's development from a small port city to the bustling metropolis of today. Divided into a trio of chronological galleries, Port City gives a glimpse into New York as a destination for immigrants, goods, and more. The "then-and-now" landscape photos dominate one wall, giving a fascinating glimpse into how Lower Manhattan has (and hasn't) changed over time, and interactive kiosks allow kids to meet New Yorkers from the past. Artifacts dot the perimeter, telling the story of the important people and imports who arrived in the port. Another kid-friendly favorite is the theater on the lower level where you can take in Timescapes, a compact 28-minute video chronicling the city's history.
RELATED: Free Times to Visit NYC Museums, Gardens, and the Zoos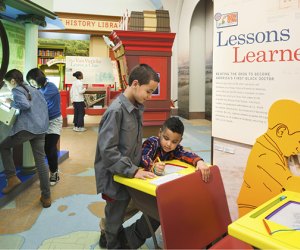 At the New-York Historical Society, kids can dig into the backgrounds of some of the city's best-known immigrants, like Alexander Hamilton.
New-York Historical Society – Upper West Side
While the grown-up exhibits at the New-York Historical Society offer a rich museum experience, if you've got little kids, the downstairs DiMenna Children's History Museum is a must-visit. Though small in size, encompassing just one large gallery, the material is rich, engaging, and age appropriate for young visitors. A series of kiosks introduce children to characters from the city's past, from Alexander Hamilton (a West Indies immigrant) to Esteban Bellan (the first Latino to play pro baseball in the U.S.), and the children who headed west on orphan trains or took up work as newsies. When you're done downstairs, check out the exhibitions upstairs, too.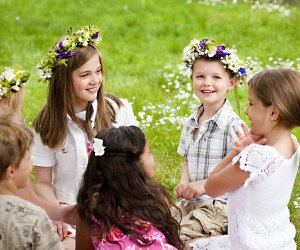 Learn about Scandinavian history with hands-on activities at Scandinavia House.
Scandinavia House – Midtown
Scandinavia House: The Nordic Center in America is the leading center for Nordic culture in the U.S., offering a wide range of programs that illuminate the culture of Denmark, Finland, Iceland, Norway, and Sweden. The Children's Playing and Learning Center introduces little ones to the culture of Scandinavia through books, toys, art workshops, and interactive programs. There is also a chance to get messy at the Shape Studio for Tots.
Unless noted, photos courtesy of the museums
Click Here to Sign Up!
i