8 Things to Love About Japan Society: Visiting the Japanese Cultural Center With Kids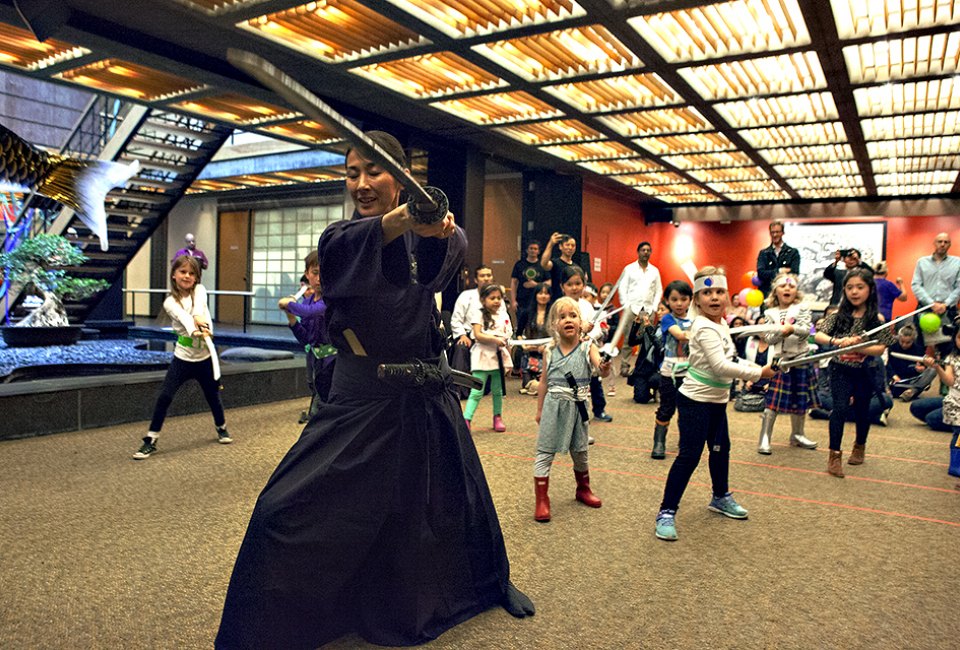 5/30/19
- By
Suzy Q
One of the best things about raising kids in New York City is that a unique cultural experience is usually just a short walk, bus, or train ride away. Most cultural institutions in NYC host special family programming, festivals, workshops and language programs, and NYC's Japan Society, formed in 1907, offers a varied and rich calendar of events for kids, all set against a beautiful backdrop of indoor gardens, including a waterfall.
If you are fascinated by Japanese food, film, and folklore, but short on time or money to travel abroad, the Japan Society is an affordable alternative for the culture-seeking family. During my visit, one Japan Society member and father of two children ages 3 and 4 put it best, "It gets me as close as I can to experiencing Japanese culture without having to go to Japan."
The Japan Society of New York was founded to foster cultural exchange between the United States and Japan in the early 20th century. Historically, the Japan Society not only hosted leading Japanese visitors to the United States, but sponsored important exhibitions of Japanese art, and promoted the study of Japan in American schools and universities. Today programs continue to focus on arts and culture, public policy, business, language, and education in a landmarked building at 333 East 47th Street. Just a few of the reasons we love to visit: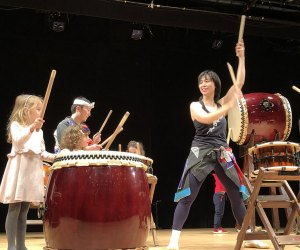 1. Family Programs: Japan Society offers seasonal programming for families to explore Japanese customs and culture. Experience storytelling, creative play, songs, and art-making at their annual events, including a New Year's Celebration (Oshogatsu), Children's Day Festival (Kodomo no Hi), Sports Day (Undōkai), the beautifully spooky Obake Family Day every year around Halloween, and Shichigosan, an annual tradition celebrating the health of children ages 3, 5, and 7. There are also monthly themed family workshops designed for children and their caregivers with hands-on, interactive activities. You can participate in an authentic Japanese tea ceremony or watch a giant origami folding demo while learning how to make your own creations.
2. Art Workshops and Leadership Opportunities for Teens: Japan Society offers art and leadership programs for high school students. They participate in the citywide initiative #TeenArtsWeek, where students engage in interactive tours of current exhibitions (right now, there's Radicalism in the Wilderness: Japanese Global Artists in the 1960s, exploring how Japanese artists in the 1960s responded to the social, political and cultural issues of the decade). Teens can also apply for the Japan Society Junior Fellows Leadership Program, a travel abroad program in which a group of U.S. high school students live with a host family and attend a high school in Tokyo.
RELATED: The Best Annual Festivals in NYC for Kids (Most of Them FREE)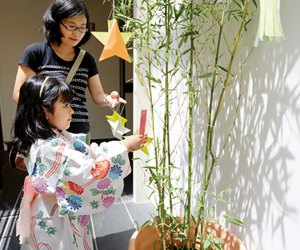 3. Educational and Teaching Resources: Keep the cultural exchange going long after your visit with the resources on the Japan Society website for teachers and parents. They offer a guide to Japanese culture specifically for parents and teachers with lesson plans and essays on everything from Yōkai: Fantastic Creatures of Japanese Folklore to Japan's Star Festival (Tanabata) to celebrating the Doll Festival (Hina-matsuri) at home or in the classroom.
4. Gallery Events: Since 1971, Japan Society Gallery has been a treasure chest of Japanese art spanning from the thirteenth to the twenty-first-century. Exhibits have included classical Buddhist sculpture, calligraphy, contemporary photography and ceramics, and even samurai swords. Check their calendar for public programs and unique cultural events for current and upcoming special exhibitions.
5. Language Center: The premier Japanese language center in New York City, Japan Society's language school offers a variety of courses, workshops, and weekend intensives. In addition to language courses, kids and adults can also learn shodo, the art of Japanese calligraphy.
6. Food: Family festivals and workshops at Japan Society feature tasty food vendors offering traditional Japanese cuisine, sweets, and snacks. During the recent Children's Day Festival, my kids actually tried and devoured several tuna mayo onigiri (rice balls) and Meiji Takenoko No Sato Chocolate, small biscuits dipped in chocolate.
RELATED: Free Times to Visit NYC's Museums, Gardens, and Zoos With Kids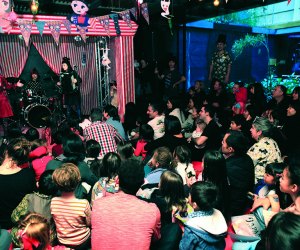 7. Performing Arts and Film: From full-scale productions to thematic series and special screenings, Japan Society is a hub for traditional and contemporary theater and performing arts. Their year-round programming includes traditional puppetry, post-modern theater, dance collaborations, and a diverse selection of classic and modern Japanese cinema. Plus, Japan Society organizes the largest festival of new Japanese film in NYC, Japan Cuts.
8. Extraordinary Bathrooms: No joke! As if all the family programs, workshops, educational resources, food, performing arts and film weren't enough reasons to visit Japan Society, bring the kids to experience the washlet toilets (Woshuretto). A gift in honor of Japan Society's Centennial in 2007 from TOTO, these cleansing toilet seats have a water spray feature, water pressure controls, temperature controls, and drying capabilities—all commonplace on toilets in Japan.
Photos courtesy of the Japan Society
Places featured in this article:
Click Here to Sign Up!
i