Dinosaurs Among Us: American Museum of Natural History to Unveil Titanosaur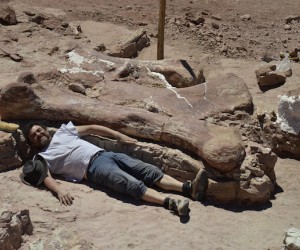 What's 122-feet long, weighs as much as 10 African elephants and is totally vegetarian? A Titanosaur, of course! Dino-lovers rejoice as the American Museum of Natural History (known for its amazing must-see exhibits including The Secret World Inside You and Life at the Limits) gears up to introduce this gargantuan dinosaur in a brand-new exhibit. The massive new dinosaur cast will be unveiled in January, settling in for a three-year stay on the museum's dinosaur floor. We've gathered some fun facts about this newly discovered dinosaur group, as well as details on the upcoming exhibit and even a very cool digital rendering of this giant find.
One of the largest dinosaurs ever discovered, the Titanosaur was excavated in the desert near La Flecha in the Patagonia region of Argentina by paleontologists Jose Luis Carballido and Diego Pol, both from the Museum of Paleontology Egidio Feruglio. First unearthed in 2014, this particular group of dinosaurs is so new that it has not been formally named yet. Since its initial discovery, Titanosaur fossils have been discovered on nearly every continent, marking dramatic advancements in paleontology. These gigantic dinosaurs stomped around what are the modern-day forests of Patagonia nearly 100 million years ago during the late Cretaceous period. A BBC TV special set for January will document the discovery, though there's nothing quite like seeing the impressive Titanosaur in person.
RELATED: Restaurants Near American Museum of Natural History
Luckily, dinosaur enthusiasts won't have to wait long for such a treat. The January unveiling of the Titanosaur at the American Museum of Natural History marks the beginning of the museum's Year of the Dinosaur, which will include a new exhibition called Dinosaurs Among Us. The colossal dinosaur is actually a bit too long for the impressive gallery it will call home. No worries, the Titanosaur's neck and head will extend just beyond the gallery, peeking out onto the floor's elevator banks to welcome visitors.
The Titanosaur will be unveiled to the public on January 15, 2016, and Dinosaurs Among Us will be on display from March 21, 2016 through January 2, 2017 at the American Museum of Natural History. The exhibit—suitable for all ages—will delve into how one group of dinosaurs evolved into birds and offer a weekend of themed programs, plus a new dinosaur app from the museum. It is a special exhibit and included in the "Admission plus One" ticket at the museum.
Check out our Museum Kids Guide for more fun museum outings.
Top photo: The Titanosaur, discovered in the Argentinian desert in 2014, is one of the largest dinosaurs unearthed yet. Photo by Dr. Alejandro Otero/courtesy American Museum of Natural History