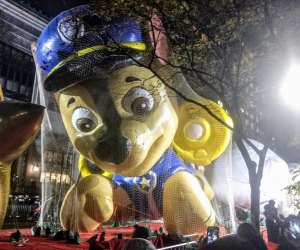 See Macy's Thanksgiving Day Parade Balloon Inflation with Kids

Olaf gets ready for the Macy's Thanksgiving Day Parade.
When and Where
The traditional Macy's balloon inflation takes place on Thanksgiving eve in the streets around the American Museum of Natural History. The inflation is set for Wednesday, November 27, 2019 and runs from 1pm to 8pm. Visitors enter the fray at 73rd Street and Columbus Avenue, then head east to Central Park West, north to 77th Street and make a 3/4 circle of the museum, ending at 81st Street and Central Park West.
Arrive early to beat the crowds. The balloons take shape quickly and are kept earthbound by giant nets.
Times most definitely have changed, however. Gone are the days when parade enthusiasts could gather and watch the balloon inflation free from crowds. These days, police monitor the galleries, which increase as the night continues.
RELATED: November GoList: Best Things to Do this Month with Kids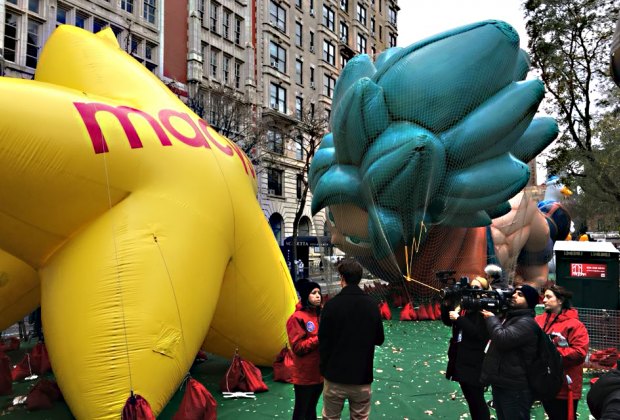 Stand up close to the balloons for a very cool view.
Top Tips for Families
Beating the line. In the past, we've advised visitors that the most foolproof way to beat the crowds is to visit the American Museum of Natural History prior to the start of the balloon inflation. With the earlier start time and different route, which does not pass the main doors on Central Park West, we're not sure this is useful this time around. Of course, because of the more friendly daytime hours, the event might be even MORE crowded. If you want to give it a try, the museum is open until 5:45pm on Thanksgiving eve.
Leave the stroller at home. The crowds make it nearly impossible to push a stroller, and chances are your young child will be too small to see past the barricades and adults. You might want to wait until your child is old enough to withstand the crowds and endure long periods of standing before considering a visit.
Don't try to meet up with friends on site. If you want to go as a group, travel to the site together or meet a few blocks away. It's nearly impossible to connect once you're amid the fray.
Consider a viewing party. The New-York Historical Society hosts a Thanksgiving Eve balloon inflation viewing party for members who contribute at the family level or above. If you're already a fan of the museum, a membership might really make sense to gain this perk! A less-costly option is to strike up a friendship with someone who lives on 77th or 81st Streets between Central Park West and Columbus Avenue.
Bring snacks and water. The loop takes at least 45 minutes to complete. So bring essentials or dine beforehand. Speaking of that...

By dawn the balloons might already be inflated, but still earthbound and eye level for an up-close look. Photo by Anthony Quintano/CC BY 2.0
Where to Eat Near the Balloon Inflation
It's best to avoid restaurants on Columbus Avenue opposite the museum—they'll be packed. There are plenty of family-friendly restaurants within a few blocks. Call ahead to make sure your choice isn't closing early for the holiday.
Planning on going to the parade the next day? For everything you need to know, see our Macy's Thanksgiving Day Parade post.
This post, originally published in November 2013, is updated annually.
Unless noted, photos courtesy of Macy's