Museum Birthday Party Places in NYC: 10 Celebration-Worthy Culture Spots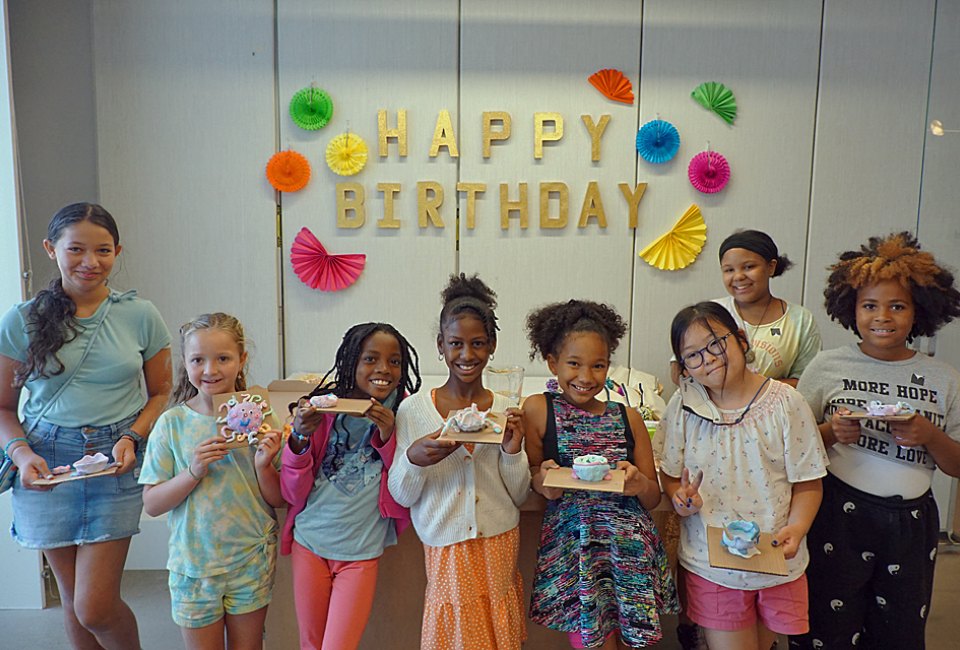 10/10/22
- By
Charlotte Wensley
Living in New York City means access to some of the world's greatest museums, and these world-class institutions are also completely underrated birthday party places in NYC. Next time you're faced with planning the perfect birthday party, consider hosting a birthday party at one of these NYC museums and culture spots, which offer unique themes you can't often DIY. Fully interactive fun, animal encounters, giant ball pits, VR gaming, sleeping among exhibits, and a slime waterfall feature make these some of the best birthday party places in NYC.
So, escape the clean-up and hand over the organization and entertainment of your child's birthday to someone else, and enjoy one of our amazing cultural institutions from a completely different perspective. We've got tons more suggestions for places to host your next NYC birthday party in our Guide to Kids' Birthday Parties in New York City.
Subscribe to our newsletters to get stories like this delivered directly to your inbox.



NYC's pop-up color museum, Color Factory, makes for a great birthday party outing.
For a birthday party that is part art, part play, and heaps of fun, The Color Factory is the perfect spot. Explore color through a series of interactive rooms that stimulate all your senses culminating in a gigantic ball pit—which is as much fun for the adults as the kids—and then duck into your private party room at this birthday party place in NYC to celebrate. It is playful enough to be a blast for your youngest kids and cool enough for your oldest. Color Factory offers several birthday packages, including discounted group pricing.
2. Bronx Zoo – Bronx Park, the Bronx
The Bronx Zoo offers two fantastic birthday party packages for animal lovers. The Expedition Package includes a fun-filled personalized exploration of the zoo. A dedicated conservation educator leads an activity in one of the exhibits before introducing special animal guests. The Zoofari Package includes a scavenger hunt through the Congo Rainforest exhibit, animal encounters, a private space to celebrate, and gift bags for all the kids. Both options include all-day access to all the zoo's exhibits and attractions for up to 25 people. If these are too rich for you, another great option is booking a special wildlife encounter for the birthday kid!
RELATED: Birthday Party Ideas for Teens in NYC: 15 Cool Party Places for Teens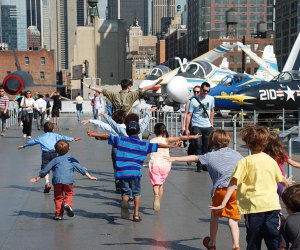 Imaginations take flight during a birthday party at NYC's Intrepid Sea, Air, and Space Museum.
The Intrepid Museum's two-hour birthday party packages include an interactive tour of the museum, plus fun, themed—choose from the pilot, astronaut, marine, or spy—hands-on activities, exclusive access to immersive experiences, food and cupcakes, and much more. Two Intrepid Museum party hosts (one in costume) handle everything from start to finish. For an unforgettable birthday party experience in NYC, consider an overnight at the Intrepid, dubbed Operation Slumber. This overnight stay lets you and your guests sleep among the aircraft. Activities include planetarium shows, guided flashlight tours of the flight deck, and unlimited simulator rides.
For your firetruck-obsessed kiddo, one of the best birthday party places in NYC has to be the New York City Fire Museum. The museum offers several packages for a two-hour party; all include a tour of the museum, a party host, themed games, firefighter-themed decor, and props and costumes so the kids can dress up just like their heroes.
RELATED: 12 NYC Bakeries Serving Stunning Birthday Cakes for Kids

Kids can roll up their sleeves and make their own slime during a birthday party at the Sloomoo Institute in Soho.
Appealing to kids of all ages (and plenty of adults) all things slime take center stage at the Sloomoo Institute. Birthday party options here can be as simple as booking a guided tour with "slimetenders,'' who share insider stories, the best photo moments, and tips and tricks for slime playing. Add-ons include the kid-favorite Sloomoo Falls where, your guests can be doused in a slime waterfall (protective gear is provided!), or booking the plush private Sloomoo Underground party room. Add-ons at this birthday party place in NYC include hosting a slime workshop, slime-themed party bags, and a special Sloomoo cake.
Celebrating a birthday at the Museum of Arts and Design includes a craft-themed project led by a MAD artist educator and museum admission for up to 12 kids. Your child can select from different project options with all materials included. We love that a birthday party here includes all the fun and mess of a DIY-crafty party, with none of the cleanup! The museum decorates the space and stocks all the supplies you need for your project. Add-ons include cake, pizza, juice or soda, and an artist kit party favor.
RELATED: Birthday Freebies in NYC: Where Kids Eat Free & Nab Gifts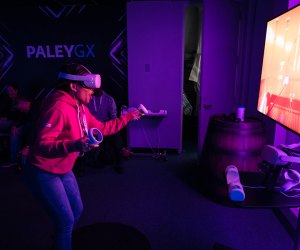 Big kids go crazy for the VR and video-game-infused parties at the Paley Center.
The Paley Center, which explores the impact of media on our culture, is a great birthday party place in NYC if you're looking for family-friendly gaming and VR experiences. You can host a birthday party at the Paley Center where kids can use the latest PS5, Xbox Series X, Nintendo Switch, and gaming PCs to game to their heart's content. The birthday party package here includes 90 minutes of gaming for up to 20 people followed by pizza in a private party room. One catch to nab this deal: It's members-only, though a family membership costs just $125 for the year and grants unlimited admission, tons of time in the PaleyGX and VR gaming experiences, and more.
The variety of interactive exhibits at the Brooklyn Children's Museum provides the perfect range of activities and exploration for younger kids' birthday parties. After enjoying the giant water table, sensory room, and the re-creations of old-school Brooklyn shops, you can head to a private party room to celebrate. Accommodating up to 25 people, customize this NYC birthday party with your own decor, food, and cake.
RELATED: Inexpensive Birthday Party Room Rentals in NYC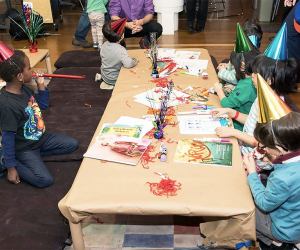 Celebrate your child's birthday with an art project at the Rubin Museum of Art.
Birthday Art Labs at the Rubin Museum of Art are led by museum educators and include art-making in the theater, an interactive tour of the museum galleries, and admission for all guests. Choose from several age-appropriate themes for your art project. Catering is provided by an approved supplier offering a variety of menu choices. The Rubin Museum even handles the invitation design!
Birthday parties at Staten Island Zoo are guided by a zoo instructor who will lead a craft project, introduce touchable animals, and take everyone on a ride on the Conservation Carousel that features beautifully carved endangered animals. Pizza and juice are included in the package, plus an all-day visit to the zoo to explore before or after the party.
Unless noted, photos courtesy of the venues