Bronx Zoo's Wild Encounters Offer Behind-the-Scenes Fun for Animal Lovers
10/14/21
- By
Jody Mercier
No matter how many visits we've paid to the Bronx Zoo, there's always something new to see. And today, we've got the details on its Wild Encounters program, an intimate, safe, educational behind-the-scenes way to experience the beloved zoo. These special programs introduce Bronx Zoo visitors to its ambassador animals and plenty of fun facts along the way.
This splurge-worthy outing is a perfect experience gift for the little (or not-so-little) animal lover in your life. Read on for details on our Wild Encounter, and then start planning your own.
Subscribe to our newsletters to get stories like this delivered directly to your inbox.
The Wild Encounters program includes options for both in-person and virtual zoo visits with a variety of animals, from the tiny and oh-so-soft (and pettable!) fennec foxes to the larger than life rhino connection or giraffe feeding encounter. You can even enjoy a behind-the-scenes private tour with a Wild Encounters host as your guide.
For our Wild Encounter—a birthday gift for my 8-year-old—we opted to for "The Zoo Connection: Celebrity Surprise" program, which promised a meet-and-greet with some of the animals we had seen on The Zoo, the popular Animal Planet program that gives viewers an all-access pass to the Bronx Zoo and is must-see TV in our home.

Fennec foxes are plenty furry—including on their paws—an attribute that lets them scamper around without making a sound.
The fun of our Wild Encounter began long before we met any of the furry and feathered celebrities. Upon checking in for our program at The Zoo Center, we were greeted by two friendly, knowledgable guides who excitedly asked if we were celebrating anything special. When my daughter beamed and announced it was her birthday, she was given a spectacular, sloth-emblazoned happy birthday pin to wear and take home as a souvenir.
RELATED: See Bronx Zoo Like a Local: Top Tips for a Great Visit with Kids

You don't get to touch all the animals, but petting this fennec fox was a highlight of our visit.
Our animal encounter took place in the Education Building, so we enjoyed a brief walk and tour with our friendly hosts, before getting to duck out of the public section of the zoo, past the animal hospital—where we learned two vets actually live full time to care for the animals—and into the Education Building's classroom.
There, we were introduced to a cool cast of celebrity characters—some familiar and some that were "preview" animals from the latest season of The Zoo, which built our anticipation for the season that just debuted this week.
During the 45-minute program, animals were ushered in and out of the classroom space, accompanied by their keepers, who kept the animals comfortable, plying them with treats and sharing a wealth of knowledge as the animals explored the space and were showered with oohs-and-ahhs from us, the adoring fans and wildlife paparazzi.
RELATED: The Best Zoos and Aquariums in NYC

June Bug was shy at first, but his appearance was worth the wait.
June Bug, the African porcupine was our first visitor, and it took a little prodding for him to enter the room—the anticipation only making his appearance more exciting. A definite highlight: Watching him munch on an ear of corn, twirling it with his front feet, while the keepers dispelled the myth that porcupines can "shoot" their quills.
We also got to meet an adorable pair of fennec foxes, whose pelts were buttery soft when we got to pet them—the only animals in our connection we were allowed to touch.
Also making an appearance were two "preview" animals, who hadn't made their small-screen debut, but are rumored stars of Season 5. The adorable red kangaroo, Trudy, endeared us with her curious brown eyes as she sniffed her way around the room showing off her hopping skills.
RELATED: Petting Zoos Near NYC Where Kids Can See Farm Animals

Amos the pelican had both an impressive wingspan and curious personality as he explored the room and his adoring spectators.
Our last new friend was of the feathered variety: Amos, an American white pelican, whose personality was even more impressive than his 10-foot wingspan. We were amazed by the breeze generated by his flapping wings and amused by his curious attempts to explore the world with his beak, including trying to snatch my husband's cell phone straight from his hands.
Our Wild Encounter ended with a walk back to the public portion of the zoo—and an entire day of animal peeping, soda drinking, and ice cream eating—plus plenty of memories and hopes to return again for another Wild Encounter experience!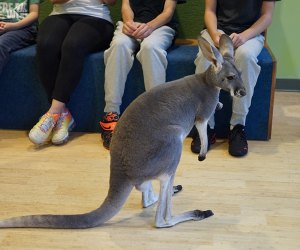 Trudy is a 1 1/2-year-old red kangaroo who is just learning the ropes as an ambassador animal.
Know Before You Go: Bronx Zoo Wild Encounters
Reservations are required for all Wild Encounters, and they do not include admission to the zoo, so you'll need a membership and a reservation or single-day, timed-entry tickets to enjoy.
Heed the age warnings; some programs have age minimums.
Programs are held indoors, and most are not private encounters, so you will be around other families. Masks are required and all visitors ages 12+ must be vaccinated in order to attend.
Photos by the author
Places featured in this article:
Click Here to Sign Up!