Rubin Museum of Art: Learn About the Art of the Himalayas at Its Education Center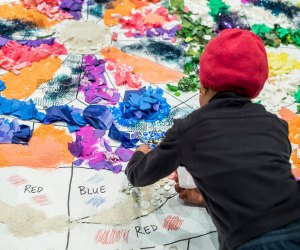 [UPDATED: August 17, 2012]
As New York City museums go, the Rubin Museum of Art is just a baby, but it's definitely growing fast. The only museum in the Western Hemisphere dedicated to the art of the Himalayas (Nepal, Tibet, Mongolia, China and many other Far East countries and cultures), its collection is varied and vast—there are countless figures of deities, shrines, instruments, textiles and more—and the institution as a whole is surprisingly family-friendly.

We wrote about the Rubin back in 2004, but so much has changed since then, we revisited the museum as well as this post. Not only is there an impressive slate of programming for kids, including drop-in workshops and festivals, the Rubin opened an education center in the summer of 2011, which accommodates children and adults.

Next door to the museum, the two-floor center features circular stairs that mirror the main space's dramatic spiral staircase. It's a lovely addition with large classrooms and a performance area, cute cubbyholes for backpacks, and colorful kid-made art interspersed with items from the museum's collection.

The Rubin is a wonderful destination on any day: The artifacts are stunning and easy for kids to digest (a solid gold statue of a deity doesn't need to be put in context; it's just cool), and there's a cafe with delicious eats. Happily though, there are kids' activities almost every day. Here's what's going on at the Rubin for families this season.
Family Workshops

Check in advance for the current pricing of the drop-in family workshops. If you just want to walk through the museum, it's $10 for adults, free for children under 13. Offerings include:

Yak Packers Early Childhood Art Making
Wednesdays and Thursdays 10:30-11:30am for kids ages 2-4
Tots use the museum's collection as inspiration in this hands-on class. Participants play, listen to stories, tour the galleries and, of course, make their own mini masterpieces. For $10, you get admission to the museum and a workshop for one kid. Additional children are $10 each.
Family Art Labs
Second Saturday of the month 2-4pm for kids ages 5 and up
Aimed at elementary schoolers, these classes include a guided tour of the museum's treasures, followed by an art project. Here's a complete schedule of individual sessions. It costs $16 for the first adult/child pair and $16 for each additional child.

Special Events

Family Day: Amazing Animal Adventure
Saturday, October 13 noon-5pm for kids ages 3-10
The museum holds a family day every season, and while they're popular and crowded, they're a great way to introduce your children to the institution. The Four Harmonious Friends are the theme of this fall's fest - the elephant, the rabbit, the bird and the monkey. Kids can hear amazing interactive stories, watch dance performances, hear exotic instruments, create collaborative sculptures and make an animal hanging to take home.

DIY Tours

Even if there isn't something special going on, kids should enjoy browsing the eclectic collection. There are even a few interactive attractions, like in 2011 there was a Patterns of Life exhibition with a station where kids could create patterns out of vibrant pieces of felt. (I had trouble tearing my six-year-old away from that one.)

If your kids are ages 2-8, be sure to ask for a Yak Pack at the admissions desk. These family activity kits include animal scavenger hunt activity cards, bendy wire, drawing pads, a small mirror and pencils. They're free to borrow.

The Rubin Museum of Art is located at 150 West 17th Street between Sixth and Seventh Avenues.