Science and Natural History Museum Day Trips Near NYC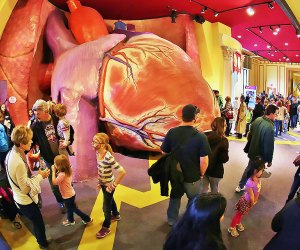 Do you feel as if you've memorized every inch of the American Museum of Natural History? As mammoth as it is, we've visited so frequently I think I could find even the most remote corner of it blindfolded. We've also explored every inch of the New York Hall of Science in Queens and liberated all the science at New Jersey's Liberty Science Center.
If your family's looking for new, fun universes to discover, now is the perfect time for a family-friendly day trip. Here are four science and natural history museums outside of New York City that make great day or overnight trips. Car-free families take note: You can reach all of them by bus or train.
Bruce Museum – Greenwich, Connecticut
1 Museum Drive
Distance from NYC: Just under 1 hour by train
Make a day of it: The adjacent Bruce Park Boundless Playground is a great place for little ones to let off steam; it's got clean restrooms, picnic tables, and views of the Long Island Sound.
This modest-sized museum's science and natural history exhibits include a touchable meteorite, a wigwam, and a collection of brightly colored minerals and fossils. It has a local focus, with visually interesting exhibits that explore the Connecticut coastline and the region's woodland ecosystems. The institution isn't exclusively devoted to science; there's also a fine art collection. Check the website for periodic kid-pleasing events and projects.
Know before you go: Closed Mondays. $10 for adults, $8 for children ages 5 to 22, ages 4 and under are free. Free on Tuesdays. Take the Metro-North New Haven line from Grand Central Station to Greenwich. The museum is a five-minute walk away.
The Yale Peabody Museum of Natural History – New Haven, Connecticut
170 Whitney Avenue
Distance from NYC: 1 hour, 45 minutes from Penn Station to New Haven, then a 10-minute cab ride to the museum.
Make a day of it: Explore the greater Yale campus and family-friendly happenings beyond or pit New York pizza against the famous slices at Frank Pepe before you hit the train to head back home.
The Peabody's comprehensive collection will keep the family busy all day long and you still won't have time to cover everything. Special attractions include The Discovery Room, which features hands-on exhibits and a colony of leaf-cutter ants, visible through clear plastic tubes. The Hall of Minerals, Earth and Space showcases giant, colorful mineral specimens. Dinosaurs are the big draw, though. The Great Hall boasts awesome dinosaur skeletons and one of the world's largest fresco secco murals The Age of Reptiles, which runs the length of an entire wall. It's got dinosaurs from several periods, and should be a big hit with kids. Each November, the Peabody hosts the Paleo-Knowledge Bowl: an oral competition in which fourth, fifth and sixth graders from Connecticut and beyond answer some very difficult questions about the extinct creatures. The public is allowed to view the final round. This may be the inspiration your budding paleontologist has been looking for.
Know before you go: Open daily. Admission is $13 for adults, $6 for children ages 3 to 18, ages 2 and under are free. Free admission on Thursday afternoons from 2-5pm from September to June.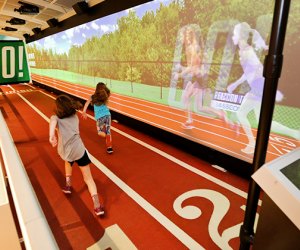 Come ready to move when you visit the SportsZone at The Franklin Institute. Photo courtesy of The Franklin Institute.
The Franklin Institute – Philadelphia, Pennsylvania
222 North 20th Street
Distance from NYC: Megabus and Bolt Bus go from midtown Manhattan to the 30th Street Station in about two hours. A taxi will get you to the Franklin in minutes, or you can walk it in about 20.
Make a day of it: Philadelphia is a great museum city, and you could spend days there with your family exploring the possibilities, including the Please Touch Museum. The Institute's founding purpose was to honor Benjamin Franklin and advance his inventions. Today, it showcases science and technology in ways that would certainly delight him. One of the original hands-on science museums, it's my family's favorite. It's also huge, and its permanent exhibits never get old or boring. There are numerous interactive, strategically located science carts, where you can try your hand at activities like paper-making or constructing a retractable suspension bridge with Lincoln Logs. The temporary exhibits change several times per year. The Franklin is often packed, so get there early or be prepared to wait on line. You won't want to miss the permanent Human Heart exhibit, where you can walk through a 220-foot model of the circulatory organ. See how fit you are in the sports exhibit, ride on a full-sized train that blows actual smoke, and bike across a high wire on the SkyBike.
Know before you go: Admission is $23 for adults, $19 for children ages 3 to 11, ages 2 and under are free. Certain attractions, like the IMAX theater and escape rooms, cost extra, so it's not an inexpensive playdate.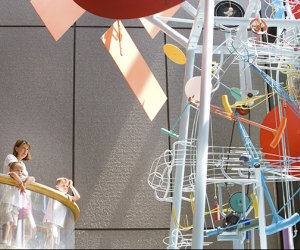 Boston's Museum of Science has so many marvels you really can't cover it all in one day. Photo by Michael Malyszko/courtesy of the venue.
Museum of Science – Boston
1 Science Park
Distance from NYC: The bus from NYC is approximately a four-hour ride. Megabus and Bolt bring you to South Station at discounted rates, and you can take the T Green Line a few stops to Science Park Station. Amtrak is also an option.
Make a day of it: We'll be honest: There's so much to see and do at the Museum of Science, we usually spend the night. The Hotel Marlowe is steps away from the museum's entrance and provides fun extras like complimentary mountain bikes and gift packs full of toys to keep young guests amused. The on-site restaurant has a well-priced kids' menu.
Many of the 700-plus exhibits at Boston's Museum of Science are hands-on, so this is a great place to learn scientific concepts while having a ball. Friday nights from 8:30-10:30pm, go stargazing at the Gilliland Observatory, located on the roof of the museum's parking lot, free of charge. There's a Butterfly Garden similar to the one at the AMNH. You'll want to shed a few layers because it's warm in there to accommodate the exotic plants and title residents. There are numerous live presentations every day throughout the exhibit halls. If you get lucky, you may catch The Amazing Nano Brothers Juggling Show, in which performers toss around tennis rackets atop unicycles to teach viewers about the mysteries of matter.
Know before you go: Admission is $28 for adults, $23 for children ages 3 to 11, ages 2 and under are free. This institution is a worthwhile splurge, especially if you take into account all of the live performances. Certain attractions like the IMAX theater and Butterfly Garden cost extra. We visit for birthdays instead of throwing a party.
Bonus tip: All of the above museums participate in the ASTC Travel Passport Program, so if you are a member at a local science museum, including the Intrepid Sea, Air & Space Museum, New York Hall of Science, or even the Brooklyn and Staten Island children's museums, your membership may grant you free general admission to each institution. See the ASTC website for more information and exclusions.
If this whets your appetite for great day trips, be sure to visit our Family Travel Guide for more getaway inspiration.
A version of this post was originally published in 2011; it has since been updated. Jody Mercier contributed additional reporting.