30 New York City Family-Friendly Day Trips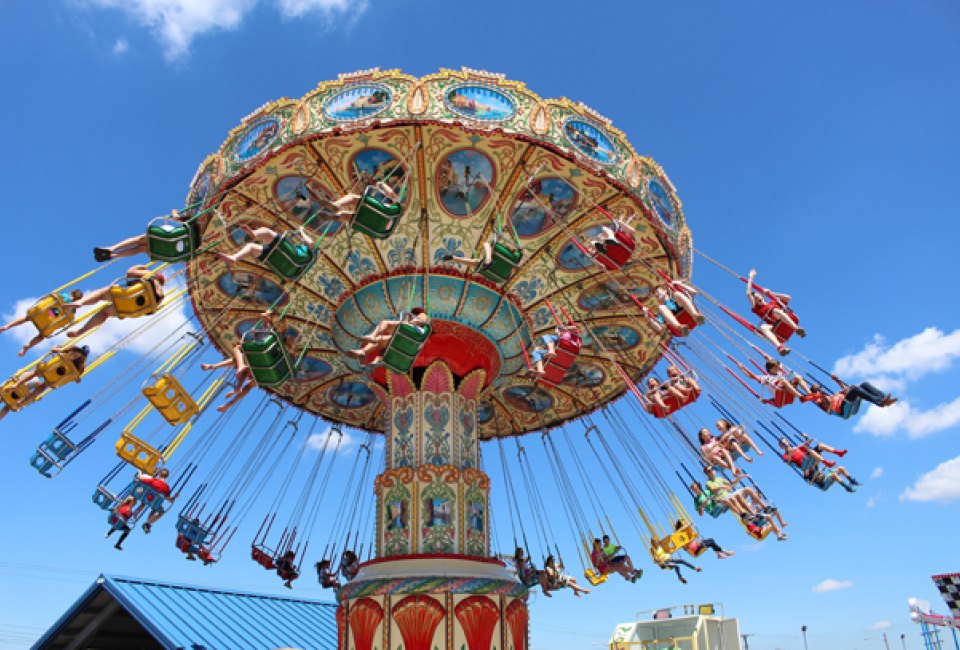 2/15/16
- By
charlotte
We've asked our readers to share your favorite day trips from New York City—and you really went all out! From safaris and water parks to scenic trips and beaches, you let us in on the mother lode of great getaway ideas for the whole family. There were so many great ideas in there, we had to share them.
Here they are, the Top 30 Reader-Suggested Day Trips from New York City. Don't forget to check out our Family Travel Guide for more great day trip ideas either.
1. Point Pleasant Beach, N.J.: Complete with the aquarium, skee ball, rides and of course, the beach. (Oh, and a great boardwalk, too.)

2. Beacon's Hudson River Shoreline: You pointed out the great annual events, like the Strawberry and Pumpkin festivals, and there's plenty to do any day as well, like the River Pool, farmer's market and fishing.

3. White Post Farms, Melville, N.Y.: Here is a truly kid-friendly spot. You can feed animals, take train rides or hang out in the playground. This is one of our favorites, too. Read more about White Post Farms in our past post.

4. Oyster Bay, LI: Hop aboard the Long Island Railroad and enjoy a scenic water view as you head toward Oyster Bay. There are shallow areas of calm water, great ices, tennis and more beach sports, like volleyball.

5. Stamford Museum & Nature Center, Stamford, Conn.: This Connecticut spot is "part working farm, part zoo, part park" and its calendar is chock full of special events sure to make your trip even more memorable..

6. Pennings Orchard, Warwick, N.Y.: Seasonal fun includes pick-your-own fruits, but visit at other times of the year for the beer garden, ice cream stand and a myriad of special events.

7. Breakfast at Belmont, Elmont, N.Y.: Have a track-side breakfast while watching the horses perform their morning workout, then embark on a guided tour.

8. Fernwood Resort, Poconos, Pa.: The Poconos have long been a favorite trip from the city, but you turned us on to Fernwood, a beautiful villa with bumper boats, hiking, swimming, kayaks and 440 acres.

9. Robert Moses State Park, Babylon, N.Y.: Here you'll find about five miles of beach, with surfing, fishing and surf-fishing. There's also regular fishing, golfing and playgrounds. Plus, we hear it is super clean. Robert Moses is one of our Top Five Beaches for Families in NYC.

10. Van Saun County Park, Bergen County, N.J.: This NJ park has a zoo, pony rides, kite-flying, BBQ-ing, train rides, a carousel, bike paths and sports fields and courts.

11. Cape May, N.J.: Not only are there gorgeous beaches, but there's a light house, old Victorian homes, nice shopping and dinning, too.

12. Sandy Hook, N.J.: Part of the NJ shore, this seven-mile stretch is home to swimming, surfing, clean beaches, boat rides, 300 species of migratory birds, a military base and a lighthouse. We love it so much, it's also on our list of the Top Five Beaches for Families in NYC.

13. Atlantic Beach, LI: This ritzy village in Nassau County is home to multi-million dollar homes and some celeb-spotting, but that doesn't mean you can't enjoy it for the day. There are beautiful beaches with camping close by, and fishing, boating and gorgeous houses to look at.

14. Bear Mountain State Park, N.Y.: This spot was mentioned over and over again, and seems to be a Mommy Poppins' reader favorite. The park is in a majestic setting, with a large play field, shaded picnic area, swimming (in the pool and the lake), fishing, a zoo and hiking, biking and cross-country ski trails.

15. Wildwood, N.J.: Head to the end of the Garden State Parkway, where street lights start to appear and you'll find Wildwood. It's a 3.5 hour drive or so, but many deem it worth the trip. The beaches are beautiful, the accommodations are affordable, there's camping, a real old-fashioned boardwalk and rides. Fishing, boat rides and other standard beach fare are there too, plus mini-golf, a water park, and hiking/biking trails.

16. Rockefeller State Park Preserve, N.Y.: Only 30 miles from NYC, the Preserve is a great spot for strolling, jogging, horseback riding, biking, hiking, cross-country skiing and snow shoeing. There are also tons of birds and a cute farm nearby.

17. Long Beach Island, N.J.: LBI is known for having great sand and beaches, and lots of families hangin' around. There is swimming, surfing, mini golf, nice dining and a famous Chowderfest.

18. Renaissance Fair, Tuxedo, N.Y.: On weekends in August and September, Tuxedo's Sterling Forest is a "time-travel daycation," with Renaissance-era food and rides, shows, a magical parade, olde-school performances, fairies, jugglers, living chess games, strolling minstrels, comedy shows and more. This fair is your best bet for a trip back in time without the dangers of riding in Doc's DeLorean.

19. Union City Baby Pool and Sprinkler Playground, N.J.: For a free day of water fun, this park is the place to be. Complete with a life-guard protected and gated baby pool, and giant water park with sprinklers spraying water from any and every direction, this spot is good for kids of all ages. When your skin has saturated and reached a prune-like consistency, head to one of the many play structures (one is even fire-truck themed.)

20. Playland Amusement Park, Rye, N.Y.: A Mommy Poppins' favorite, a reader favorite and an overall metro parent favorite, Playand is the go-to park for NYC families and has been—remarkably—since 1928. It's not far, it has more than 50 rides and attractions, free entertainment, a beach, pool, boardwalk, pier, lake boating, picnic area, mini golf an indoor ice skating.

21. Cold Spring, N.Y.: This Main Street-style town is an amazing nature trip. It is home to the Hudson Fjord, a rare natural occurrence in the States, but more common in Scandinavia. Enjoy the gorgeous views by hiking up the Hudson Highlands. Just 50 miles from the city, it's a really cute town that lives up to its "Small Town America with Big Time Views of the Hudson" tagline. You can even get there without a car.

22. Harbes Family Farm, Mattituck, N.Y.: This family-run farm has spread to three separate Long Island locations. Great for fruit and pumpkin picking, the farms have a lot more to offer, too: wine tasting for the parents (which could make the trip through the corn maze a little more bearable), live music, hayride tours, baby farm animals, horse corrals, pony rides, and some unique activities like the dino-dig and gemstone mining. Visit the site for special events, which are especially prevalent in the fall. Read more about Harbes Family Farm.

23. Fire Island, N.Y.: Though mainly known for attracting a younger crowd, Fire Island is a great family destination, too. There's nightlife for the parents, good surfing for the older kids, and biking, wagoning, shell decorating, clamming, hiking and the beach, for everyone. There are also youth camps and groups, where kids can learn swimming, sailing, windsurfing and more.

24. Mitsuwa Japanese Market, Edgewater, N.J.: Not your average day trip, visiting Mitsuwa is shorter and cheaper than a flight to Japan—yet, you'll feel like you're there. This Japanese super store is much more than just a grocery. Dine on the freshest sushi and sashimi and other typical dishes in Restaurant Row, head over to the adjacent stores for household items, books, a beauty parlor and gorgeous views of the Manhattan skyline. August is the store's summer festival, with dancing, food and games.

25. City Island: OK, this one is in NYC, but it's so reminiscent of a New England town, we had to include it. And since it's right off the tip of the Bronx, it's closer than many of the other locations, which couldn't be better for traveling with young kids. There's beautiful beaches, great seafood, boating, a nautical museum, local art and more. You can even hop aboard a trolley to get there.

26./27. Six Flags Great Adventure / Wild Safari, Jackson, N.J.: Six Flags is another favorite day trip destination. It's not the cheapest day trip, but if you BYO food and pack coolers (and leave them in the car; no food is allowed in the park) you can save some money, and eat healthier (and better) at the same time. The park has rides for parents, teens, tweens and young kids, and you can take pictures with characters like Tweety. There are also shows throughout the day and concerts, too. The NJ location also has a water park, for an additional fee.

The Wild Safari (also additional park fee) is really a spectacular experience. At 350-acres, it is the largest drive-thru safari outside of Africa. It's designed for up-close encounters, where animals come right up to your car, and kids also get a lesson on conservation. There are zebras, giraffes, kangaroos, brown bears, elephants and a whole lot more. Here's a complete list of all the animals you can encounter.
28. Liberty Science Center, Jersey City, N.J.: This was one of my favorite places to visit as a kid, since it really does make science fun (a hard concept in the school-free days of summer). Now completely renovated, there is something for every kid, with exhibits and shows on dinosaurs, gems and rocks, ocean life, nature's forces (volcanoes, hurricanes, etc.), skyscrapers, communications, animals/survival of the fittest, energy and interactive elements called "Live Science." They also have a guide for getting the most out of the exhibits with children under 5. We've already dubbed it one of our favorite places to get scientific with kids.

29. Adventureland Amusement Park, Farmingdale, N.Y.: Another favorite, Adventureland is a family-friendly park with thrill rides for older kids, and lots of kiddie rides for the younger ones. It's a bit less expensive than Six Flags, and has water rides, too.

30. Sesame Place, Langhorne, Pa.: Sesame Place is about 90 minutes south of NYC. There are great water rides for hot days and plenty of other rides, too, but the big attraction is hanging out with these famous furry friends. Quality time with Elmo, Big Bird and the rest of the gang? Now that's what we call a daycation.
t Click Here to Sign Up!