Noteworthy Summer Day Camps in NYC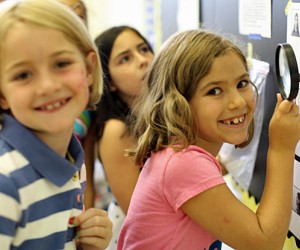 Planning for summer camp can be quite overwhelming, especially when you consider all of the wonderful options in our Summer Camp Guide. If one look at that list leaves your head spinning, you've come to the right place. Here we narrow the choices to a small sampling of some of the best the city has to offer. Read on for five off-the-beaten-path, cool camps that are definitely worth investigating.
Noteworthy in Nature: The Nature Place
285 Hungry Hollow Road, Chestnut Ridge, New York
Ages 4-16
This appropriately worded camp's mission is to "To give campers a safe summer, in which they can be themselves, have fun, be challenged, connect with others and the earth, develop new skills, and be supported throughout." The day is a full 9am-4pm, filled with structured and imaginative activities like woodworking, archery, outdoor living skills, gardening, cooking, music and art, nature investigations, farm visits, storytelling, theater games and meeting new animal friends. Transportation is provided throughout Manhattan and to parts of Brooklyn.
Noteworthy Camp for Girls: Curious Jane
Various locations in Manhattan and Brooklyn, visit the website for details.
Entering first-sixth graders
Curious Jane is a design-focused academic program for girls started by a NYC mom who studied (and taught!) Industrial Design at Pratt herself. Now in it's eighth summer, she's designed an environment for creative exploration that encourages girls to be active, look at things in new ways and above all, experiment. Weekly themes include such topics as toy design, DIY dollhouses, kitchen chemistry, spy science and more.
Noteworthy in Theater: New Victory Theater Kids Weeks
New 42nd Street Studios, 229 West 42nd Street
Ages vary
You probably know the New Victory Theater for its great shows, but with its Kids Weeks, kids get a true behind-the-scenes experience. New Vic Kids Weeks give participants the chance to discover new skills, new friends and a new understanding of what goes into a performance. Kids team up with the theater's artists to focus on theater or playwriting. It also offers a one-week circus session in June.
Noteworthy in Architecture: Summer@theCenter
Center for Architecture Foundation, 536 LaGuardia Place
Entering third-12th graders
Summer@theCenter provides a week of activities that reinforce connections between design and the community through walking tours, museum visits and art and design projects. Past student projects have included soft sculptures, comic books, photography, writing and design activities documenting their explorations of the neighborhoods and places studied. Past program highlights included exploring waterfront parks, bridges, playgrounds and more.
Noteworthy in Tech: RoboFun
2672 Broadway
Ages 3-12
RoboFun Camp is a great alternative for those tech kids who can operate your computer better than you and just can't put down your iPhone. RoboFun operates full- and half-day camps as well as extended-day options. In the morning, kids explore Lego Robotics while afternoons are devoted to a choice of more Lego Robotics or Scratch Video Game Design. We loved RoboFun camp, see the full review, RoboFun: Robot-Making and Computer Camps and Classes for LIttle Smarties for the first-person skinny.
Find more info on summer camps in our Summer Camp Guide.
Top photo: Campers at Curious Jane can choose programs like spy science for a creative camp experience. Photo courtesy of the camp.
This post originally published in January 2012.