Top Children's Science Museums Across the US for Families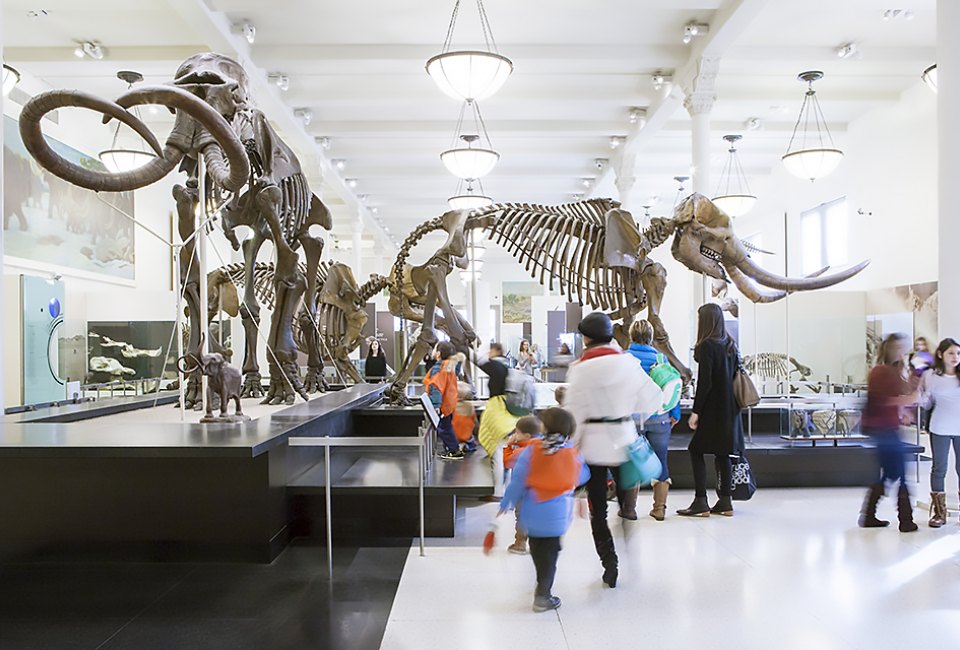 3/3/18
- By
Liz Alterman
Whether you're raising an aspiring astronaut, a pint-sized paleontologist, or just a curious kid, children's science museums provide the perfect blend of education and entertainment. No matter which part of the country you call home, chances are you're near a science center that offers opportunities for hands-on exploring and learning. And if not, it's the perfect stop on your next family vacation.
Check out these top 10 STEM centers, from Boston to Chicago to Los Angeles, where education and entertainment come together to create an experience your family won't soon forget.
Top Children's Science Museums Across the US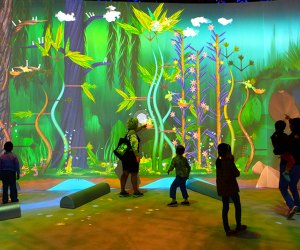 Take a stroll through the Connected World exhibit at the New York Hall of Science in Queens, NY.
With over 100,000 square feet of indoor space, you'll find more than 450 exhibits, events, and workshops that will intrigue and delight visitors of all ages. The Queens-based museum, which was founded at the 1964-65 World's Fair, strives to promote critical thinking through its Design Make Play approach. In the Design Lab, kids can build with PVC pipe and wooden dowels, while the Maker Space offers those 6 and older a chance to use hot glue guns and craft an array of cool creations. Its 3D digital theater screens a selection of award-winning science films that take viewers on a journey around the world without leaving their seats. It hosts a number of daily and annual events for kids, including Brick Fest with Legos and the massive Maker Faire, and there's an outdoor science playground and mini golf, too!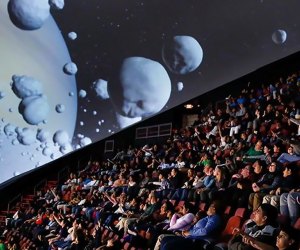 Be awed by the spectacular planetarium at the Liberty Science Center in Jersey City.
This Garden State gem features four floors of fun and learning while offering a spectacular view of the iconic Manhattan skyline. There's everything from a fun play area for kids under age 5 to live animal exhibits, and of course, plenty of rotating, hands-on exhibits. It's easy to spend the day here, but several hours is plenty, too. LSC is also home to the state-of-the-art Jennifer Chalsty Planetarium, which happens to be the largest and most technologically advanced planetarium in the entire Western Hemisphere. With a dome that measures 89 feet in diameter, stargazers of all ages will feel as if they're traveling through space. As informative as it is thrilling, the planetarium's advanced software allows for downloads of the latest animations and images from NASA. It's a must-do for local and visiting families.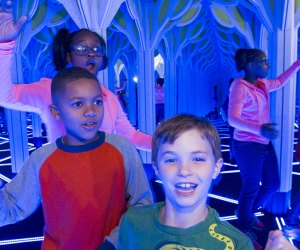 Navigate through a giant mirror maze at the Museum of Science in Boston.
From the Level One Discovery Center, which caters to toddlers through 8-year-olds, to the Level Two Science in the Park exhibit, which serves as an interactive educational playground, there's plenty to see and do at this beloved New England destination. The popular, but temporary Mirror Maze exhibit gives visitors a chance to test their navigational skills as they make their way through a giant labyrinth while discovering intriguing numerical patterns that exist in the natural world. Thrill Ride 360 features simulators with full-motion pitch, roll, and spin technology and surround sound that recreate a roller coaster or plane ride over Boston.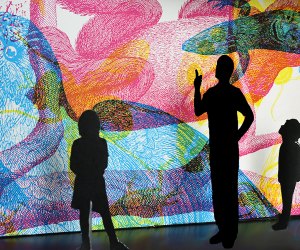 More than just dinosaurs, the American Museum of Natural History always hosts new, rotating exhibits, such as Senses.
Calling all dinosaur fans! This museum is home to must-see fossil halls. The cast of a 122-foot-long dinosaur welcomes visitors to the dinosaur floor while grazing the gallery's 19-foot-high ceiling. See rows upon rows of assembled dinosaur fossils, casts, and more prehistoric discoveries. See the famous blue whale, or try a space show at the planetarium. Those who favor winged species adore the seasonal Butterfly Conservatory where you can among live butterflies flittering about. You can learn everything about anatomy, metamorphosis, evolution, and even how to grow your own butterfly garden. The museum hosts constantly rotating exhibits diving into the natural world and sciences, from the ocean to human biology.
RELATED: 11 Best US Aquariums Around the Country for Families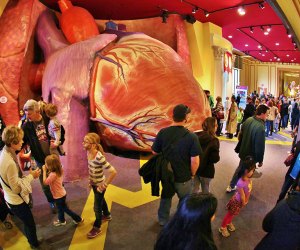 Stroll through a human heart at the Franklin Institute in Philadelphia.
If your family flips for clues, codes, and puzzles, they'll love The Franklin Institute's new high-tech escape rooms. Thanks to cutting-edge technology and immersive design, these games pose a challenge while fostering collaboration and creative problem solving as you attempt to escape in 60 minutes or less. Budding scientists adore the institute's live shows, which cover a range of topics including weather and chemistry. Visitors can learn about Philadelphia's most famous citizen while checking out the Benjamin Franklin National Memorial located inside the Institute's rotunda.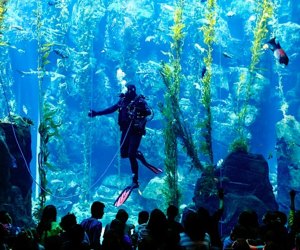 Check out a scuba show at the California Science Center in Los Angeles.
Discover the interconnectedness of people, plants, animals, weather, soil, and water inside Ecosystems, one of the science center's four major exhibits. Featuring 400 species of live plants and animals, visitors of all ages come away with a deeper understanding of our world thanks to the hands-on exhibits in 11 environments. A Discovery Room geared toward guests age 7 and under gives little learners a thrill as they discover the ways pests and pets develop habitats within the home and yard. Better to take an up-close look at house mice and Madagascar cockroaches here than in your own house. The Air & Space gallery sets imaginations soaring as visitors explore topics such as Humans in Space, Stars and Telescopes, and Mission to the Planets. It's no wonder it's among the top 100 things to do when in LA. Admission is free!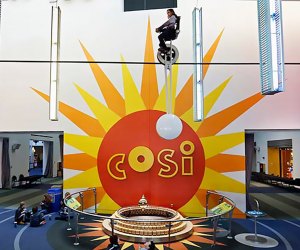 Ride a weighted bicycle across a tightrope at the Center for Science and Industry in Columbus.
Good luck convincing your kiddos to leave the tree house, playground, farmers market, and barn that reside inside Little Kidscape, where COSI staff carefully monitors the ages of visitors so tiny tots can enjoy this colorful and creativity-sparking center freely and safely. The nearby Bigger Kid Lab is a cool and interactive area designed for children in second grade through age 11 who are accompanying their siblings to the Little Kidspace. Older children will thrill at National Geographic's Giant Screen where they'll be spellbound by an Amazon Adventure or Flying Monsters film– both in 3D.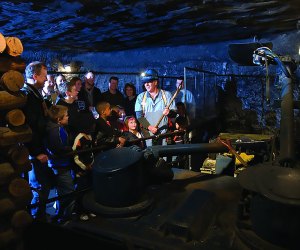 Immerse yourself in the perilous work of coal mining at the Museum of Science and Industry in Chicago.
What child wouldn't "dig" the opportunity to travel down a mineshaft and experience a replica of a real life coal mine? Learn how mining methods and machinery have evolved over time. Speaking of things that dwell beneath the earth's surface, climb aboard the U-505, the only German submarine in the U.S., and learn what life was like on a sub. This U-boat has been dazzling and delighting museum patrons by providing a walk through history in these tight quarters guests since 1954.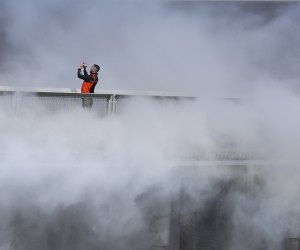 Take a daring walk across a fog bridge at the Exploratorium in San Francisco.
Test your courage by stepping inside a tornado, walking across a fog bridge, or getting turned upside down in a curved mirror. More than 650 hands-on exhibits keep visitors entranced and entertained. Located on Pier 15 on Fisherman's Wharf, the educational center explores the forces that have shaped San Francisco, its Bay, and the area in general. Investigate the impact shifting winds and tides have on the city's famous bridge while visiting North Gallery 5, home to multiple outdoor exhibits. Indoors, kids can make bubbles big enough to house an adult.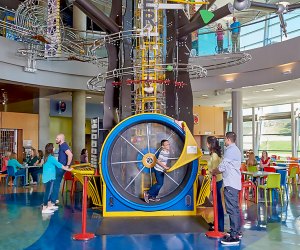 Take a spin in the Energizer, the human hamster wheel that Powers the Energizer Ball Machine at the St. Louis Science Center.
Inside the center's Makerspace kids can play, build, work, and learn a new skill or two. Float and Fly allows young visitors to create an object using simple materials and see if it flies. Next, they can make a few easy adjustments and then test their inventions' floating capabilities. Experience flight simulators inside the James S. McDonnell Planetarium, where the F/A-18B Hornet, a dual-seater, twin engine, mid-wing, multimission tactical aircraft, is on display. General admission is free for most exhibits, but tickets can be purchased for special exhibitions and activities.
All photos courtesy of the museums
Click Here to Sign Up!