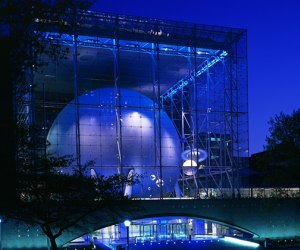 Planetariums Near and In NYC Where Kids Can Stargaze
Stargazing in New York City is more likely to mean a celebrity sighting than watching actual celestial bodies. I grew up in the suburbs and have fond memories of standing in my yard with my dad and my telescope, talking about constellations. Even if you're lucky enough to have outdoor space here, the light pollution precludes seeing anything but the brightest stars. If you can't book a trip to some remote, rural location, the next best thing is a planetarium—especially since you also get expert guidance as to what you're seeing.
As most of us know, a complete solar eclipse will happen on August 21, and it might just be the perfect event to spark interest in the solar system for your family. If your child is fascinated by the eclipse, your next stop should be a planetarium, so they can learn more about the stars and planets. We've rounded up the planetariums in and around New York City. Happy stargazing!
Find more local NYC eclipse events in our calendar, including viewing parties at local libraries. (Tip: B&H on Ninth Avenue was still selling eclipse glasses at press time.)
Get in a good museum-visiting rhythm and hit all the best spots with our Museums, Galleries & Exhibits Guide for NYC Kids.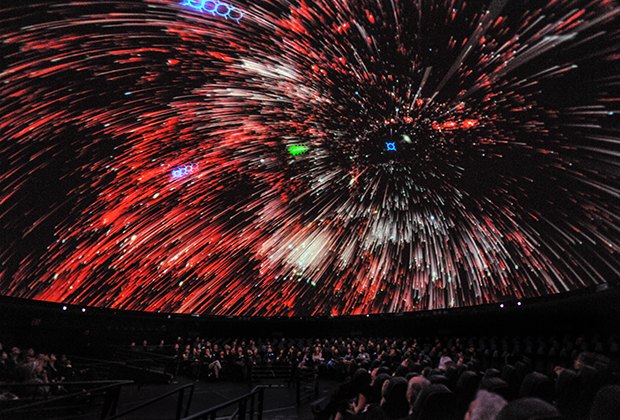 Current show at the Hayden Planetarium, the only planetarium within the five boroughs. Photo by D. Finnin/courtesy of AMNH
Hayden Planetarium in the American Museum of Natural History — Upper West Side
This is the most well-known planetarium, and with good reason—it's located in one of the best museums in the world, and offers a wide variety of shows. You can witness everything from the birth and death of a star and cosmic collisions to the search for extraterrestrial life in its state-of-the-art facility. Much of the programming was developed in conjunction with NASA, so it's both fun and educational.
JetBlue Sky Theater Planetarium in the Cradle of Aviation Museum and Education Center — Garden City, Long Island
This full-dome theater features a real-time digital planetarium and also shows movies on the highest-quality large-format film. Special educational space labs teach "everything we know" about the universe. Films run the gamut, featuring fascinating topics from pre-historic sea monsters to space junk and galactic journeys.
RELATED: Science and Natural History Museum Day Trips Near NYC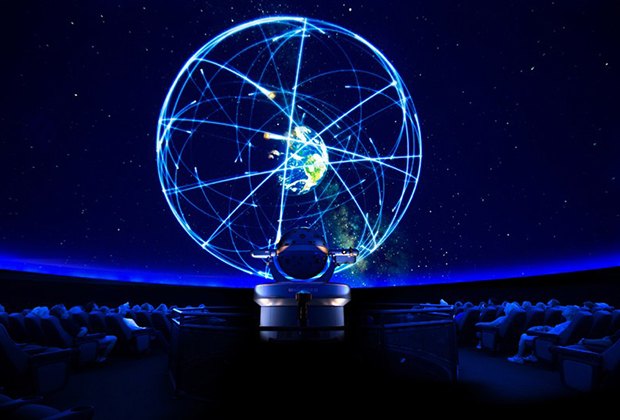 The Vanderbilt Planetarium on Long Island has shows but also rooftop viewings. Photo courtesy of the museum
Charles and Helen Reichart Planetarium at the Vanderbilt Museum — Centerport, Long Island
The Vanderbilt Planetarium is unique in that it offers shows in the recently remodeled planetarium as well as rooftop observatory viewings every Friday night (if weather allows). Shows are developed at the planetarium and are led by trained astronomy educators, who can answer almost any question about the universe. (For the parents: If you want to relive your youth, the planetarium also offers a Pink Floyd show.)
Hudson River Museum Planetarium — Yonkers
The Hudson River Museum Planetarium offers three shows each weekend day. One is geared toward younger children, while the other two are for ages 8 and up. The Sky Tonight show demonstrates what you'll see when stargazing outside that very night, so it ties into real-life learning. This museum is also currently selling eclipse glasses, which—take my word for it—are almost impossible to find even online now.
Alice and Leonard Dreyfuss Planetarium in the Newark Museum — Newark, New Jersey
This planetarium offers a variety of family programming, with suggested age ranges that will help make sure your kids stay engaged. (Programs are not recommended for children under 4.) It's currently featuring an eclipse show and also offers guidelines for watching it in real-life.
Challenger Learning Center — Ramapo, New Jersey
This planetarium is a bit different in that it's only open to the public on the second Sunday of each month. (Check the website to be sure it's not a holiday.) The two-hour program includes a full-dome movie, as well as a tour of the night sky and an hour in the activity room. Reservations are strongly suggested.
Observatory and Planetarium at the Stamford Museum & Nature Center — Stamford, Connecticut
Like the Challenger Learning Center, this planetarium has limited hours: the observatory is open to the public on Friday evenings, 8-10pm, weather permitting. On select Friday nights, accompanied kids (recommended for ages 5 and up) can attend the Astronomy Nights program to hear a fun presentation, then head to the observatory. Check the calendar for topics.
Want more space-themed family fun? We recently visited NASA's Kennedy Space Center Visitor Complex in Cape Canaveral, Florida, with the kids. Read our review!
Top photo: Hayden Planetarium. Photo by D. Finnin/courtesy of AMNH