American Dream's Nickelodeon Universe Lives up to the Hype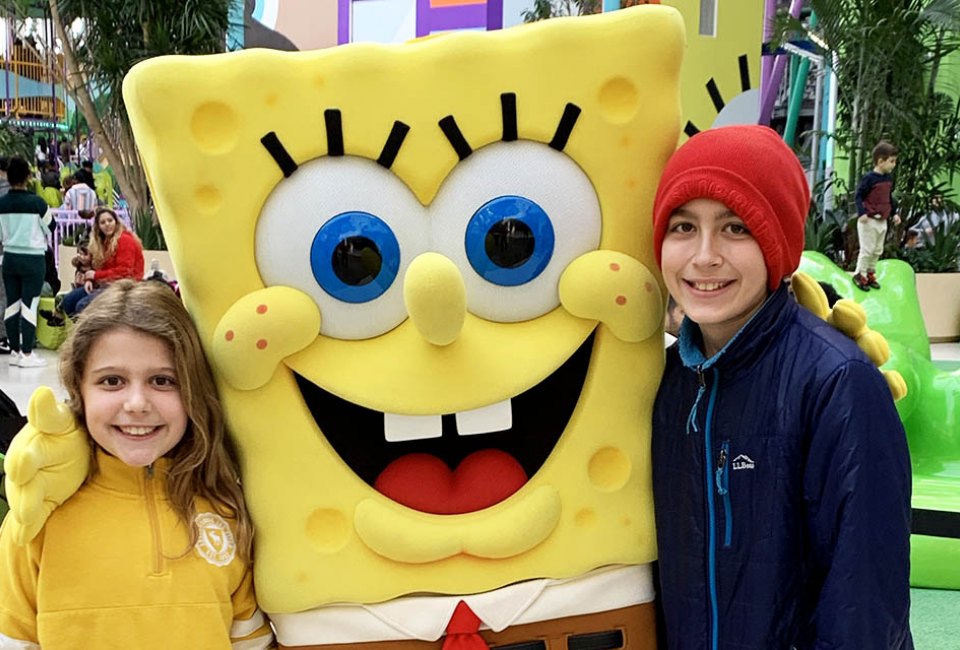 2/9/20
- By
Elaine Paoloni Quilici
It's hard to live up to hype, but the new Nickelodeon Universe at American Dream is doing just that. The Western Hemisphere's biggest indoor amusement park is filled with interesting rides that make it worth the trip—including three record-setting coasters and a variety of rides my family and I had never encountered before.
While most kids I know are excited to explore American Dream, parents are wary about navigating the mega entertainment and shopping complex. But we're here to report that it's not as daunting as it might seem at first glance.
As American Dream phases into completion, visitors can likewise chip away at the many offerings one at a time, rather than be overwhelmed by the grand scale of things. That's just what we did on a recent weekend visit to Nickelodeon Universe, and we found it to be surprisingly manageable—and extremely fun. Read on for more about our visit.
Traffic was not an issue, and covered garage parking was free and convenient. The road signs around the complex could be a little clearer; for example, there could be more direct signs to indicate the best place to park for each of the main attractions. But staff members were present to help direct traffic.
To get to the theme park, our family walked past the still-to-open DreamWorks Water Park and the NHL-sized ice skating rink known as The Rink. (The indoor ski slope, Big SNOW, is at the other end of the mall.) The corridors were full, but not overly crowded for a Sunday afternoon. Most shops aren't scheduled to open until next month, but the candy department store IT'SUGAR was already drawing a crowd outside the entrance to Nickelodeon Universe. The theme park ticketing area seemed to be well managed and lines were moving at a good pace.

Enter into a kid's dream of more than 35 indoor rides. Photo courtesy of Nickelodeon Universe
To enter the park, visitors descend a set of escalators. To see the park laid out in the grand space from this vantage point makes it exciting. Once we reached the bottom, we were ready to jump right in. The only problem was we didn't know where to start. I asked a nearby staff member if there was a map of the park, but she said no. With more than 35 rides and attractions, this would have been helpful to plan and navigate our visit.
Looking around, the first thing we saw was a SpongeBob meet-and-greet. Our kids, ages 8 and 11, were excited to see their little yellow friend and only had to wait a couple minutes before getting a snapshot with him. There was a well-organized, roped-off line overseen by staff members to move things along.
RELATED: Splash and Slide at Indoor Water Parks for NJ Families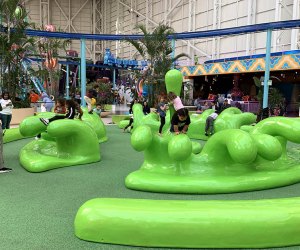 Kids can climb on a variety of play structures at the park, including these splashy slime sculptures.
The immediate area contained most of the kiddie rides. The smallest guests were crawling and climbing around Paw Patrol Adventure Bay, which includes play structures built to resemble the pups' Lookout, a version of Cap'n Turbot's ship Flounder, and the pups and their vehicles. Fans of the cartoon also gravitated to Pup Pup & Away, a mini Ferris wheel sporting the show's theme. There's also a collection of splashy slime sculptures to explore, and other kiddie rides including Dora's Sky Railway, a rotating Blue's Clues ride, a double-decker Rugrats merry-go-round, and Shimmer and Shine's revolving magic carpet ride.
RELATED: Indoor Obstacle Courses, Ninja Warrior Training, and Aerial Arts for NJ Kids

The ropes course has stunning views.
Our kids headed for the the ropes course first. The line was a little long since everyone has to get suited up, but the kids tapped into their brave side to walk tightropes and wiggly planks a couple stories high. The structure allows people to choose their obstacles and level of difficulty. True daredevils can wind their way to the top and out onto a beam where they can set off a sound to announce their achievement to the entire park.
Unfortunately, SpongeBob's Jellyfish Jam, a flying swing ride, was closed on our visit. The kids were looking forward to that, but we opted for the Slime Streak rollercoaster as a backup. The ride has a nice initial drop, making the short ride worthwhile. A spinning Bikini Bottom bus ride and a Ren & Stimpy–themed moderate drop tower are additional mid-thrill options.
For some intense action, hop on Timmy's Half Pipe Havoc. This blood-rushing roller coaster moves up and down a half-pipe like a skateboard while riders at both ends spin; sometimes you drop face-first, sometimes you're backward on the descent. This definitely got the kids' blood pumping. Afterward, one took a breather while the other continued the excitement at Aang's Air Gliders, which tosses riders around in every direction. Kraang Prime Pandemonium is another attraction for people who like to swing every which way.
RELATED: Where To Go Ice Skating Indoors with Kids in NJ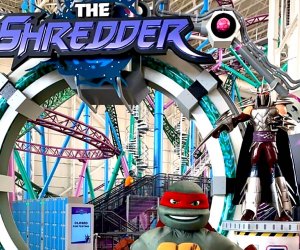 Test your courage on The Shredder. Photo courtesy of Nickelodeon Universe
Though we contemplated some of the more extreme rides, none of us ultimately had the courage to try Shellraiser, the world's steepest roller coaster; the Shredder, the world's tallest and longest spinning coaster; or Skyline Scream, the world's tallest indoor spinning drop tower. Maybe next time. Instead, we winded down our day at the one concession we saw that sold prepared food, and grab-and-go snacks and drinks.
Overall, the theme park is bright and airy and didn't feel overcrowded; however, there was still a bit of a wait for the most popular attractions. Staff members were easy to find and helpful. Bathrooms were clean and convenient.
Admission ranges from $34.99 to $59.99, depending on height and thrill-seeking level; kids age 2 and under are free. While it might not be a rival to Six Flags Great Adventure, it's generally less expensive and you can certainly make a day of it. We can't wait to try out the other adventures American Dream has in store.
Unless noted, photos by the author
Places featured in this article:
Sign up for the Mommy Poppins Newsletter today!