Where To Go Ice Skating Indoors with Kids in NJ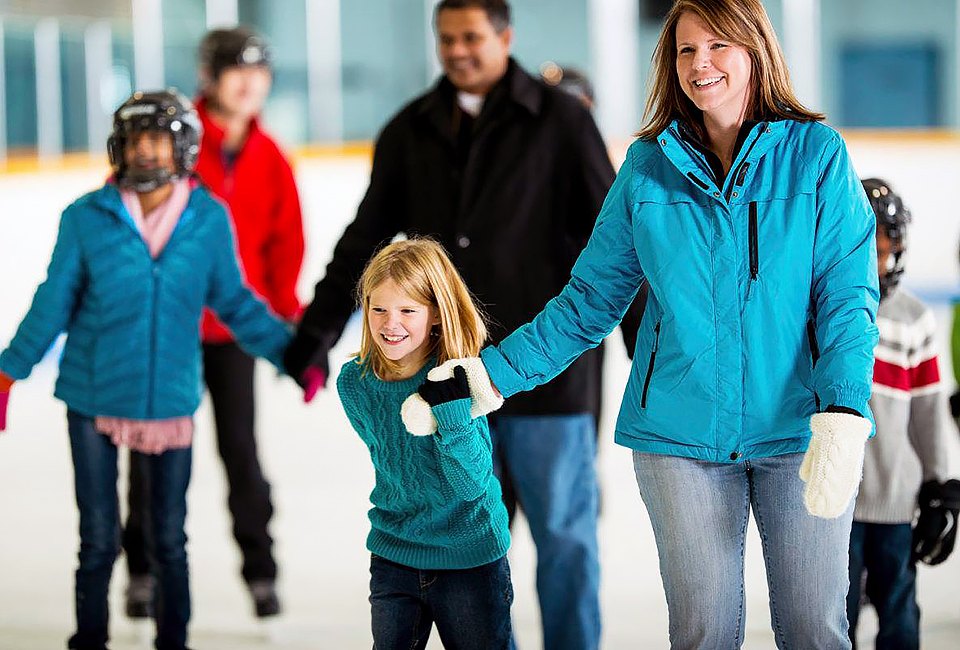 1/31/23
- By
Laura J
Indoor ice skating is a fun way to take part in a winter activity without exposing yourself to the elements. Happily, there are many indoor rinks throughout the Garden State. We've focused on those that host public skate sessions, but most of them also offer skating lessons, hockey, birthday parties, and more.
Read on for our indoor rink recommendations for NJ families. For more wintry sports, check out our Ski & Snow Guide.
Subscribe to our newsletters to get stories like this delivered directly to your inbox.
Indoor Ice Skating in North Jersey
Aspen Ice Arena offers daily public skating hours, as well as lessons, hockey, figure skating, birthday parties, and even a summer camp.
This family-friendly arena has public skating hours 7 days a week. It also hosts birthday parties and offers a variety of lessons, including Mommy/Daddy and Me classes for kids ages 3-5. The Clary Cafe serves breakfast, lunch, and dinner options as well as snacks and beverages. No walk-ins allowed, see hours and pricing details here as well as register in advance.
RELATED: Best Outdoor Ice Skating Rinks in New Jersey for Kids and Families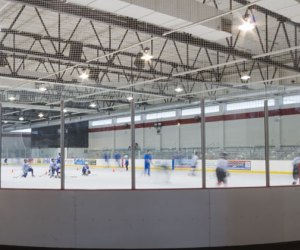 The Codey Arena is located next to the Turtle Back Zoo in West Orange.
Part of the Essex County Park System, this arena features meeting rooms, a concession stand, a pro shop, and an arcade. Public skating is available daily. The schedule changes monthly, so be sure to check the calendar. See pricing details here.
With public skating sessions, freestyle skating, open hockey, leagues, lessons, adult programs, group outings, and birthday parties, this rink has it all. Public skating is offered throughout the week, with more sessions during the holidays and adult skating sessions at night. See current pricing here.
This family-owned and -operated skating rink offers year-round skating for all ages and abilities. It is both the birthplace and home of the North Jersey Figure Skating Club. See pricing and hours of operation here.
With four regulation-size NHL rinks, Ice House is the largest facility of its kind in the Tri-State area. It has a full-service food court, party rooms, and meeting rooms, as well as one of the largest full-service hockey and skating pro shops in the New York–New Jersey area. See public skating hours and admission here. As of 1/2023 the website says public skating is unavailable and to stay tuned for more updates.
With two rinks operating year round, this venue offers lessons, birthday parties, and competitive skating. Public skating is available on certain weekdays and weekends. See pricing here. Due to overwhelming attendance they ask you arrive 45 minutes early to purchase tickets.
RELATED: NJ Has Ice Rink Bumper Cars, and We Can't Wait To Try Them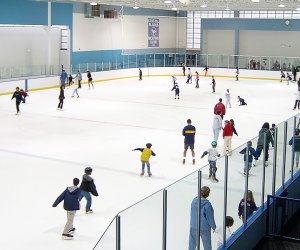 Mennen Sports Arena offers daily public skating sessions.
As part of the ever-growing Morris Country Parks Commission, this sports arena offers year-round skating, group lessons, hockey clinics, figure skating clubs, and birthday parties. See pricing and public skate schedules here.
Located on the campus of Bayonne High School, this indoor rink is home to the Bayonne Rangers. It offers lessons, hockey, and group rentals. See admission and rental pricing here.
This family-friendly rink is the perfect place to beat the cold weather. Skating camps, hockey, and parties are offered, along with Friday night ice jams and synchronized skating. Lessons are available for all levels, from preschool to adults. Public skating takes place daily in the afternoons, and two sessions are offered on the weekends. See the current schedule and pricing here.
Union Sports Arena is great for family outings, skating lessons, parties, event hosting, and hockey. The Living Room Café is open daily and offers hot beverages, snacks, big comfy couches, free WiFi, and DirecTV. See public skate info here.
Newly re-opened after a major renovation, Union County's Warinanco Park offers skating lessons, hockey clinics, special events, and more. A new cafe features upgraded snack bar fare. Public skating hours vary; see pricing and open skate details here.
Among the myriad attractions at this New Jersey mega mall, you'll find this NHL-sized ice skating rink. Public skating hours are plentiful and ice skate rentals are included in your admission cost. Learn-to-skate and youth hockey programs are offered, and you can visit to catch a Metropolitan Riveters game. The pro women's hockey team plays in the Premier Hockey Federation and calls the rink home.
RELATED: Family-Friendly Bowling Alleys in New Jersey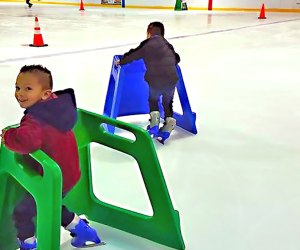 Even the littlest ones can get out on the ice at the Arenas at Woodbridge Community Center.
Indoor Ice Skating in Central Jersey
This rink has it all—ice skating, in-line skating, and roller skating. The arenas host ice skating birthday parties with options like pizza, chicken nuggets, and Carvel ice cream cakes. (Its Dynamic Party Package includes both ice skating and roller skating.) Figure skating, ice skating, and roller skating lessons are offered as well.
Formerly known as Aspen Ice, the Flemington Arena is a full-sized NHL ice rink offering lessons, hockey, parties, and more. It is open year-round and includes a pro shop on site. Public skating times change weekly so check the schedule.
Located in the Howell Athletic Center Complex, the arena is home to two indoor rinks: one full-size rink and one half-size rink dubbed "The Pond." In addition to public skating, it offers skating lessons, figure skating, hockey, and birthday parties. Public skating times vary, so be sure to check the calendar and all payments must be made in advance online.
Ice Land offers regular public skating Friday–Sunday, when you can skate to music and synchronized laser lighting. Figure skating, hockey, and lessons are also available. See pricing and schedule here.
This ice complex offers public skating, open hockey times, lessons, leagues, training, parties, and various activities through the winter months. There is also an onsite pro shop.
New Jersey film buffs may remember this ice rink from Kevin Smith's 1997 film Chasing Amy. The Ice Palace offers clinics, lessons, leagues, summer camps, parties, tournaments, and open stick time. Public skate sessions are Friday through Sunday. See admission and public skating schedules here.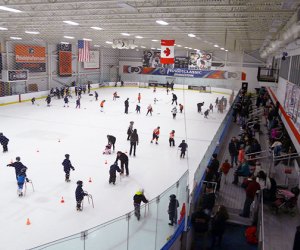 Flyers Skate Zone, the official training facility of the Philadelphia Flyers, offers open skate sessions seven days a week.
Indoor Ice Skating in South Jersey
This state-of-the-art ice skating facility offers group and individual instruction for ice hockey and figure skating, as well as an arcade, snack bar, birthday parties, and corporate meetings. See pricing and schedules here. You must register online in advance.
Better known as the official training facility of the Philadelphia Flyers, this arena has open skate seven days a week. Hockey camps and clinics, leagues, figure skating, lessons, a snack zone, and pro shop are all available. See pricing and rentals here.
This arena offers figure skating, lessons, and hockey, as well as a pro shop and Olympic- and NHL-size rinks. See public skating schedule here.
Public skating is offered most Fridays and Saturdays, but not all so see the public skating schedule here. This rink has a snack zone and offers a 20% discount to active/reserve military members and veterans.
All photos courtesy of the rinks.
This post was originally published 2013 and has since been updated.
Sign up for the Mommy Poppins Newsletter today!