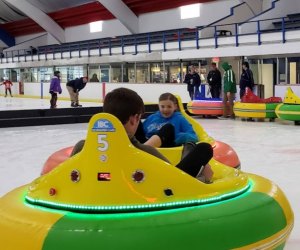 NJ Has Ice Rink Bumper Cars – and We Can't Wait To Try Them
No ice skating skills? No problem. You can still have tons of fun on the ice at Ocean Ice Palace in Brick, NJ, home of the state's first ice bumper cars. This hot (or should we say cool?) new trend has been popping up at ice rinks across the country over the past year or so, including one in Providence, Rhode Island, but you don't have to travel to New England to experience it for yourself.
The Brick-based rink introduced the cars in February, and now that winter is upon us once again, we're super excited to have another option for keeping the kiddos entertained indoors.
And of course, we're all for snow tubing, skiing, and snowboarding—but if you're looking for winter fun that requires less effort, gear, and money, ice bumper cars might be worth a whirl.
Unlike the classic amusement park ride, ice bumper cars look less like cars and more like giant inflatable tubes with a seat in the center. Using two joystick-type controls, you glide and bump and go spinning and sliding across the ice.
At Ocean Ice Palace, you must be at least four feet tall to drive, and no passengers are allowed—that means little ones won't be able to take part in this particular activity. But for bigger kids and teens, it could be the perfect way to spend a winter day.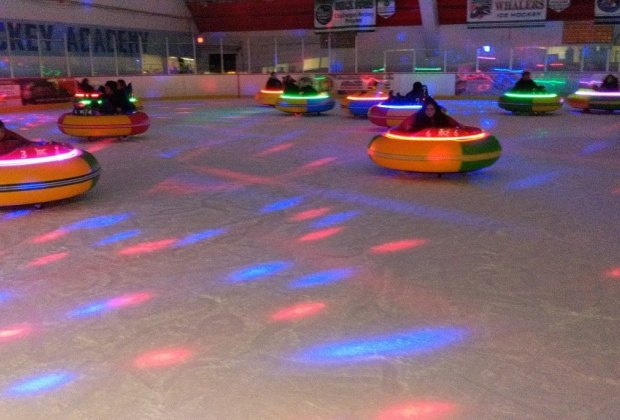 Sessions get funky on Friday nights.
"Ice bump" sessions take place on Saturday and Sunday afternoons, and Friday is disco night. It's $10 for a 10-minute ride, or $18 if you want to combine it with a skate session. Reservations are recommended!
Check the website for more info and hours, including extended hours during holiday break.
Photos courtesy of Ocean Ice Palace.