The Very Hungry Caterpillar Show
DR2 Theatre

NYC Easter Brunch Cruise 2023
Event Cruises NYC

Easter Fun Cruise with Egg Hunt 2023
Event Cruises NYC
Sign up for our free newsletters.
American Dream Amusement Park, Ice Rink Open Today in NJ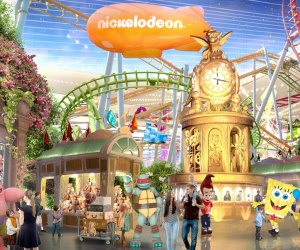 10/25/19
- By
Elaine Paoloni Quilici
The long-awaited debut of American Dream is becoming a reality today with the opening of the Western Hemisphere's biggest indoor amusement park, as well as an NHL-size indoor ice skating rink. This first phase of the new Meadowlands entertainment complex in East Rutherford, NJ, features the Nickelodeon Universe Theme Park and The Rink at American Dream.
Those without amusement park tickets for this weekend will have to wait a bit longer to visit, however, as tickets for opening weekend are sold out. In the meantime, we've got the lowdown on what you need to know about American Dream before you go.
The Nickelodeon Universe Theme Park includes 35 attractions featuring favorite characters from Dora the Explorer to Patrick Star.
Roller-coaster enthusiasts won't be disappointed. The Shellraiser, named after Teenage Mutant Ninja Turtles, has captured the honor of being the steepest roller coaster in the world. Just before dropping at a 121.5-degree angle, riders can catch a view of the New York City skyline from its summit. The Shredder, another TMNT reference, is the longest and tallest free-spinning coaster in the world. The ride's 2,247 feet of turns, spirals, and spins are intertwined with the tracks of The Shellraiser.
The record-breaking doesn't stop there. Nickelodeon Skyline Scream is touted as the world's tallest indoor spinning drop tower, and Legends of the Hidden Temple Challenge is the world's tallest adventure ropes course.
Another unique feature is Sandy's Blasting Bronco (an homage to SpongeBob), which makes use of its tight space by using a turntable to double the length of the roller coaster. Those who prefer a tamer experience can hop on Nickelodeon Slime Streak, the park's centerpiece coaster that winds through the space, providing a bird's eye view of all the action. There are plenty of other family friendly amusements to entertain all ages, including swings, a magic carpet ride, and a Ferris wheel.
Live entertainment, which is sure to feature a sliming or two, is front and center on the Nickelodeon Slime Stage.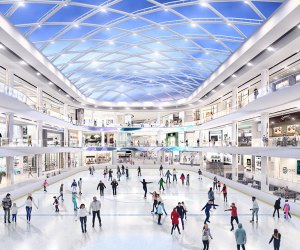 American Dream's indoor ice rink will offer open skating sessions for families.
The Rink at American Dream, an NHL-regulation ice rink, offers public skating and special events, including an Oct. 31 spooky skate. Families can pick and paint pumpkins, and participate in other classic fall activities that day.
Prices, Parking, and More at American Dream
Admission to the theme park ranges from $39.99 to $49.99 depending on ticket type, day, and time; children 2 and younger are free. The ice rink is free during opening weekend and on Oct. 31 if you wear your costume; prices have not yet been announced otherwise.
There is a charge for parking at American Dream, which ranges from $3 for up to three hours, to a max of $24 for more than eight hours. Fees are being waived during opening weekend, however. For those traveling from New York City, ferry-bus service is available via NY Waterway. NJ Transit is offering new express bus service from Port Authority. You can also take a NJ Transit train to Secaucus Junction, then transfer to a NJ Transit bus. A ride-share and taxi hub at American Dream makes it easy to find hired car transport, too.
Mark your calendars for future mega-mall milestones: DreamWorks Water Park is set to open Nov. 27, the indoor ski slope known as Big SNOW opens Dec. 5, and March 2020 will see the debut of more than 350 retail destinations and over 100 dining options. SEA LIFE Aquarium, LEGOLAND Discovery Center, CMX Luxury Movie Theater, Kidzania, and a 300-foot observation wheel will add to the excitement.
For additional details on what's coming to American Dream, click here.
Photos courtesy of American Dream