Giant Candy Department Store Opens at NJ's American Dream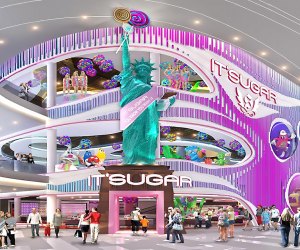 The first retail store in the American Dream mega-mall has officially opened its doors, and it's a sweet deal for candy lovers. IT'SUGAR, the first department store in the country devoted to candy, offers an insane assortment of sweet concoctions from old standbys like Pez and M&Ms to unique international bites. (Matcha-flavored Kit-Kat, anyone?)
At 22,000 square feet, everything is huge in this behemoth of a candy store, starting at the entrance with a three-story-tall Statue of Liberty replica covered in 1.5 million Jelly Belly beans. Once inside, candy heaven covers three floors (though only two floors are open for now) with eye-catching displays like a lollipop garden filled with 10,000 lollipops.
Supersized candy takes on a whole new meaning at IT'SUGAR with one-pound lollipops and Snickers bars, and even the Sour Patch Kids are pretty much life-size. Love a good self-serve candy bar? Shoppers can get their fill from 5,000 square feet of candy bins.
The second floor is home to displays blocked in familiar brands like Starbursts, Nerds, Swedish Fish, and Reese's. Here, you'll find apparel, plushies, and other gift items. Fun novelty items are sprinkled throughout the store as well.
Wondering what more could fill the third floor? Expect a cafe called Oreo TWISTiD to open on March 6, 2020—National Oreo Day—which sounds like a slam dunk for pretty much any sweet lover.
"Creating a candy department store has been a long-time dream of mine," Jeff Rubin, Founder and CEO of IT'SUGAR, said in a press statement. "I've been thinking about this concept for over 25 years, and our IT'SUGAR team is thrilled to partner with American Dream to make it a reality. There is nowhere else like American Dream, and we look forward to immersing the property's millions of guests into the world of IT'SUGAR."