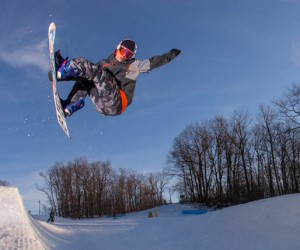 Catch Some Air at These Nearby Snowboarding Parks
Snowboarding is no longer skiing's little sister as millions hit the mountain by board every year from teens to middle school kids to millennial and Gen. X parents. Families in the greater New York City and Philadelphia areas have nearly a dozen snowboard terrain parks and board-friendly mountains close enough for a day trip.

We rounded up nine local ski resorts where families will find boarding lessons for beginners and acres of freestyle terrain for your kids who are ready to move on and looking for jibs, kickers, handrails and more freestyle fun.
Need recommendations on where to take the kids for downhill or cross-country skiing? Or another winter sport? Check out our Ski & Snow Sports Guide covering New England, the greater New York area and California.
Connecticut
Mount Southington Ski Area — Plantsville
860-628-0954
This small Connecticut resort opened the "Drop Zone" terrain park two years ago with one long run from the summit to the base, studded with pipes, rails, jumps and other hot-dogging features. Helmets are required. It's a great place for families of varying abilities. The mountain has a large learning area, children's programs and lessons.
New York
Thunder Ridge Ski Area — Patterson
845-878-4100
No car? No problem. This super-close resort can be reached by New Yorkers via the popular Metro-North ski train, and Thunder Ridge offers extensive rental options for skiers and boarders, so no need to carry your gear. The resort offers lessons for first-timers and a cool mid-mountain terrain park with tires and a number of rail styles for snowboarders and freestylers.
New Jersey
Mountain Creek — Vernon
973-827-2000
New Jersey's largest ski spot is an easy day trip for most families in the tristate area. Mountain Creek is a full-service resort with plenty of amenities and activities, upscale lodging, dining and a spa. The mountain offers adventures for all types of snow-sport enthusiasts but is particularly suited for snowboarders.
It rents Burton LTR learning boards, offers lessons for all ages and snowboard-specific camps for kids, including a FREE terrain clinic for kids, Twisted Kids, every Sunday throughout the season. It even offers a preschooler boarding program, Riglets, for kids younger than 5. One of its mountains is dedicated exclusively to freestyle terrain with two parks packed with 80 cool features and a bag jump. Before heading to the terrain park, riders are required to take a safety quiz and be dressed in the appropriate gear. A small terrain park on its easier mountain is dedicated to beginners. Warning: With all this to offer, Mountain Creek is often crowded, particularly on weekends.
RELATED: Best Snow Tubing Spots in the Tristate Area
Pennsylvania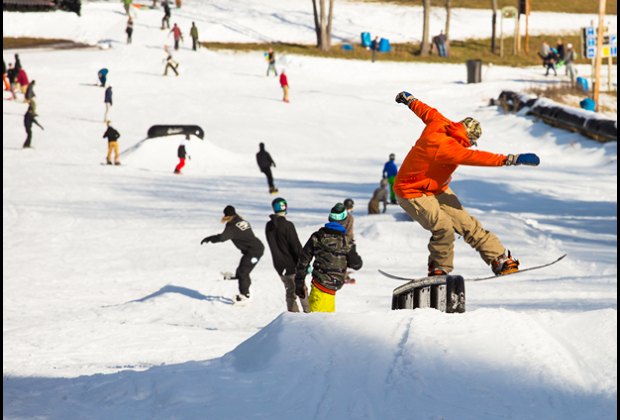 Snowboarders love Big Boulder Park where half the slopes are created for boarders. Photo by Reed Weimer/courtesy the resort.
Big Boulder Park — Lake Harmony
570-443-8425
Snowboarders have been flocking to Big Boulder Park since the 1980s. The resort was an early supporter of the sport and more than half its slopes are created with boarders in mind. A Park 101 Clinic for beginners is offered every weekend. For traditional riding or skiing, hit Jack Frost, Big Boulder's sister resort right up the road. Both spots offer everything for a day on the slopes, including equipment rentals, lessons, clinics and camps.
Camelback Mountain Resort — Tannersville
570-629-1661
This popular (read, crowded) Poconos all-season resort that we recently reviewed is a great spot to learn how to snowboard. Nearly 40 percent of its trails are rated for beginners. Another perk is terrain-based learning programs. Groomers build up snow into low jumps, ramps, turns and other features for newbies. Camelback also gives riders the chance to move through the terrain parks as their ability improves. First-timers can give it a go in the progression park with lower-to-the-ground features and then move to the urban graffiti-inspired Neon Terrain park with five trails of freestyle riding. Camelback debuted giant indoor water park Aquatopia last spring and it's open during snow season.
Shawnee Mountain — Shawnee on Delaware
570-421-7231
Just over the Delaware River in Pennsylvania, Shawnee Mountain is smaller than Camelback and Blue Mountain (below), but that means it doesn't get as crowded. Boarders have plenty of room to roam and shred in two terrain parks. Experienced boarders hit Bushkill Park, which runs the entire length of the mountain with jumps, tabletops and other cool features. A second park, Incubator Park, is strictly for those who are learning. The mountain runs round-trip bus transportation from NYC for the car-challenged.
RELATED: Winter Weekend Getaways: 7 Family Resorts with Spas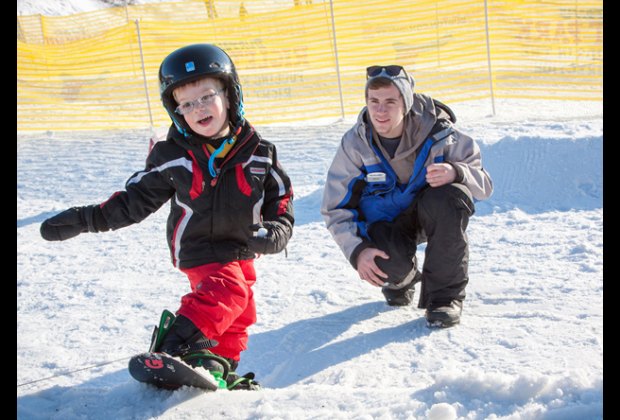 A first-time snowboarder takes off at Blue Mountain. Photo courtesy of the resort.
Blue Mountain — Palmerton
610-826-7700
Named for the mountain ridge that runs along the Appalachian Trail in Pennsylvania, Blue Mountain has the longest vertical drop of any ski resort in the state. While that can be intimidating, the four-season resort has plenty of options for beginners with almost 40 percent of its trails rated green. Freestylers have six terrain parks, including one exclusively for first-timers, and an air bag where boarders can practice jumps before hitting the trails. Plenty of rentals—even pants and jackets—and lessons, camps and multiweek programs are available.
Bear Creek Mountain Resort — Macungie
866-754-2822
Another non-Poconos resort, Bear Creek is in bucolic Lehigh County. Bear Creek is a year-round outdoor adventure destination that offers alpine skiing, boarding and snow tubing during the winter months. Snowboarders can catch air in the resort's three progressive terrain parks where layouts are tweaked throughout the season.
Montage Mountain – Scranton
855-754-7946
Montage, formerly Sno Mountain, has improved its terrain parks for the season, adding new features and improving the stability of its existing jumps, tubes and half-pipes. The resort offers lessons, clinics and rentals for boarders, plus airboarding and tubing areas.
Top image: A local kid caught major air snowboarding at New Jersey's impressive Mountain Creek. Photo by Christopher Vanderyjat/courtesy of the resort.