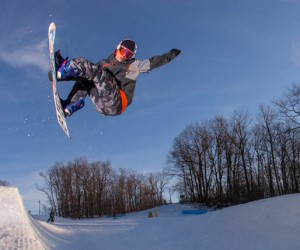 Catch Some Air at These Nearby Snowboarding Parks
This post is being updated for 2021.
Whether you're looking for a weekend winter getaway or a day trip full of wintry fun, snowboarding is a great family activity. An invigorating sport, snowboarding combines physical activity and fresh air, and is suitable for most ages. What's more, many resorts offer additional fun and refreshment to round out your day.
Below we've profiled 12 snowboarding destinations that are accessible from the tri-state area. For the uninitiated, you might consider booking a lesson and budgeting ample time for renting equipment and riding the lift. Included in our roundup are current measures specific to COVID-19, but we urge you to confirm details before making the trip, as policies may be in flux. With reduced capacity, early reservations are recommended, but check the refund policy before committing. Those traveling via mass transit may wish to inquire about locker availability, as some resorts have suspended this service. If you're able to plan your visit for a non-peak weekday, expect considerable savings.
When you're done snowboarding, consult our winter fun guide to plan your skiing and snow tubing adventures!
In the era of COVID-19, be sure to check state and local travel advisories, many of which require out-of-state visitors to quarantine or have a negative COVID-19 test before arrival. The National Ski Association has published the Ski Well Be Well guide to set industry standards for resorts this year. Check with your desired resort for additional information, as well as snow conditions, age requirements, and other details that could affect your plans. Also keep in mind that Presidents' Week may operate on a holiday schedule. View a safety code of conduct in advance as a precaution to help ensure a fun time is had by all.
Editor's note: While we are trying to promote safer activities that occur outdoors or with social distancing guidelines in place, please keep your family and others safe by always wearing a mask and practicing social distancing. If you arrive at a venue that appears too crowded, try using the "nearby" search feature on our Event Calendar to find something else to do.
Snowboarding Parks in Connecticut
2021 update: Due to COVID-19 safety precautions, instructors will not be able to ride with children up the slope, so class participation may be limited by age. Masks are required, and capacity is reduced.
About 1 hour, 45 minutes by car from Midtown Manhattan
Open Monday-Thursday, 9am-9pm; Fridays 9am-10pm; Saturdays 8:30am-10pm; Sundays 8:30am–8pm. Check the website for holiday hours, which includes Presidents' Week.
This small Connecticut resort, offering 14 trails, seven lifts, and nighttime slope action, includes The Glacier Learning Area, where kids can take lessons in snowboarding or skiing. Equipped with a handle tow and carpet lift, this area helps avoid the fear factor that sometimes comes with riding a ski lift. Refuel at The Mountain Room, Waffle Haus, or Red Barn Cafeteria while watching the action on the slopes. Reservations are required. Equipment is available for rent, including helmets.
2021 update: Advance reservations are strongly encouraged, as capacity limitations may result in walk-ins being turned away. Face coverings and social distancing required.
Off of Routes 44 and 219
Approximately 2 hours, 10 minutes from Midtown Manhattan
Open weekdays from 9am to 10pm and on weekends and holidays from 8am to 10pm.
This site features 16 trails, most of which include nighttime lighting. New to the sport? Take advantage of the first-timer package, which includes a free lesson. The terrain park offers snowboarders trails of varying difficulty: Try Tom's Treat if you're a beginner or intermediate, where you'll find flat and kinked rails, corrugated tubes, boxes, and small jumps and jibs. Advanced snowboarders can up their game on Stinger, a black diamond trail. You might want to warm up with a bowl of chili from one of the food courts.
Snowboarding Parks in New York
2021 update: Purchase tickets, lessons, and rentals online in advance of your visit, and book early given the limited capacity this year. Walk-ins will be accommodated if space allows, but advance reservations are strongly recommended, especially during peak times like weekends, holidays, and school breaks. Shuttle service is inoperative because of COVID-19; those traveling by train can make the one-hour transfer via taxi or Uber.
137 Birch Hill Rd.
About 1 hour, 15 minutes by car from Midtown Manhattan
Regular hours are Monday – Friday – 10am-9pm; Saturday – 9am-9pm; Sunday – 9am-5pm.
With 22 trails, 3 trail lifts, and four magic carpets, Thunder Ridge Ski Area offers group and private lessons for all levels. The resort offers lessons for first-timers and a cool mid-mountain terrain park with tires and a number of rail styles for snowboarders and freestylers. Those traveling from Manhattan can take the Metro-North ski train to the Patterson train station and transfer to the resort via its free shuttle bus when the Thunder Ski Package is purchased. Warm up in the lodge with hot cocoa or hot soup.
2021 update: Tickets must be purchased ahead of time, and there are mask and other COVID-19 requirements in place. Due to Covid-19, refunds will not be issued. Lift tickets and lessons purchased online may be rescheduled, based upon availability, with at least 7 days' notice; after that date, rescheduling will not be permitted.
51 Old Mt. Peter Rd.
About 1 hour, 30 minutes by car from Midtown Manhattan
Mount Peter may best be known for its FREE beginner snowboarding lessons for ages 6 through adult on weekends and holidays at select times for those who purchase an all-day lift ticket/area pass (must arrive 2 hours early if renting equipment, or 90 minutes early if not renting). Other packages include private lessons for your family or the Saturday-night rate of $90, which includes a 50-minute lesson, lift tickets, and rentals. Skiing and tubing are also available, as are rentals. The Mount Peter website offers video snowboarding tutorials to help get you started, as well as pointers on what to wear and how to navigate the ski lift. Mount Peter is accessible from NYC via bus, MetroNorth, and New Jersey Transit; Zipcars are available at select stations, and combo packages are available at off-peak times.
2021 update: Capacity is limited; advance reservations required. Families will not be asked to share chair lifts with other groups. Rentals can be booked online. For the rental process that requires close proximity to personnel, employees are required to wear masks, goggles, and gloves. Ask about rental delivery service.
64 Klein Ave.
About 2 hours, 15 minutes by car from Midtown Manhattan
Regular hours are Monday-Friday 9am-4pm, Saturday-Sunday 8:30am-4pm. Holiday hours are 8:30am-4pm.
Children may enroll in age-appropriate group classes or may learn solo or in a private family class. Book at least 48 hours in advance. Class registration fees include a mountain reservation for the registrant. Additionally, a pass or lift ticket is required, and family members who aren't enrolled in a class pay separately. Grab a bite at the outdoor waffle stand, the marketplace, deli, or pizzeria. From NYC, Hunter Mountain is accessible via Metro-North or bus.
Snowboarding Parks in New Jersey
2021 update: Masks must be worn, and tickets must be purchased in advance due to limited capacity. An additional fire pit and picnic tables have been installed.
200 Route 94
About 1 hour, 15 minutes by car from Midtown Manhattan
Call for hours.
New Jersey's largest ski spot is an easy day trip for most families in the tristate area. Mountain Creek is a full-service resort with plenty of amenities and activities, lodging, and dining. The mountain offers adventures for all types of snow-sport enthusiasts but is particularly suited for snowboarders. Nighttime sessions are offered, as is Sno-Go biking. Lessons and kids' camps are available, with package rates. A small terrain park on its easier mountain is dedicated to beginners.
RELATED: Best Snow Tubing Spots in the Tristate Area
Best Snowboarding Parks in Pennsylvania
2021 update: Safety precautions include mask requirements, cashless transactions, and advance reservations for many activities.
1 South Lake Dr.
About 2 hours by car from Midtown Manhattan
Hours vary; check the website for the complete schedule.
Snowboarders have been flocking to Big Boulder Park since the 1980s. The resort was an early supporter of the sport, and more than half its slopes are created with boarders in mind. Take advantage of the beginner lessons and read up on sport safety and how to prepare for your adventure. For traditional riding or skiing, hit Jack Frost, Big Boulder's sister resort right up the road. Both spots offer everything for a day on the slopes, including equipment rentals, lessons, clinics, and camps.
2021 update: Tickets must be purchased online, and early booking is advised due to limited capacity. Babysitting and child care aren't currently offered. Outdoor food trucks are on site. Masks are required.
1660 Blue Mountain Dr.
About 2 hours by car from Midtown Manhattan
Regular hours are Monday-Friday: 9am-9pm; Saturday-Sunday: 8am-9pm (check website for holiday hours)
Named for the mountain ridge that runs along the Appalachian Trail in Pennsylvania, Blue Mountain has the longest vertical drop of any ski resort in the state at 1082 feet. Its 40 trails include 14 beginner, 6 intermediate, 11 expert, 4 expert only and 5 terrain parks, all serviced by 16 lifts. Nighttime boarding is available.
2021 update: Although some areas of the resort were closed in late 2020, these reopened in January. Multiple safety protocols are in place, including a mask requirement.
301 Resort Dr.
About 1 hour, 40 minutes by car from Midtown Manhattan
Visit the website for the complete schedule.
This popular Poconos all-season resort is a great spot to learn how to snowboard. Nearly 40 percent of its trails are rated for beginners. Another perk is terrain-based learning programs. Groomers build up snow into low jumps, ramps, turns, and other features for newbies. Ready to head indoors? Leave winter behind at the giant indoor water park Aquatopia and enjoy the many amusements that await in the 170,000 square feet of indoor activities like laser tag, indoor rock climbing, and an escape room.
2021 update: Tickets must be purchased online in advance. Additional safety measures are in effect, including the need to wear a mask and practice social distancing.​ Country Club Park, where beginners can hone their skills, is currently closed. Lounging at base lodges is not permitted.
I-80 Exit 309, 401 Hollow Road
About 1 hour, 30 minutes by car from Midtown Manhattan
Regular hours are Monday-Wednesday 9am–4pm and Thursday-Sunday 9am-9pm (closing time is 4pm when no night skiing; check the website to verify).
Just over the Delaware River in Pennsylvania, Shawnee Mountain is smaller than Camelback and Blue Mountain, but boarders have plenty of room to roam and shred in two terrain parks. Experienced boarders hit Delaware Park, which runs the entire length of the mountain with jumps, tabletops, and other cool features. A second park, Country Club Park, is dedicated for beginners.
RELATED: Winter Weekend Getaways: 7 Family Resorts with Spas
2021 update: Some resort amenities are altered for COVID-19 safety, such as pool usage and indoor dining reservations. Purchase equipment rentals online in advance; quantities are limited. Lodge usage is limited to restroom use and the purchase of grab-and-go food items. Additional outdoor food and seating areas have been added. Personal items should be stored in your vehicle. Shuttle service is suspended.
About 2 hours by car from Midtown Manhattan
Regular hours are Sunday-Thursday 9am-9pm and Friday-Saturday 9am-10pm.
Another non-Poconos resort, Bear Creek is in bucolic Lehigh County. Bear Creek is a year-round outdoor adventure destination that offers alpine skiing, boarding, and snow tubing during the winter months. Snowboarders can catch air in the resort's three progressive terrain parks where layouts are tweaked throughout the season.
2021 update: Enhanced safety measures include increased cleaning protocols and mask requirements. Families ride ski lifts privately.
About 2 hours, 15 minutes by car from Midtown Manhattan
Hours are 9am-9pm daily.
Montage Mountain claims to have the most diverse range of trails in the mid-Atlantic. There are 26 trails for every level. The resort offers lessons, clinics and rentals for boarders, plus airboarding and tubing areas. For apres-ski, rent a private tent by a firepit with food choices and music.
This post was originally published in 2016 and has been updated for 2021.