Northeast Snowboarding Parks Where You Can Catch Some Air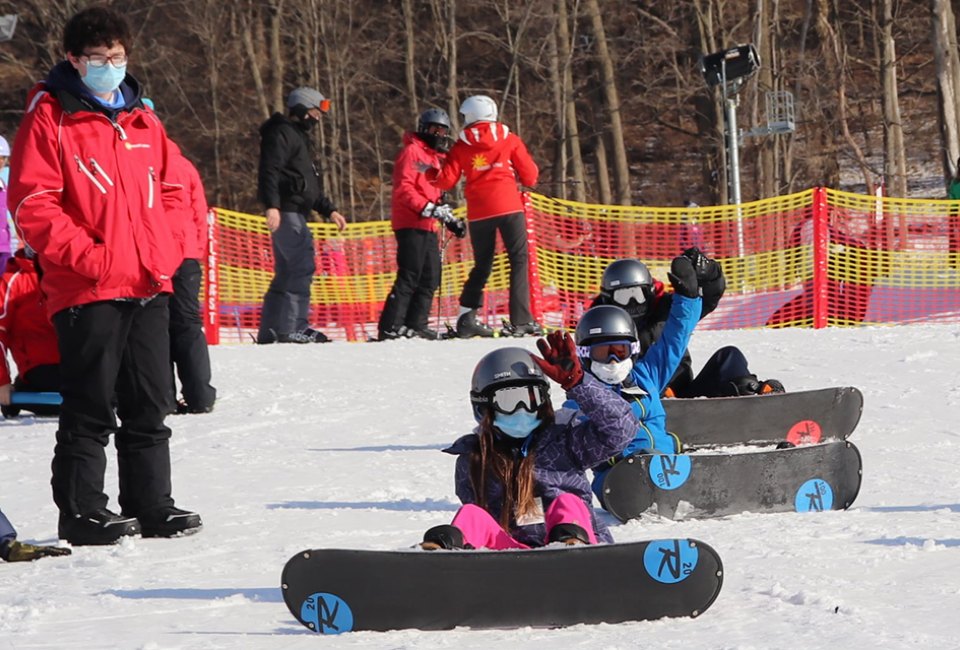 1/25/21
- By
Stephanie Ogozalek
Whether you're looking for a weekend winter getaway or an epic day trip adventure, snowboarding is a great family activity. An invigorating sport, snowboarding combines physical activity and fresh air and is suitable for most ages. What's more, many resorts offer additional fun and refreshments to round out your day.
Below we've profiled 12 snowboarding destinations accessible from New York, New Jersey, Connecticut, and Pennsylvania. For the uninitiated, consider booking a lesson and budgeting ample time to rent equipment beforehand.
Find more opportunities for seasonal outings in our Winter Fun Guide and our Skiing, Snowboarding, and Snow Sports Guide, where you'll find picks for our favorite Northeast ski resorts and much more.
While we've done our best to note changes due to COVID, please click through to each resort to confirm details before heading out, as policies change frequently. Most resorts are only operating in a limited capacity and require pre-purchasing tickets. If you plan to travel via mass transit, confirm whether lockers are available at the mountain; many resorts have suspended their use this season. Maximize cost-savings by planning your getaway on a non-peak weekday, and keep in mind Presidents Week may operate on a holiday schedule.
Please check all state and local travel advisories, too, as many require out-of-state visitors to quarantine or have a negative COVID-19 test before arrival. The National Ski Association has published the Ski Well Be Well guide to set industry standards for resorts this year. View a safety code of conduct in advance as a precaution to ensure a fun time is had by all. Last, please keep yourself and others safe on the slopes by always wearing a mask and practicing social distancing.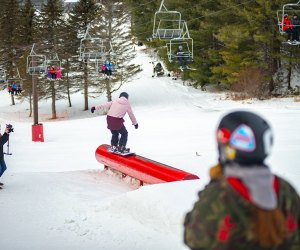 Ride the rails at Mount Southington Ski Area's terrain park.
Where To Go Snowboarding in Connecticut
This small Connecticut resort, offering 14 trails, seven lifts, and nighttime slope action, includes The Glacier Learning Area, where kids can take snowboarding or skiing lessons. Equipped with a handle tow and carpet lift, this area helps avoid the fear factor that sometimes comes with riding a ski lift. Refuel at The Mountain Room, Waffle Haus, or Red Barn Cafeteria while watching the action on the slopes. Reservations are required. Equipment is available for rent, including helmets.
This mountain features 16 trails, most of which include nighttime lighting. New to the sport? Take advantage of the first-timer package, which includes a FREE lesson. The terrain park offers snowboarders trails of varying difficulty: Try Tom's Treat if you're a beginner or intermediate, where you'll find flat and kinked rails, corrugated tubes, boxes, and small jumps and jibs. Advanced snowboarders can up their game on Stinger, a black diamond trail. You might want to warm up with a bowl of chili from one of the food courts.
RELATED: 10 Family Ski Resorts in or Near Connecticut

Mount Peter gives riders all the tools to make snowboarding accessible.
Where To Go Snowboarding in New York
Mount Peter may best be known for its FREE beginner snowboarding lessons for ages 6 through adult on weekends and holidays with the purchase of an all-day lift ticket; arrive 2 hours early if you're renting equipment, or 90 minutes early if not. Other packages include private family lessons or the Saturday-night rate of $95, including a 50-minute lesson, lift tickets, and rentals. Skiing and tubing are also available. The Mount Peter website offers video snowboarding tutorials to help get you started, as well as pointers on what to wear and how to navigate the ski lift. Mount Peter is accessible from NYC via MetroNorth; Zipcars are available at select stations, and combo packages are available at off-peak times.
With 22 trails, three trail lifts, and four magic carpets, Thunder Ridge Ski Area offers group and private lessons for all levels. The resort offers lessons for first-timers and a cool mid-mountain terrain park with tires and many rail styles for snowboarders and freestylers. Those traveling from Manhattan can take the Metro-North ski train to the Patterson train station and transfer to the resort via its free shuttle bus when the Thunder Mountain Ski Package is purchased. Warm up in the lodge with hot cocoa or soup.
RELATED: Best Snow Tubing Spots Near NYC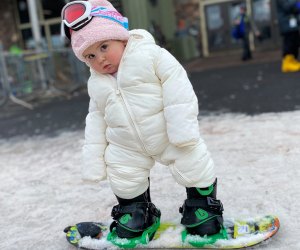 At Hunter Mountain, even the littlest snowboarders can hit the slopes, but note masks are required this season.
Children ages 7+ may enroll in age-appropriate group classes or may learn solo or in a private family class, which should be booked at least 48 hours in advance. Class registration fees include a mountain reservation, but a pass or lift ticket is also required. Family members who aren't enrolled in a class pay separately. Grab a bite at the outdoor waffle stand, the marketplace, deli, or pizzeria. Hunter Mountain can be reached via Metro-North or bus from NYC.
RELATED: Family-Friendly Skiing and Snowboarding Spots Around NJ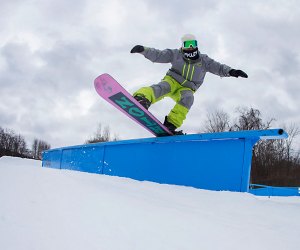 Riders can catch some serious air at Mountain Creek.
Where To Go Snowboarding in New Jersey
New Jersey's largest ski spot is an easy day trip for most families in the tri-state area. Mountain Creek is a full-service resort with plenty of amenities and activities, lodging, and dining. The mountain offers adventures for all types of snow-sport enthusiasts but is particularly suited to snowboarders. Nighttime sessions are offered, as is Sno-Go biking. Lessons and kids' camps are available, with package rates. A small terrain park on its easier mountain is dedicated to beginners.
RELATED: 25 Things to Do in Lake Placid on a Winter Vacation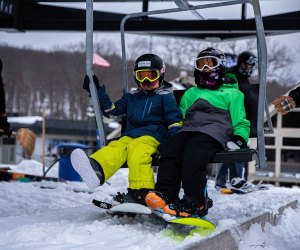 Mask up and hit the slopes with the family at Big Boulder Park and Jack Frost.
Where To Go Snowboarding in Pennsylvania
Snowboarders have been flocking to Big Boulder's terrain park since the 1980s. The resort was an early supporter of the sport, and more than half its slopes are created with boarders in mind. Take advantage of the beginner lessons and read up on snowboarding safety and how to prepare for your adventure on its site before you venture out. For traditional riding or skiing, hit Jack Frost, Big Boulder's sister resort, right up the road. Both spots offer everything for a day on the slopes, including equipment rentals, lessons, clinics, and camps.
Named for the mountain ridge that runs along the Appalachian Trail in Pennsylvania, Blue Mountain has the longest vertical drop of any ski resort in the state at 1,082 feet. Its 40 trails include 14 beginner, six intermediate, 11 expert, four expert only, and five terrain parks, all serviced by 16 lifts. Nighttime boarding is available.
This popular all-season Poconos resort is a great spot to learn how to snowboard. Nearly 40 percent of its trails are rated for beginners. Another perk is its terrain-based learning programs. Groomers build snow into low jumps, ramps, turns, and other features for newbies. Ready to head indoors? Leave winter behind at the giant indoor water park, Aquatopia, and enjoy the many amusements that await in the 170,000 square feet of indoor activities like laser tag, indoor rock climbing, and an escape room.
RELATED: Snow Tubing Near Philly For Winter Family Fun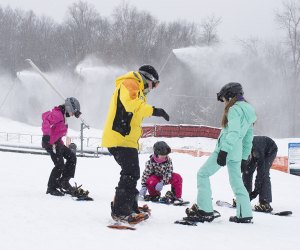 Boarders have plenty of room to shred in Shawnee Mountain's pair of terrain parks.
Just over the Delaware River in Pennsylvania, Shawnee Mountain is smaller than Camelback and Blue Mountain, but boarders have plenty of room to shred in two terrain parks. Experienced boarders hit Delaware Park, which runs the entire length of the mountain with jumps, tabletops, and other cool features. A second park, Country Club Park, is dedicated to beginners.
Another non-Poconos resort, Bear Creek, is in bucolic Lehigh County. The year-round outdoor adventure destination offers alpine skiing, boarding, and snow tubing during the winter. Snowboarders can catch air in the resort's three progressive terrain parks, where layouts are tweaked throughout the season.
RELATED: Snow Games and Outdoor Winter Activities For Kids Beyond Sledding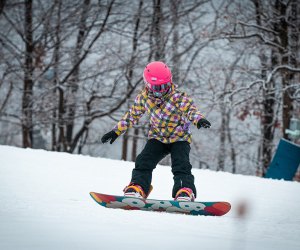 From beginner to advanced, snowboarders can find their groove at Montage Mountain.
Montage Mountain claims to have the most diverse range of trails in the mid-Atlantic. There are 26 trails for every level. The resort offers lessons, clinics, and rentals for boarders, plus air boarding and tubing areas. Its terrain park offers tons of obstacles to conquer. For apres-ski, rent a private tent by a fire pit with food choices and music.
This post was originally published in 2016; it has been updated for 2021. Susan Miele contributed additional reporting.
All photos courtesy of the resorts/mountains
Click Here to Sign Up!
i