25 Things to Do in Lake Placid on a Winter Vacation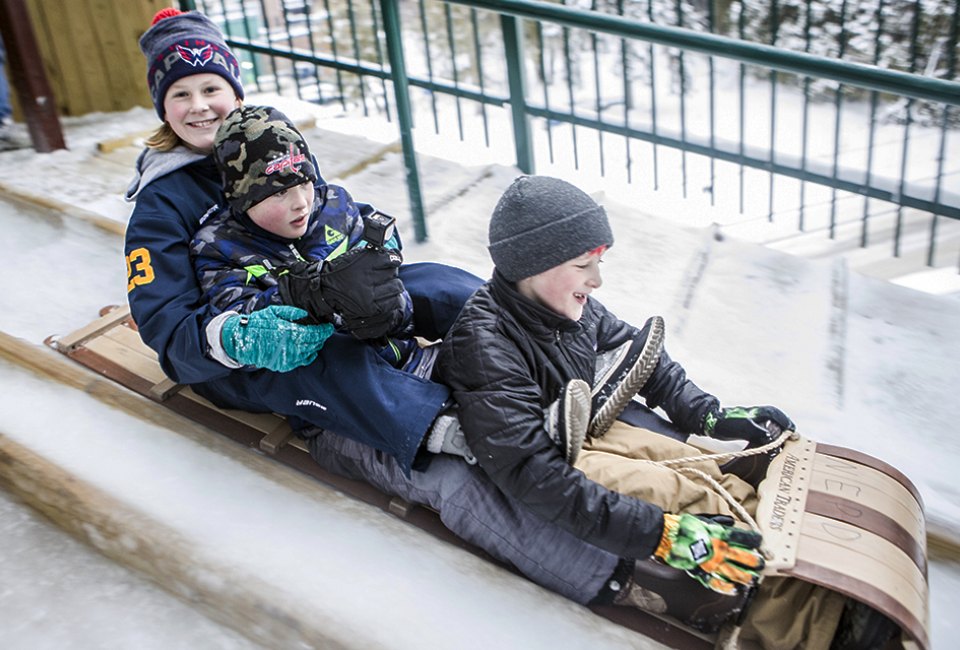 1/16/21
- By
James Smith
Lake Placid, New York is the perfect destination for winter adventurers. Ski at Whiteface Mountain; ice skate at the Olympic rink; snowshoe, bobsled, or even lead a pack of dogs on a sledding adventure. It's all there for families in this Adirondacks community five hours or so by car from New York City or Boston.
"Do you believe in miracles?" Those old enough to remember the Miracle on Ice in 1980 will recall those as the final words of broadcaster Al Michaels. Michaels witnessed arguably the greatest upset in sports history when an undermanned American Olympic hockey team defeated the mighty Soviet Union en route to a gold medal. And it all happened in Lake Placid! Four decades later those miracles continue as the region carries on, offering its gorgeous locale up to visitors this winter season. Here is Mommy Poppins' list of the best things to do on a winter vacation to Lake Placid.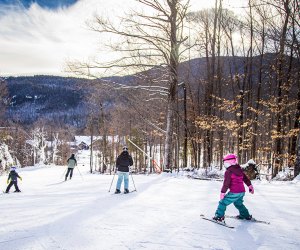 Families can hit the slopes on Whiteface Mountain.
Outdoor Things to Do in Lake Placid This Winter
The site of the 1980 Olympic Alpine skiing events is one of the highest peaks in New York State with terrain suiting skiers of all abilities. Be sure to buy lift tickets in advance!
If downhill skiing isn't your speed, why not try one of Lake Placid's groomed cross country tracks? You can try at the Olympic center at Mount Van Hoevenberg or at Cascade X-C Ski Center. The centers boast a combined 43 miles of cross country trails as well as warming huts, a ski shop, and a pub for food and drink.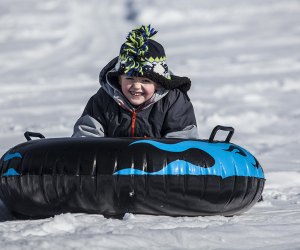 Have a tube race with your family on Saranac Lake.
What winter destination is complete without a snow tubing venue? Visitors to Lake Placid will find tubing at Mount Pisgah at Saranac Lake. Two lanes are even set up for tube races.

Once this lake freezes to sufficient thickness it opens to the public for skating.
Once this Adirondack lake freezes to sufficient thickness (at least 4 inches), locals and tourists alike head outdoors for some socially distanced skating. Word of warning: Have your skates tuned after a session on the lake or you might have some balance issues next time out.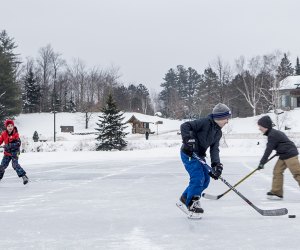 Find a pick-up game of ice hockey to join.
Kids can almost always find a game in the winter months. Try Mirror Lake first; if you're unsuccessful check the Olympic Ice Arena.

Catch some serious speed toboggan riding on Mirror Lake.
Imagine a 1,000-foot slide across the ice. That's what awaits visitors at this popular attraction that is scheduled to open for the season in early February. Riders begin their adventure at the 30-foot-high tower on Mirror Lake.
When available, this attraction lets passengers experience the thrill of an Olympic bobsled run. Riders on the half-mile track can reach speeds of up to 55 miles per hour. Riders must be at least 4-feet tall and those younger than 18 must be accompanied by an adult.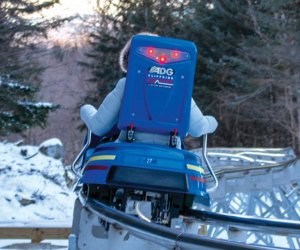 On the Cliffside Coaster you control the ride. You have the ability to go as slow or as fast as you'd like.
New as of October 2020, this one-man roller coaster allows riders to experience all the thrills of a bobsled ride on dry land.
Lake Placid's accomplished guides will teach your family how to safely scale the icy cliff faces of the Adirondacks. Ice climbing is, of course, dependent on conditions.
Once the lake freezes, mushers line up along Main Street for a Lake Placid tradition. Iditarod-like snow dogs pull their sleds across the lake with families in tow. Views of the mountain peaks are breathtaking.
As you might imagine, Lake Placid boasts a number of sledding hills. Particularly popular, especially among parents of young children, is Kiwanis Teddy Bear Park, right in the heart of the downtown. (Bring your own equipment to Teddy Bear Park.)

Take a family sleigh ride for a festive vacation treat. Photo courtesy of Adirondack Sleigh Rides
12. Sleigh Riding
There really are one-horse open sleigh rides in Lake Placid, and not just at Christmas. Adirondack Sleigh Rides, based just outside the downtown area, offers affordable lantern-lit rides complete with hot cocoa.
New to this country, kicksledding has been a favorite pastime in Scandinavia for years. A kicksled consists of a pair of steel runners attached to a wooden seat with handlebars. Push along the steel runners on flat or uphill terrain; hop aboard the seat for a downhill thrill. There's a two-mile route on Mirror Lake and rentals are available in town.
In a normal year, High Falls Gorge, a 22-acre nature park, would be the starting point for an exhilarating hike through the snow. Due to the pandemic, the park is closed until at least spring 2021. Put this on your list for 2022.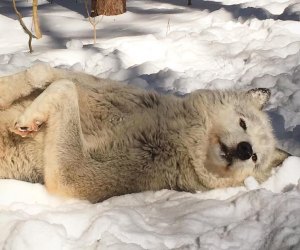 Meet the wildlife at the Adirondack Wildlife Refuge. Photo courtesy of the Refuge
15. Adirondack Wildlife Refuge
This unique, four-seasons nature park offers visitors the chance to see wolves, moose, and black bears in their natural habitats. Look closely and you might spot an occasional bald eagle, falcon, or even a vulture. (Ugh!)
Non-skiers especially will appreciate this 15-minute ride to the summit of Little Whiteface Mountain. Take in majestic views of the Adirondacks, Lake Champlain, and Lake Placid. Note: The round-trip gondola ride is not available in 2021 due to the pandemic. It's another item to put on your 2022 list.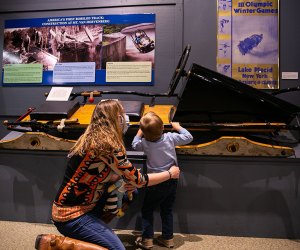 Learn about the history of the Olympic Games at the Olympic Museum. Photo courtesy of the museum
Things to Do Indoors on a Winter Vacation to Lake Placid
The Lake Placid Olympic Museum pays tribute to the community's two Winter Olympiads, in 1932 and 1980. Interactive exhibits tell the stories of figure skater turned movie star Sonja Henie; speed skater Eric Heiden, who won five gold medals in 1980; and, yes, the Miracle on Ice.
This family fun center in downtown Lake Placid is a perfect alternative to howling winds and chilling cold. Rental shoes and balls are plentiful and an hour on the lanes for five people costs less than $40.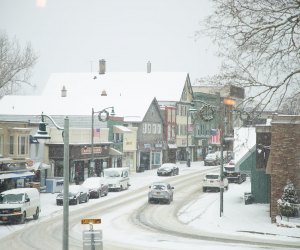 Take a stroll down Main Street to visit the local shops.
19. Shopping Along Main Street
This eclectic village offers a bit of something for everyone. Discover bed and bath products, syrups, clothes, chocolatiers, even a year-round Christmas store.
This performing arts center has plenty of children's programming including art classes, performances, and rotating exhibits!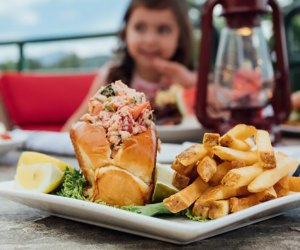 Grab a delicious bite at Dancing Bears Cafe.
Places to Eat and More with Kids in Lake Placid
It's breakfast, lunch, or dinner at this Main Street American bistro popular with kids. Enjoy omelets, pancakes, artisanal burgers, signature pizzas, salads, and appetizers.
The first meal of the day is available all day at this popular Main Street eatery. Of course, there are also burgers, salads, chicken dishes, and for the adults, specialty coffees.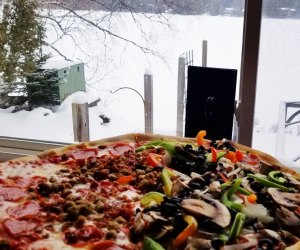 It's pizza with a view of Mirror Lake at Ere's Pizza.
23. Ere's Pizza
Overlooking Mirror Lake, this popular Italian bistro offers eat-in or takeout service. Locals rave about the pizza.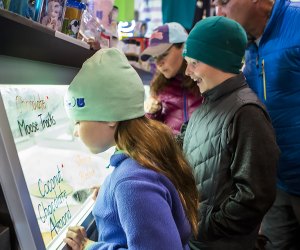 It's hard to make a choice with all the flavors at Emma's Lake Placid Creamery.
Kids love this downtown ice cream parlor whose frozen creations hit the spot even on the coldest nights. Enjoy hard and soft ice cream options; the truly daring will want to try the cheesecake on a stick.

You won't have a hard time filling up a bag of treats at A Pinch or a Pound!
This artisanal candy shop is without question worth a visit. Enjoy old-fashioned favorites, sour and gummy candies, chocolate, taffy, and more.
An earlier version of this article published on Mommy Poppins in 2014 by Allison Tibaldi. Updated August 2023.
Unless noted, photos courtesy of Visit Adirondacks