Snow Games for Kids Beyond Sledding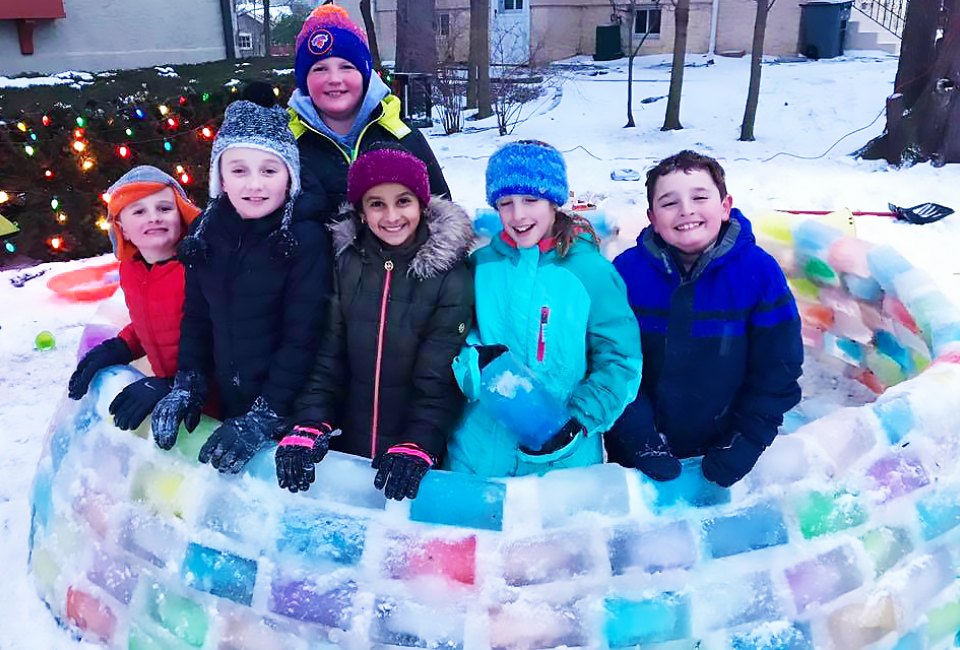 2/2/21
- By
Elaine Paoloni Quilici
Ready to add an extra dose of fun to that snow day? If you just got dumped on with a big batch of the white stuff, we have a whole list of snow day games to entice the kids outside and away from their devices.
With serious snowfall, you can build a snow fort or maze, and with sub-freezing temperatures, kids can try to blow frozen bubbles or make colorful ice gems! Read on for more fun snow activities and outdoor winter activities to be had on even the bleakest of winter days.
(When everyone has had enough of the outdoors, bring them in for baking, crafting, and maybe even DIY science experiments.
Craft a Winter Igloo
On a recent snow day in Verona, New Jersey, one cool dad decided to take winter fun to a whole new level. To be fair, he'd been planning it for a few years and was just waiting for the right moment.
Several winters ago, the snowfall was so icy and unusable it didn't allow for the usual sledding, snowball fights, or snowmen. But Kevin Riedy, a designer and owner of Spot On! Creative Group in Montclair, New Jersey, wanted his kids to be able to still play outside and enjoy the season.
"The snow was not playable. We couldn't even build a fort," he says.
After an online search for ideas, Riedy saw a couple in Canada build an igloo and was inspired. But there were no instructions on how to craft it, just a series of images, so Riedy had to come up with his own plan, which he's happily sharing with us.
RELATED: 40 Indoor Snow Day Boredom Busters for Kids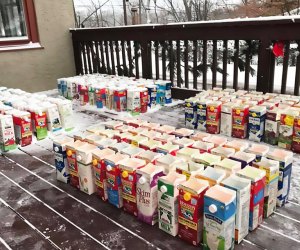 These cartons contain the frozen, colored bricks for the igloo. Photo by Kevin Riedy
His strategy was to fill half-gallon drink cartons with colored water, let them freeze, release the ice blocks, then stack them in a circle, using an ice/water mixture as mortar.
With a plan in hand, he started collecting half-gallon juice and milk cartons from the community. One January, he got just the Arctic weather needed. He sprang into action, filling and freezing the 465 containers. As soon as his bricks were ready to go, Riedy was ready to build.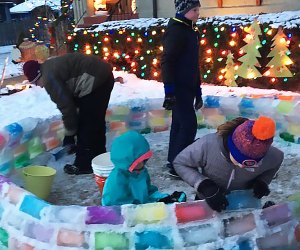 The igloo takes shape, eventually getting up to eight levels. Photo by Kevin Riedy
Over the course of four days, he got the igloo up to eight levels. "At first I was just doing it, but after a while, all the kids from the street came and I let them take over," he says.
When 60-degree temps and rain took it down, Riedy remained positive. "It was doing what it was supposed to do—get the kids out. So in that sense, the project worked," Riedy says.
If engineering an igloo seems a bit overwhelming or you don't have the space, find more alternative outdoor winter activities to keep kids happy below.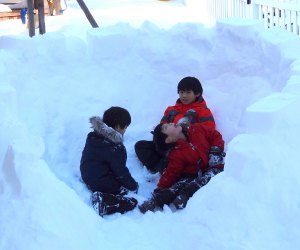 Building a snow fort is a bit more manageable than an igloo. Photo by Walking Geek via Flickr
Build a Snow Fort
Scale back your igloo dreams into a more manageable snow fort. You can make the structure round or square. Just pack the snow into thick walls. Leave a gap on the perimeter for a door. When you're about half way up, use a flat, rectangular object (board or plank) to bridge the gap to create the top of the doorway, then pile on more vertical snow all around until you reach the desired height of the fort. At that point, lay a larger flat object that's the shape of your fort (a piece of plywood, sled) over the entire top to create the roof. You can place snow on top to camouflage it.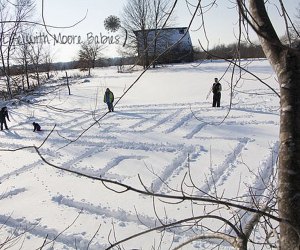 Get your kids to shovel snow for fun by building a snow maze. Photo by Life With Babies
Shovel a Snow Maze
Got a lot of snow? Grab your shovel (or snowblower) and craft a path through your yard or the park to put your kids to the test. The walls don't have to be over their heads, just provide enough false turn-offs to make it a challenge. If you find it difficult to come up with a design on the fly, grab a pencil and paper and map out your maze in advance. It's something they can do over and over, and when they've got the solution down pat, the course can become a series of trenches to hide in during a snowball fight.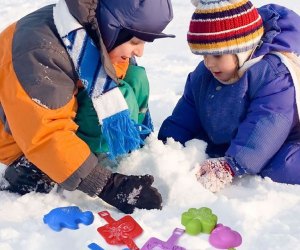 Pull out those summer beach toys, they work just as well for snow. Photo courtesy of Sand Fun Toys
Bust Out the Sand Toys
Wet sand works just like snow. So dig out your shovels and pails and start building a snowcastle. Use a mini rake to make a road around it. Plastic sand molds are great for packing with snow to decorate your yard with frozen starfish, crabs, and the such. You can even open an ice cream shop by piling snow on small cups and adding grass sprinkles.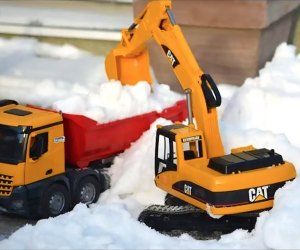 Construction vehicles can clear a path. Photo courtesy of Bruder
Roll Out the Construction Toys
Dirt, rocks, and rubble might be hard to come by, but there's plenty of snow and ice to move around. Have kids use their toy work trucks on a make-believe Arctic construction site. Loaders, dump trucks, and excavators are perfect for getting the job done. And anything with caterpillar tracks will move especially well in the snow.
Build a Snow Slide
Sometimes having the perfect sledding spot right in your backyard is the best option, especially if you're completely snowed in and can't get to the town's sledding hill, if you have little kids, or heck, if the parents would just rather stay in! This tutorial from Fatherly shows off a great technique for building a snow slide, but the basic premise is to either build a tall hill in your yard by mounding the snow up. One of our editors also has a young neighbor who builds a sledding shute in her backyard each snow, which is essentially a long, rather than steep, sledding luge!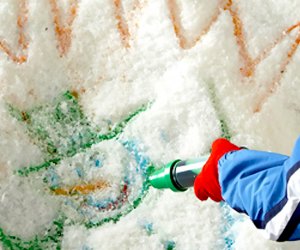 Make art in the snow. Photo courtesy of Sno Paints
If you're more a family of artists than engineers, put a little color into a monochromatic winter scene. Add a drop of food coloring to a spray bottle filled with water, then shake, and get creative. Kids can write their names in the snow, play a game of tic-tac-toe, or draw pictures. Fill multiple bottles to create a complete palette. Splash any leftover water on vertical snow or ice to create a frozen rainbow waterfall.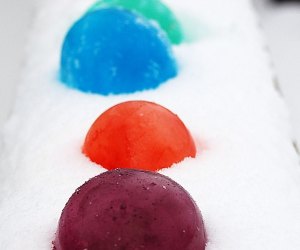 Ice Gems are a bit of work but the beauty is worth the effort. Photo courtesy of Hurrayic
Another form of winter art involves freezing colored water to make "gems." Place a drop of food coloring into a water balloon, then carefully fill the balloon with water. Do this slowly to avoid spills! If you can do this with a pitcher and funnel outside, all the better. Create multiple balloons containing various colors. Knot the end of each balloon and place them in the snow outside to freeze. If you don't have outdoor space, then put the balloons in a plastic bag (to protect against any leakage) and place them in your freezer. When they are frozen solid, cut the balloons open. Be careful, this can get messy, as there may be some residual colored water; doing this outside with old gloves on is a good idea. Once you've unmasked your rubies, sapphires, and emeralds, decorate your front porch or stoop with them.
Build a Snowman
No snow games list would be complete without...a snowman. Give the kids the supplies (carrot nose, twigs for arms, stones or buttons, and any old clothes), and let them enjoy creating their own unique snowman. Help the youngest kids get started by making the base for them. This should be the largest (and heaviest) of your snowballs. Top it off with a baseball cap from your favorite sports team.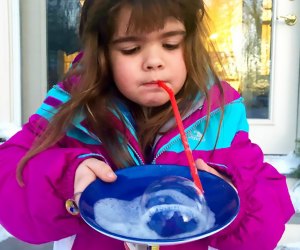 Frozen bubbles are a cool way to make frigid temperatures fun! Photo by Ally Noel
Another winter wonder that doesn't require a large, designated space (or snow) is frozen bubbles. When the temperature falls below freezing (the colder the better), take a container of chilled soapy bubbles and blow through the wand. Try to catch one on the wand and in a few seconds to minutes, you'll notice it start to freeze. Blow apart the pieces for a cool effect. You can also pour the solution into a bowl and blow bubbles through a straw to see them freeze all piled up.

Bring the snow in for more imaginary play. Photo by Mommy Poppins
Bring the Snow Inside
Scoop up a bucketful of snow (plastic food containers, mixing bowls, or your hard-sided beach cooler also work) and let little ones play with the snow indoors. Give them a few sand toys or plastic figures and they'll play for an hour or so in our experience. It's essentially a snowy day sensory bin, but it's not just for toddlers. Most all kids thrill to handle the snow while staying warm inside. I usually let them do this snow activity on the floor, which I cover in rugs or towels.
Enjoy this easy recipe for snow ice cream to cap off a day spent playing outdoors. Just fallen powder is the best. We sweeten this one with maple syrup, and honestly, as a kid, we would often just sprinkle plain snow with sprinkles and syrup and call it dessert.
Top photo of the igloo by Kevin Riedy
A version of this article was first published in 2018
t Click Here to Sign Up!