The Adventures of Tortoise & Hare The Next Generation
The Sheen Center

The Very Hungry Caterpillar Show
DR2 Theatre

NYC Easter Brunch Cruise 2023
Event Cruises NYC
Sign up for our free newsletters.
Make Maple Sugar Snow Ice Cream with Kids on Snowy Days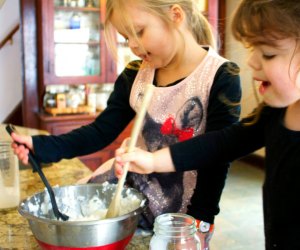 3/20/15
- By
Ally Noel
If you're groaning over yet another snowstorm, here's one way to sweeten the pain. It's maple sugar season, so it's the perfect time to try this magically simple combination of snow, cream and a touch of maple syrup. Put out a bowl to catch the snow and have a sweet treat for dessert tonight. Snow ice cream is a simple, scrumptious way to enjoy the last bits of winter.
Materials:
Bowl full of clean, fresh snow
½ cup of cream
Pinch of sea salt
Maple syrup (to taste)
1) Add the cream to the snow
2) Add a pinch of salt and a dash of maple syrup
3) Stir all the ingredients together until you have Maple Syrup Snow Ice Cream
Find more things to cook and create in our guide to Easy Recipes for Kids, or check out our 45 Snow Day Boredom Busters activity list.