Hunter Mountain with Kids: Best Things To Do and See on a Catskills Getaway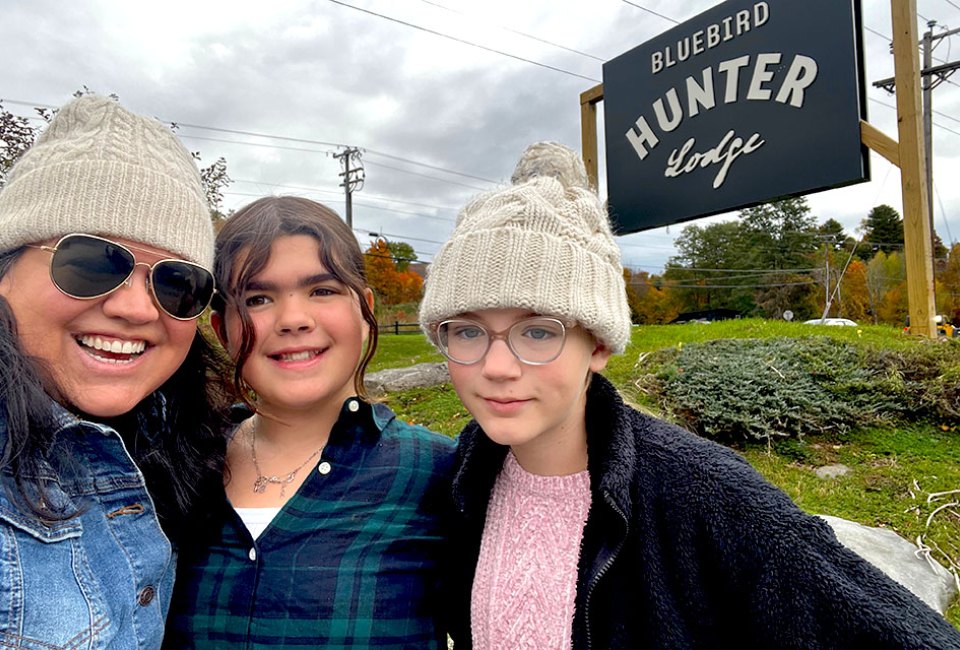 10/27/22
- By
Ally Noel
The sweet spot on a family vacation is when you can adventure together as a family and have plenty of space for relaxing at the end of the day. Hunter Mountain in New York's Catskills offers the perfect mix of activities for the entire family. With an itinerary of exploring, hiking, skiing, and lounging around our hotel's fire, we were all very happy campers. There are so many things to do right on Hunter Mountain and in the surrounding area that appeals to parents and kids. Here are some highlights from our visit to Hunter Mountain, New York, including outdoor adventures, delectable dining choices, family-friendly lodging, and ample opportunities to chill out.
Find more things to do near Hunter Mountain on our list of 25 things to do in the Catskills with kids, and bookmark our Guide to Weekend Getaways and Day Trips for more family-friendly local travel spots.
Subscribe to our newsletters to get stories like this delivered directly to your inbox.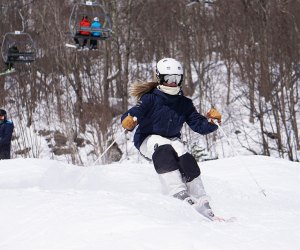 Hit the slopes at Hunter Mountain for skiing, snowboarding, and snow tubing. Photo courtesy of Hunter Mountain
Best Things To Do near Hunter Mountain, NY, with Kids
Hunter Mountain's variety of terrain caters to skiers of various ability levels. Group ski lessons are offered for children ages 5 and up. Snow tubing lanes are nearly 1,000-feet long, and the tubing park features a snack bar and fire pit.
Take a journey up to the summit of Hunter Mountain for spectacular views, a gorgeous wedding venue, and a nod to the master napper, Rip Van Winkle. After the relaxing ride up and strolling around the grounds at the summit. Enjoy a packed lunch at the picnic tables and the killer views.
Hunter Mountain itself is home to the highest fire tower in New York, boasting unmatched views and a brag-worthy hike. The hike to the summit is about three hours round-trip, so pack snacks and plenty of water.
RELATED: Adirondacks, Catskills, and Hudson Valley Guide

Take a scenic zipline tour from peak to peak. Photo courtesy of Hunter Mountain
Hunter Mountain is a haven for thrill-seekers, even when there's not a snowflake in sight. ZipLine Canopy Tours offers a variety of exhilarating ziplining tours. For teens and adults who meet the weight requirement and are looking for extreme adventure, there's the Skyrider Tour, with zip lines that traverse peak-to-peak to another mountain and back again.
For those of us who are less daring and have kids who weigh under 110 pounds, there's the Mid-Mountain Tour, a series of short zip lines and swinging bridges tucked in the forest. With a safety-first approach and a little stand-up comedy on the side, our guides made the tour safe and fun.
RELATED: 15 Family-Friendly Catskills Resorts for Your Next Weekend Getaway

Kaaterskill Falls is one of the most trafficked spots in the Catskills. Photo by Mommy Poppins
About 10 miles from Hunter Mountain find the magnificent, two-tiered Kaaterskill Falls. Although the hike up to the bottom of the falls isn't long, it is fairly steep and rocky. Awe-inspiring views, the sound of the rushing water and a pool for dipping toes are among the rewards awaiting climbers. This hike is best for older kids and teens, and truly is not a good choice for younger children. As an alternative, park on Laurel House Road and hike down to the top of the falls. Tip: Understandably, Kaaterskill Falls is a popular spot. Go in the late afternoon, when crowds have begun to thin.
RELATED: 100 Things To Do in New York State with Kids Before They Grow Up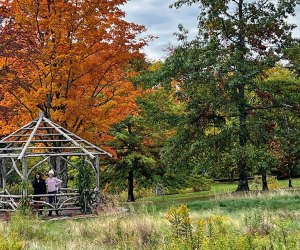 Wander the trails and grounds of the Mountain Top Arboretum.
The unique environment of the Catskill landscape is the perfect setting for this public garden. Guests are free to walk the trails, explore the gardens, and wander through the meadows of the Arboretum's 178 acres. The Arboretum's gardens and trails are open every day for visitors to explore. Check out the Arboretum's year-round calendar of events and activities for families including story walks, poetry potlucks, and more.
RELATED: Catskills With Kids: 35+ Family-Friendly Finds in Sullivan County

The World's Largest Kaleidoscope is housed in a silo at the Emerson Resort and is an eye-catching stop during a Hunter Mountain visit.
Those in the know, are aware that the Emerson Resort is home to the World's Largest Kaleidoscope. Guests are in for a visual treat when they are immersed in the Kaleidoshow—a visual and sound experience. Tickets are $5/person and children under 12 are FREE. Make sure to save some time to browse the kaleidoscope shop located in the resort.
RELATED: 9 Favorite Upstate New York Getaways for Families

Hunter Tavern offers plenty of comfort food, a kids' menu, and some delicious cocktails.
Best Restaurants for Kids near Hunter Mountain
Nestled into the Bluebird Hunter Lodge—one of our top picks for places to stay near Hunter Mountain—is the Hunter Tavern. This cozy spot serves favorite comfort foods like meatballs, grilled cheese, and a tavern burger. Kids love the classic children's menu featuring the standard fare of chicken fingers and mac and cheese, while parents enjoy relaxing near the fire with a carefully crafted cocktail. Pro tip: Don't skip the goat cheese fondue or Saratoga-style chips—you can thank me later.
Far past Tannersville and Kaaterskill Falls—lies this gem of a shop. The friendly staff whips up whoppers of sandwiches while vacationers and locals alike browse the carefully curated selection of outdoor gear, books, and natural foods in the funky store with a rich history.
I dare you to not want to buy one of everything at this charming bakery located in downtown Tannersville. Its case is filled with freshly baked pastries, pies, tarts, and tea snacks making it an ideal spot to stop before heading out for the day.
Last Chance is a fun dining-shopping combo with antiques, a nice array of adult beverages, cheese by the pound, loads of candy, and family-friendly dining. Diving into a pot of melted cheese fondue was a big hit with the kids.

Bluebird Hunter Lodge is built for families with 45 rooms decorated with homey touches and a bit of '70s nostalgia.
Where To Stay near Hunter Mountain with Kids
The newly renovated Bluebird Hunter Lodge is located close to all the activities Hunter Mountain and the Catskills have to offer. The lodge's 45 rooms are furnished with everything you need to feel at home and a hint of '70s nostalgia. Families love the variety of rooms—from standard double queen rooms to bunk rooms and loft suites that give you a little more space to stretch out. The Bluebird Hunter Lodge also has a small game room, spacious common areas, and the aforementioned Hunter Tavern restaurant on-site. After spending the day exploring, guests can return to this home away from home and roast some s'mores over a large outdoor fire pit.
One of Hunter Mountain's resort properties, two-bedroom suites here offer families room to hang out together in the dining and living room areas, then go their separate ways for a little bit of privacy. As spacious and comfortable as the rooms are, there are compelling reasons to explore the rest of the hotel. The four-season, heated outdoor pool is the big draw, especially for families. Two hot tubs, a spa, a fitness center, an on-site restaurant, and a small arcade round out the hotel's offerings.
Originally published in 2016. Tara D. contributed additional reporting. Unless noted, photos by the author
Click Here to Sign Up!
i