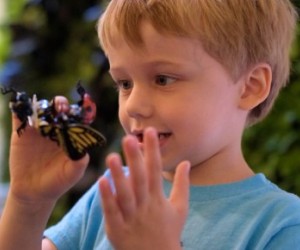 Brooklyn Preschool of Science: A Unique Learning Experience for NYC Kids
Once upon a time, preschool was all about learning shapes, colors and the ABCs. These days, the curriculum is way more advanced, with many kids having already mastered these basics before they set foot in a preschool. So it's no surprise that parents are looking for a place that can not only prepare their children for kindergarten, but also inspire a love of learning and encourage them to find and explore new interests. As mom to a preschool-age son, I was intrigued by our sponsor, the Brooklyn Preschool of Science, which is opening its doors to kids ages 2.5 to 5 years in Park Slope this September.
When I first heard about the school, I immediately thought, why a preschool with a focus on science? But after reading about how the school uses a variety of science-based activities and lessons to teach kids about the world around them, as well as providing a foundation to excel at math, language and more, I can see the benefits of giving little ones this kind of specialized learning experience.
Carmelo Piazza—or "Carmelo the Science Fellow" to his students—has been teaching science to preschool kids for 17 years, which led him to open the Brooklyn Preschool of Science. "I am a true believer that all children are natural-born scientists," says Piazza. "And it is so important to foster this curiosity and answer the amazing questions that children generate. In fact, when we are helping a child come to a conclusion, this will often lead to other amazing questions."
The school's toddler program focuses on self-mastery skills, offering one-on-one attention from teachers and encouraging skills such as self-dressing, potty training and socialization, along with an introduction to language, math and science concepts. And the three- and four-year-old program uses various methods of learning, such as writing, dramatic play, a community meeting where new ideas are explored together, and jobs and responsibilities for taking care of the classroom.
Cool monthly themes guide different lessons. For example, October's theme, "Autumn Science," includes a visit to a local farm to pick out pumpkins—a common trip for many preschools. The twist here is what the students do with the pumpkins once they get back to the classroom. First, they dissect them and, in the process, learn vocabulary words like pulp, seeds, vine and skin. When that's done, they cut up the leftovers and add paint to make pumpkin prints. Finally, the rest of the fruit is put into a blender to create a puree, with the kids adding flour, salt and oil through careful measuring to make their own play dough. These projects manage to integrate art, fine motor skills and math—and connect it all to science—while still being fun for students.
And since pretty much every kid loves animals (I know mine do), there is also a menagerie of on-site critters, such as dwarf hamsters, gerbils, peacock cichlids, Madagascar hissing cockroaches, Bessbug beetles and more to teach little scientists about everything from bio-diversity and how to maintain an animal habitat, to concepts like food chains and adaptations. Taking care of the animals also helps to foster responsibility and teamwork.
Luckily, NYC kids don't have to wait until September to experience all that the Brooklyn Preschool of Science has to offer: The school is offering a summer camp for two- to four-year-olds, running for six weeks, Monday-Friday from 9am-3pm, with early drop-off and extended days available if needed. Each week features a different theme, such as "Roar, Roar Dinosaur" and "Don't Bug Me."
Be sure to contact Carmelo via email or call him at 718-344-4631 for more info or to schedule a tour of the school. And the first 20 people to enroll qualify for two weeks of free summer camp.
Parents should also be sure to check out our advice for applying to preschools and finding the right fit.
This post is sponsored by the Brooklyn Preschool of Science, but the opinions are those solely of the author.